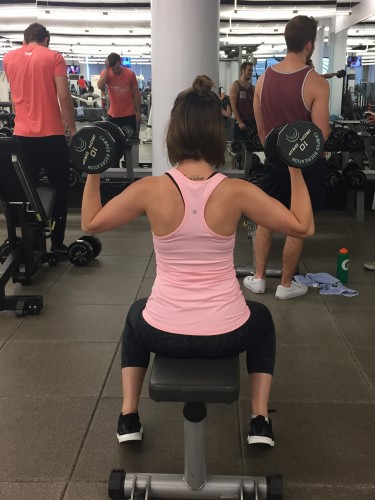 Walking into the Ray Meyer Fitness and Recreation Center is like walking into exercise-heaven. Students are surrounded by beautiful, modern machines and equipment. With facilities like a swimming pool, racket ball and basketball courts, and group fitness rooms, the Ray has everything students of all fitness levels could ask for. However, with all of the diversity and support that DePaul has to offer, there is a significant disparity with how different genders exercise.
Specifically when it comes to lifting weights, women religiously pass to work on their cardio.
A new class offered at the Ray may be the catalyst in breaking down the stigmas attached to women lifting weights at the gym.
Heather Hamilton, assistant director of Group Fitness and Instructional Programs, is teaching a class called "Women on Weights." It's offered in two sessions this quarter: Sept. 15-Oct. 15 and Oct. 20-Nov. 19 on Tuesdays and Thursdays at 12:15-1:15pm.
Hamilton wants to teach women how to properly use weights while debunking popular myths about women lifting weights. "Women do not have enough testosterone in order to produce large muscles or anything like that," Hamilton said.
Hamilton said that lifting weights is very important and beneficial because of issues that many women face, like osteoporosis. "As we age, we lose a certain amount of muscle mass and bone mineral mass every year…it's really important that we're lifting weights because some of the benefits of that is increasing lean muscle mass and bone density," she said.
Hamilton has worked at several other universities and has seen a common issue: many college-aged women are underrepresented in the weight room. After recent research, Hamilton discovered some of the reasons why women avoid lifting weights. One reason, is that women might not know how to use the weights properly.
"I wanted to try to get more women interested in getting into [weightlifting], and the response has been really great," Hamilton said about her idea to start the class. So far, most of the women enrolled have been members at the Ray for a long time and mostly using the facilities for group fitness classes and other cardio equipment. However, many of those same women want to grow their knowledge about using weights.
Christine Lohnstein, a junior at DePaul, said that how men view women who lift weights is another factor that makes her uncomfortable using the weight room at DePaul.
"There's a lot of things I still don't do because I feel like I don't know how to do it correctly and I don't want to look stupid," Lohnstein said, who learned most of what she knows from one session of personal training when she was a freshman. "There is a stigma attached to women working out, like 'oh those girls try too hard,' or thinking that we just do it for attention." Lohnstein said that she feels like other weightlifters who are male may look down on her for even trying.
Lohnstein also gets aggravated by some of the men who work out in the weight room. "I hate working out during peak hours at the Ray because the guys in there just sit around on their phones in between sets after they lifted their 'big boy weights' and it gets in my way," she says, "or they go around in groups and stand around talking, which is the absolute worst."
Hamilton wants to counteract that stigma by giving women the opportunity to learn how to use the weights properly and therefore feel more comfortable being in the weigh room. "There is some stigma… [Some women] just don't know how to use the equipment. They don't know who to ask or where to start."