Coalition demands Koocher's removal at press conference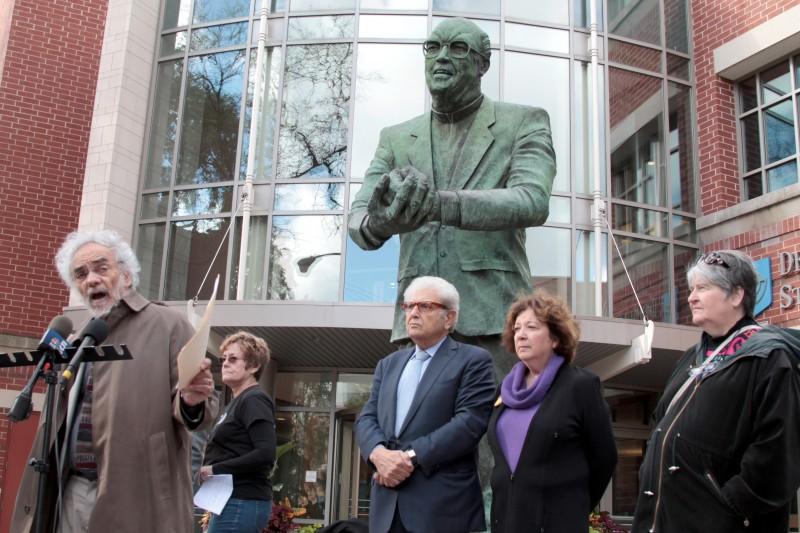 A coalition of students, faculty and human rights groups called for Dean Gerald Koocher's removal as dean of the College of Science and Health at a press conference Thursday morning over his alleged role in the American Psychological Association's (APA) collusion with the Department of Defense in crafting interrogation guidelines that allowed for torture to take place during the Bush Administration.
The coalition, calling themselves Vincentians Against Torture, spoke for around 30 minutes in front of about 25 supporters outside the Lincoln Park Student Center. This is the latest in a series of developments following the release of the 543-page Hoffman Report, which details APA's collusion with DoD.
Speakers included DePaul emeritus professor M. Cherif Bassiouni, who helped found the College of Law's International Human Rights Law Institute, as well as Northwestern professor Frank Summers, who was past president of the Division of Psychoanalysis in the APA.
Representatives from human rights organizations like World Can't Wait and Voices for Creative Non-Violence as well as someone who represents tortured prisoners were also present.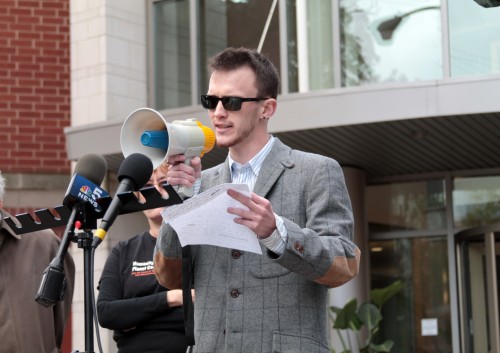 The coalition was formed and led by senior Jack O'Brien, president of DePaul's honors society for psychological students, DePaul Psi Chi. O'Brien also started an online petition calling for Koocher's removal, which has gathered more than 500 signatures. 
"I hope Dr. Koocher chooses to act morally now and steps down as dean," O'Brien said. "If he does not step down, our student coalition will continue to call for his immediate removal. He has proven unfit for the position of power for that he's in. He should not oversee the education of DePaul's health professionals."
The speakers argued that the findings of the Hoffman Report do not reflect those the university claims to uphold.
"An academic institution like DePaul based on its Vincentian values cannot allow for a member of its faculty be involved in such situations," Bassiouni said. "It is therefore the responsibility of the university to hold a fact-finding commission, an inquiry into whether one of its faculty member has been involved in either the commission of a crime or the commission of an egregiously immoral act, which violates the ethical values of this university."
At the event, the speakers criticized Koocher's defense that he would have acted differently had he known about them. Koocher told The DePaulia in an email on Aug. 18, "I and other members of the Board felt truly stunned and betrayed by some of the new information we learned 11 years later."
But at the press conference, Dr. Frank Summers, a clinical psychologist who served as the president of the Division of Psychoanalysis, said he raised concerns about the role  psychologists used at Guantanamo Bay to Koocher in a series of emails he sent in 2006.
Summers said he took issue with Koocher writing in an article in the APA Monitor that "a number of opportunistic commentators masquerading as scholars have continued to report on alleged abuses by mental health professionals.   However, when solicited in person to provide APA with names and circumstances in support of such claims, no data have been forthcoming from these same critics and no APA members have been linked to unprofessional behaviors." Summers then emailed Koocher saying this was untrue. He pointed to two reports, one from the International Committee of the Red Cross and the United Nations Commission of Human rights, that stated that mental health professionals including psychologists were involved and complicit in Guantanamo.
"I got no response from Koocher," Summers said. "Eventually, weeks later, I said 'Dr. Koocher you haven't responded.' Dr. Koocher says to me 'Don't hold your breath.' This was his response.  This man who now says that 'if only we knew then what we know now.' I gave him the facts. There was the Red Cross report and the UN report. He absolutely refused to accept any of it. He dismissed it out of hand.
"What was Koocher's response? To vilify those people who told him what was going on. And it's those ethical,  egregious violations of those ethics that it is the reason why Dr. Koocher doesn't belong as the Dean of anything. Not DePaul , not any university. Thank you very much."
Koocher did not respond for comment in relation to Summers' concerns.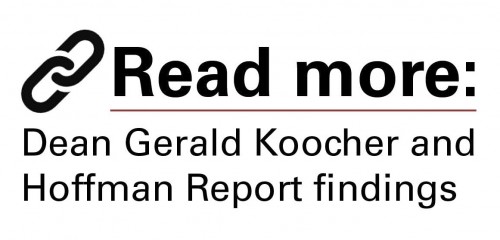 While the university has yet to comment on the formation of the coalition, it has in the past supported Koocher's version of events. At a recent Student Government Association meeting, Vice President for Public Relations and Communications Cynthia Lawson likened it to a game of basketball or football.
"Hindsight is always great. How many of you watch football? How many of you watch basketball? Do you ever, after you watch it, the reruns, say, 'They should have. They could have, had they done this,'" Lawson said.  "But you make the decisions based on the information that you have at the time. And so if you don't have the information, you make decisions based upon the information that you've got. Have you ever made a decision where you found out later, if you had additional information, you might have decided to do something different? And I think that's what Dean Koocher would tell you."
The coalition, as well as others in the DePaul community, were not satisfied with that response or the university's previous responses.
"To say that there's hindsight, it's completely absurd," Summers said. "At the time he could have done something about it, he dismissed all of the evidence and insisted psychologists were doing nothing wrong."
"The reason I don't think he should have his deanship at any university, including a good university like DePaul, is that the man is guilty of egregious ethical violations," Summers said. "He is mentioned in the Hoffman Report — I can't remember the exact amount, but he's mentioned over 70 times. He was complicit in the collusion between the APA and the Department of Defense to violate the ethics code of the (APA)."
Several students and faculty members who attended the event either called for the dean's removal or criticized the university's handling of the matter.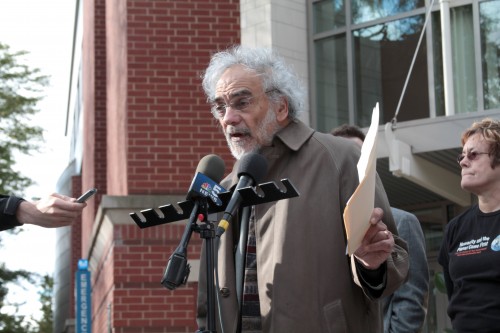 "I think regardless of whether Dean Koocher is innocent or guilty of everything that is in the Hoffman Report, which he denies much of, I think that it's a perception issue and it reflects poorly on the university. And for that, I'm sad," said Mona Shattell, an associate dean in the College of Science and Health.
Shattell echoed Bassouni in her wish to see an investigation from the university.
"They've been silent and perhaps they were hoping that it would go away, but it's not going away," Shattell said. "So I think that they have a responsibility."
Ann Russo, an associate professor in the College of Liberal Arts & Sciences, added that there "needs to be more accountability on the university's part for the situation we're facing right now."
"It just is so counter to the mission and values of the university," Russo said. "And to be in that type of leadership position and to be complicit and really a refusal to really take accountability for that, I just don't think he should have a leadership position with the university."
For undergraduate Sana Malik, a member of Students for Justice in Palestine and student in CSH, Koocher's presence as dean is harmful to the students in the college.
"I don't want to graduate with a diploma with a stickler that someone has used science for more harm than good," Malik said. "I've been working very hard for four years to graduate with a science degree and I feel like, to have these types of reports out, this type publicity for my college as well, I definitely want to see his deanship removed so that I don't have to graduate with this type of stamp."
Toward the end of the press conference, O'Brien read a statement from Jean Maria Arrigo, one of the dissenting PENS task force members whose opinions were dismissed and belittled by Koocher.
"I have good hopes for Dr. Koocher at DePaul University and wish to continue as his colleague in the American Psychological Association," Arrigo said in the statement read by O'Brien. "But his gaps in moral discernment in governance roles at the APA, both before and after the Hoffman Report, render him unsuitable as a role model for scholars at this time— in short, unsuitable for the position of dean."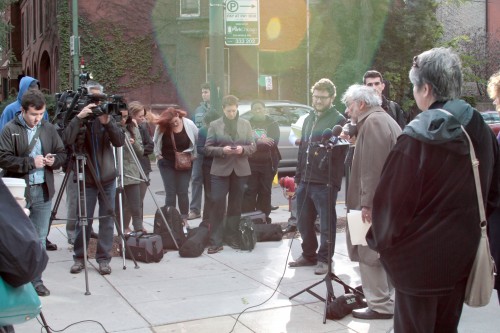 She added, "At a Catholic university, there is certainly opportunity for people who have erred — whether wittingly or unwittingly, whether voluntarily or through manipulation — to step aside with dignity.  Dr. Koocher must step down as dean at DePaul University.  In this gesture of moral awareness, he can return to community."
Despite asking for his removal as dean, most of the protesters agreed that Koocher should be able to stay on as a tenured professor in the department of psychology.
"We're not asking for him to be fired. We're asking for the position of deanship to be removed," Malik said. "Whether he wants to stay at DePaul after that to teach or whatever, it's up to him. I think what we're asking for is not too drastic. We study and want to be under someone that is respectable and an ethical man. From his history, it doesn't seem like he is that."
O'Brien said reading Arrigo's statement reminded him that Koocher had "contributed much of value over the course of his career." But, he and the other members of the coalition vowed to keep going until Koocher is no longer dean of the college. O'Brien said the coalition will continue to hold demonstrations, starting next week, and also meet with new provost Marten denBoer.
"We're going to keep fighting. This is worth fighting for," O'Brien said. "I transferred here and I really bought into the value system. It's important we stand by it now and everyone joins us."
Read more on Dean Gerald Koocher and Hoffman Report findings.
View Comments (8)