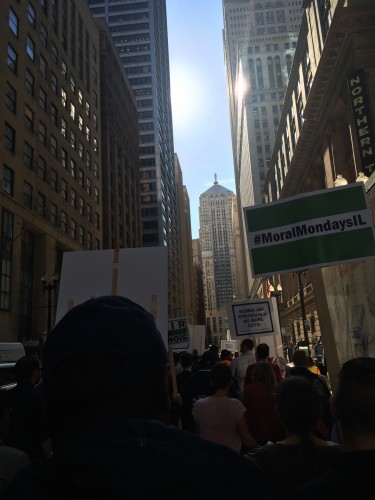 It wasn't business as usual Monday morning as hundreds showed up to march through Chicago's Financial District for this week's #MoralMonday protest, where demonstrators gathered to fight Gov. Bruce Rauner's proposed budget.
Moral Mondays Illinois is a weekly protest with a faith-based focus on fighting against the social injustices potentially caused by the state government and other leaders. Groups like Fair Economy Illinois and ONE Northside regularly organize and attend these protests, which come in the midst of a months-long budget standoff between Rauner, a Republican, and Democrats in the legislature that has left the state without a spending plan for the next year.
Demonstrators came in troves Monday morning to march down LaSalle Street chanting things like "Love thy neighbor as thyself, tax the rich and share the wealth!" and "They say cut back, we say fight back!"
Protesters of all ages and backgrounds were present to make their voices heard. Ann Marie Cunningham, who graduated from DePaul in 1967, was in attendance and was also from Fair Economy Illinois.
"There's money in Illinois. We have to stop taxing ordinary people and billionaires need to pay their fair share to keep Illinois running," she said.
One of the main objectives of the march was to demand a "LaSalle Street Tax," which would be imposed on financial transactions.
While Rauner hopes to gain revenue by cutting state services and potentially increasing taxes, protesters believe he is protecting the one percent.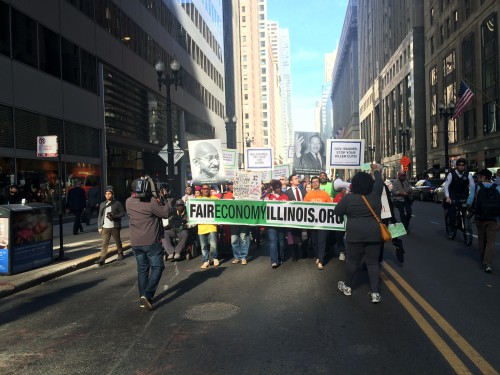 "I pay more than a $10 tax on a bill of $100 for basic necessities and we can't ask millionaires to pay pennies to make trades here at the Board of Trade?" said Sarah Buck, a leader of Fair Economy Illinois, one of the protest's organizing groups.
Illinois is one of the few states without a progressive income tax, which would allow for different tax rates based on level of income. Currently, state residents pay a 3.75 percent flat tax. In order to change this, there would have to be an amendment to the state constitution.
The LaSalle Street tax would amount to much less than one percent of the purchase, the activists have said.
Buck said this is a much more viable and righteous option for gaining government revenue, rather than cutting funding for critical human services like Wards of the State, which she works for. She has seen endless cases of homeless youth being given a home and an opportunity at life through foster care.
"If that service is cut off, these kids will be thrown into correctional facilities," she said. "Rauner is cutting vital services to the most vulnerable of society."
As business professionals on LaSalle Street looked on, the march ended at the Board of Trade where several activists blocked the doors in solidarity with the movement for the LaSalle Street tax. Forty-one people were arrested for obstructing the entrances and for disrupting the building. Arrestees were cheered on as they were carried off the scene.
DePaul students were well represented at the march. Tom Rietz, a sophomore at DePaul and volunteer for grassroots organization ONE Northside, organized a group of DePaul students to attend the march.
"It's important for DePaul students to get out there and fight to get those budget cuts lessened so people can get a decent quality of life," Reitz said.
Rietz is passionate about the fight against the governor's budget and has been trying to get more DePaul students engaged, whether it's through ONE Northside or DePaul Democrats, which is what he is also a part of.
Despite some resistance from professionals walking past, including one individual who made a finger-gun gesture at one of the speakers, protesters were not deterred.
"Whether or not people disagree, it's important to fight for what we believe in," Rietz said.
Based on the masses of people, it is clear that this is not an insignificant, low-interest issue as the state budget crisis continues on with no end in sight.
"People are taking to the streets and shutting down the Board of Trade today because we can't cut any more services," Buck said. "We are in crisis and that is why we are here today."