Laquan McDonald remembered at prayer vigil Monday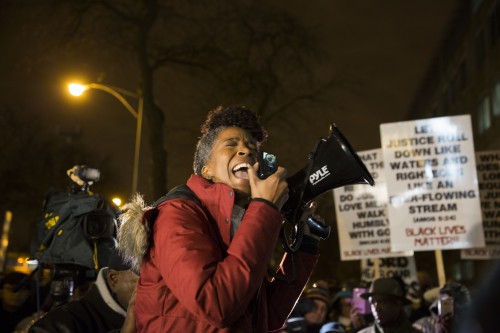 Despite forecasts of heavy rain, hundreds of Chicagoans attended Monday night's prayer vigil for Laquan McDonald, the 17-year-old Chicagoan who was shot 16 times by police in October 2014. Demonstrators marched from surrounding area churches to the Chicago Police main office where group prayers were lead by religious leaders.
The vigil was lead by a group of Bronzeville clergy who call themselves the Justice League and was organized by Pastor David Swanson of New Covenant Community Church.
"Once that video came out last week we started talking, and as pastors and as clergy it seemed like prayer was the first response," Swanson said. "We started putting the word out and it was very clear that there were many people who didn't just want to sit on the sidelines. "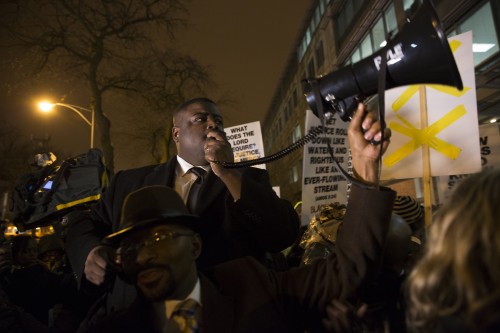 Another member of the Justice League, Pastor Bernard Jakes, marched members of his congregation across 35th Street, stopping traffic along the way.
"We want to let the City of Chicago know that the faith community is deeply concerned about systems of injustice," Jakes said. "We want a federal investigation into the Chicago Police Department. Take a look at what's going on there, and we need an overhaul. This has been years of corruption, blue wall, silence and we just want justice."
Over 25 churches in Chicago's faith community were represented at Monday's vigil.
"It's great to see the city coming together," Neichelle Gundry of Trinity United Church of Christ said. "It's sad that we had to lose the life of a young African American man, and what we're hoping for is structural change in the city. These are people who have upheld the corruption that this city is built upon and we need change."
While arrests and clashes with police have marred past protests, tonight, Pastors urged for peace and passed on messages of hope to listeners.
"The most hopeful aspect of an event like this is that you see that there are people who want to work together," Swanson said. "There's a lot to do, there's a lot of hard work ahead, but when you see such a diverse group come together it gives me hope."