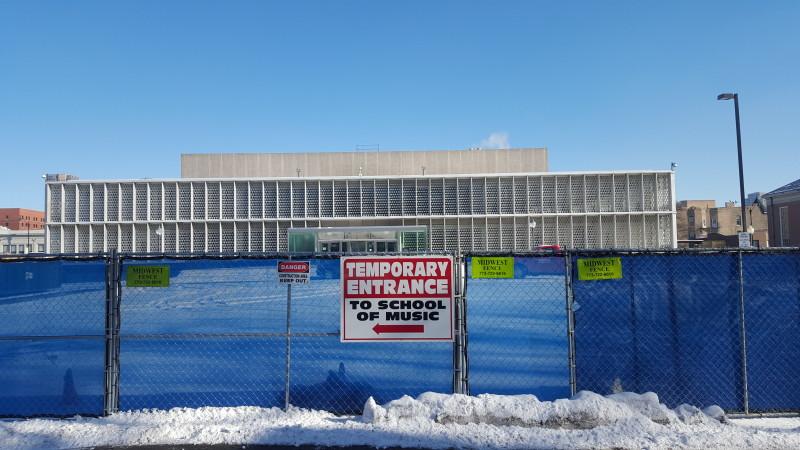 With the reconstruction of DePaul's School of Music now underway, music students and faculty are adapting to changes, the most prevalent being the relocation of practice rooms to the Annex building and the closure of the school's nearby parking lot.
For students, this means that instead of finding practice space in the McGaw Hall, where they used to, they must trek approximately 10 minutes or more to the Annex building at 2130 N. Kenmore Ave. If students drive to school, they must now find parking on side streets or in DePaul's parking garages on Sheffield and Clifton avenues.
But, knowing that the facilities will be refurbished into three new buildings by late March 2018 – a 535-seat concert hall, an opera rehearsal hall and an underground parking lot for 100 cars, according to the school's website – students and staff seem to be willing to bare the hardship.
Charlie Jacobs, a junior and music performance major, said he regularly practices his flute in the Annex building.
"They're much nicer. They're bigger, there's light, there's windows," Jacobs said.
Because Jacobs has asthma, he prefers not to tolerate dank and dusty corridors. "That's a problem at the old building," he said. But in the Annex, which is newer, Jacobs has no such issue.
The walk to the Annex, however, is problematic for Jacobs. His piccolo, a half-size flute, is designed for warmer temperatures. "There is a risk of (it) breaking," he said.
With parking next to the school of music no longer an option, Jacobs said that he can't afford to drive to school, and instead takes the train. That in mind, Jacobs was optimistic.
"Honestly, everything is better right now. And it will be even better," he said.
Betsy Sorensen, a sophomore and sound recording technology major, said her problem was with the walk between the main building and the Annex.
While most of her classes are in the main building, some are in the Annex. Sometimes she doesn't have the time to get to her next class in the 10-minute window given between DePaul classes, and must cut down on her practice time because of it.
"We talked to professors to make sure we can get there, and we figured it out," Sorensen said. "It's inconvenient, but it's good in the long run."
Gerald Martinez, a graduate student and jazz studies major, said he had a similar grievance with the Annex.   
"Everything is nice over there, but the fact that we have to go over there is a pain," he said. "It's hard, because we have our lessons here, and if I want to warm up I have to go over there."
If students don't have the time to travel to the Annex, or don't want to risk damaging their instruments from the cold, they can use the studios many professors have offered as an alternative, according to Bob Lark, professor of jazz studies.
"In this kind of weather it is a big deal. There are string instruments that can crack in the cold," Lark said.
Lark said he was fortunate to have his office remain in the main building, and not in the Annex like some of his colleagues. "But that could change next term," he added.
If some students arrive late to Lark's classes, he said that an arrangement is often worked out because of the reconstruction.
"I'm sympathetic to the case," Lark said. "It'Fs good practice if you're going to be tardy to email or call the professor." If the professor hears nothing, then it's no good. "Let us know," he said.
Catherine Sliva, a graduate student and viola performance major, had no complaints about using the Annex to practice.
"There are much more rooms available. I can always find rooms," Sliva said. "At McGaw, you couldn't always," referring to the music building that is now being demolished.
Some students said they don't need to go to the Annex because of the heavy nature of their instruments. This is the case for Justin Boyd, a graduate student and jazz composition major.
Boyd plays the drums, and because his instrument remains in the old building, he does not use the Annex. "I'm not interested in walking over there," he said.
Kasia Szczech, a junior and composition major, said she also doesn't need to go to the Annex because the pianos she uses remain in the old building. But problems do remain.
"I have to get there early in the morning or after 8 p.m.," Szczech said, describing how she is able to get a piano room before they are taken by students in the middle of the day. But this is a problem that existed before the reconstruction.
While the parking lot next to the School of Music is closed, students and faculty who drive will need to find parking elsewhere.
"I'm going to explore some other options. It's always tricky in Lincoln Park," Lark said. "It's a drag, but we knew it was coming."
Boyd had no such issues with transportation.
"I have secret parking. It hasn't been affected me, honestly," Boyd said, with a grin. "Finding spaces is the same."
Judy Bundra, the interim dean of the School of Music, said that many of the problems some students and faculty face can be avoided.
Students and faculty can park on side streets and in DePaul's parking ramps, or use public transportation for reconstruction's duration, Bundra said. Instrument cases, which all students have, are designed to protect the instrument from the elements. Besides some professors' studios being available, students can also use classrooms, when they're not in use, she said.
"It's not perfect, but again, the pain is worth the gain," Bundra said, "because in two years we're going to have world-class facilities."