Two unions seek to represent DePaul adjuncts
It appears the Service Employees International Union (SEIU) is not the only shop in town as United Academics of Chicago, a branch of the American Federation of Teachers (AFT), has also been active in the effort to organize adjunct professors at DePaul.
The competing unions offer adjuncts options as they consider joining collectively organized colleagues at local institutions such as the University of Chicago and most recently Loyola University. It may also present a challenge to university administration who, while allowing non-tenure track faculty and adjuncts to make their own decision regarding unionization, have made clear their preference to remain non-union.
The AFT, which represents roughly 1.6 million workers nationwide, is the exclusive bargaining unit for faculty at the University of Illinois at Chicago as well as several public school district teachers in the area, including Chicago's public school teachers. As the name implies, the union focuses mainly on organizing teachers, paraprofessionals and other school-related personnel.
The SEIU, on the other hand, is better known for representing healthcare workers, government employees and property service workers such as janitors, security officers and food service workers. However, the union is quickly expanding its reach into higher education. Since the start of its Faculty Forward initiative last January, the union has won victories at the University of Chicago, Loyola and other institutions across the country.
For DePaul adjunct Jerica Arents, a peace, justice and conflict studies professor involved in the organizing process for the AFT, her previous experience organizing with the union as well as AFT's experience organizing teachers led her to organize with them.
"The reason I decided to organize with the AFT, is just because I've been connected to the AFT in the past and I sort of resonate with this idea of being supported by a union that already has a membership base that's made up of teachers. The AFT is so devoted to education and making sure that there's equal access to education across the board," Arents said.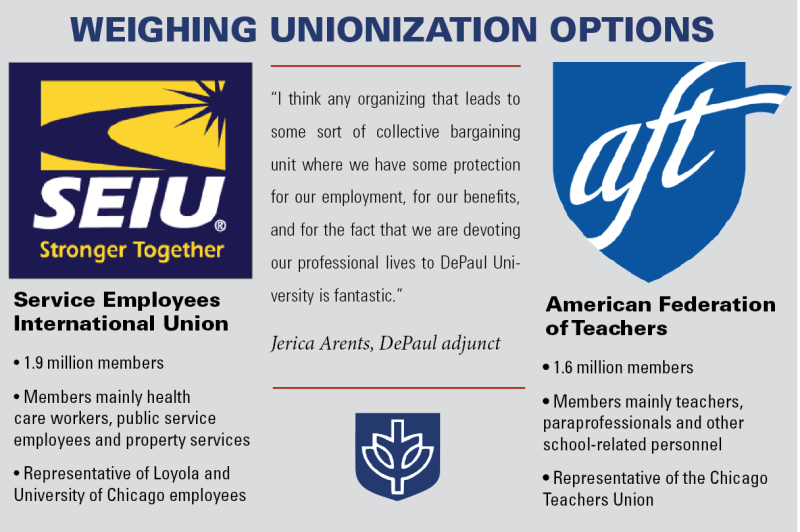 Arents is glad, however, that the SEIU is also on campus to contribute to the dialogue and present adjuncts with multiple options.
"I think the work that the SEIU is doing is great and I'm so happy that there is a conversation happening on DePaul's campus around whether or not it makes sense," Arents said. "I think the students are talking about it and obviously other faculty members are talking about it, and I really hope that adjuncts feel like there's a movement around insuring that there's some sort of safety net when we are sort of thrown away, because that's how the system is set up."
While university President Rev. Dennis Holtschneider, C.M. has maintained that DePaul would take issue with the National Labor Relations Board oversight it would be subject to if a union is authorized, something the university believes would violate their first amendment rights as a religious institution, he has made clear the university's preference to remain a non-union shop.
"This isn't going to change my life much, but it's going to change the life for lots of these departments that are going to get formalized between the full-time and the part-time faculty," Holtschneider said in an interview with The DePaulia last week. "And I'd rather not have that. DePaul's a family place, even though it's big, it doesn't feel that way … Now if we were treating (adjuncts) poorly, I would get it even more, but I think we're kind of mostly above what most people are doing."
Though Arents, who has been teaching here for five years as an adjunct, said she loves DePaul and acknowledges that it pays better than many other schools, she said the system as a whole needs a change for the better.
"It's a system that's unjust," she said. "We're not being compensated fairly for the amount of work and time that we're putting into teaching, and then the students are really the ones who end up with the short end of the stick because we aren't available, because we're working in different capacities in different places and we just really aren't making a living wage for the amount of work we're putting in."
Arents estimated that before taxes were taken out, she made $28,000 for teaching seven classes as an adjunct last year. Many expect adjuncts to be professionals in the fields they teach, but that is often not the case.
"There are conversations around tenure-track or full-time faculty members doing committee work and administrative work and all these other things and I think that's fair and valid, but the reality is that in the classroom, I have the same role that anyone else has," she said. "I teach seven classes a year and that's the work that I do. I occasionally pick up some sort of freelance work on the side, but DePaul is my major source of income. That's all that I do."
For Arents and other adjuncts, collectively organizing is the solution to many of the issues they face as contingent faculty. And for those who are thinking of signing a union card, there are at least two distinct options to choose from.
Beyond who they typically represent, the unions have different structures and organizing philosophies. According to an AFT spokesperson, the union seeks to "organize the largest possible unit." This means organizing at the university level, not just individual college units within the university. 
"Organizing large units is necessarily a slower and more deliberate process, which is why we don't typically bring out authorization cards or go public until we have a strong base of support," the spokesperson, who wished not to be identified, said. "We do things this way not because we are afraid to be aggressive, but because we're interested in building power, not just winning elections."
The SEIU, on the other hand, has had a more aggressive strategy of organizing at the level of individual colleges. For instance, their victory last week at Loyola only covers the 326 non-tenure track and adjunct faculty in the university's college of arts and sciences.
While this may contrast with the strength the AFT seeks to create with a larger union, a college by college approach may undercut the university's argument on the Adjunct Info Hub page that describes unions as a "one-size fits all" approach.
The SEIU has been organizing on campus since spring last year while the AFT has been here since August. Regardless of which approach adjuncts contemplating unionization prefer, Arents is glad that organizing is occurring. 
"I think any organizing that leads to some sort of collective bargaining unit where we have some protection for our employment, for our benefits, and for the fact that we are devoting our professional lives to DePaul University, is fantastic," Arents said.