Students create boxing film with help from DePaul supplies and Kickstarter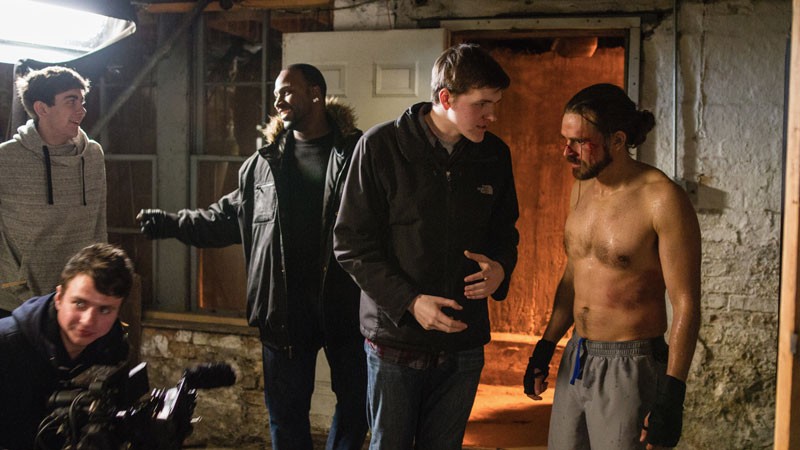 As if class, homework and clubs weren't enough, third-year DePaul student Austin Heemstra added writing, producing and directing to his schedule last quarter. After coming up with an idea over winter break for a short film that simply couldn't wait, Heemstra and DePaul students Rishab Roa and Jon Deck wrote an original screenplay titled "Samson."
"Samson" is a boxing film that addresses the importance of connecting with family and overcoming traumatic situations. The main character, Samson, must fight in and out of the ring to save his family from a crime boss to whom he is indebted. With some thought-provoking biblical illusions and complex characters, the film seeks to be a boxing movie on a deeper level.
"All these movies were coming out like 'Creed' and I really wanted to make a boxing movie," Heemstra said. "I also wanted to learn how to address a style of film with activity. I wanted to learn choreography."
Education was intentionally a main goal for Heemstra and his crew. Largely a student effort, Heemstra wanted to create a film that could showcase everyone's abilities.
The "Samson" effort brought together many DePaul College of Computing and Digital Cinema students, giving them exposure to the film industry on a smaller, independent scale. DePaul students Taylor Gillen and Ella Lubienski served as producers for the film, and are currently working on gaining awareness for the film's Kickstarter campaign.
"Samson" was shot at the iO Chicago theater and two Chicago apartments, including DePaul student Danny Farber's basement and DePaul student Alex Naremore's kitchen. Filming in just three locations, the budget for "Samson" left much to be desired. However, with graduate student Dre Sanchez's production design skills and the resourcefulness of the Samson crew, the short film was pulled off with only a self-financed $2,600.
Although "Samson" did not receive any funding grants from DePaul, Gillen said that the short film would not have been possible without DePaul's equipment. Utilizing their student status, "Samson" crew members rented out cameras and lighting equipment from DePaul's state-of-the-art supply.
Although Gillen acknowledged the fact that not many short films make a profit, he hopes the Kickstarter campaign will help the crew recuperate some of their self-funded budget. "Mainly these types of things are stepping stones to bigger projects. It's about having work that you're passionate about and gaining exposure," Gillen said.
Although the filming of "Samson" has ended, there is plenty of work to be done. Scoring, editing and color correcting the film are all parts of the post-production process. The short film's Kickstarter currently has 24 backers and is $1,695 short of its $3,000 goal.
Funds from Kickstarter will hopefully generate enough for film festival submissions. Heemstra hopes to submit his short film to festivals in Chicago, Los Angeles and Maryland after it premieres.
The short film is currently in the post-production stage. "We're now working to create marketing campaign strategies and finish post-production," Gillen said. To aid the marketing efforts, Sanchez is designing posters and signage for "Samson." Not only the production designer, Sanchez is also the film's graphic designer, demonstrating the fluidity and flexibility of the crew due to its small size.
Far from certain, various scenes in the film were up in the air until the day of the shoot. The fight scene in particular gave Heemstra nightmares. Nervous about extras showing up for the final, and arguably the most important day of shooting given the fight scene's significance, Heemstra and Gillen were extremely appreciative of the extras, including a few DePaul students, that came to the shoot.
Once the extras were secured, however, the real battle began. "We had to make food for 30 people," Heemstra said. Because of the short film's low, self-funded budget, money couldn't be spared for catering for lunch and craft services.
"Food is part of our actors' and workers' payment," Gillen said. While the crew took turns wearing many hats during production, one hat the production assistants knew very well was the chef's hat. The crew made all of the film's food for every shoot. "We'd have tortellini, salads, deli sandwiches, hotdogs and jalapeño dip from Costco," Heemstra said.
"We saved money by making our food. We were crunched for time so we bought our groceries, instead of securing donations" Gillen said. "That was just the avenue we decided to take."
Coming from an acting background, Heemstra said his role behind the cameras affirmed his love of film and introduced him to the world of directing. "This was my first time actually being a real director, and I'm so in touch with the characters. It's amazing," Heemstra said.
Completing production in just four weeks during winter quarter, spring quarter will also be a quick turnaround with the crew focused on the editing process and preparing for a pre-screening. "Samson" is set to officially premiere sometime this June.
"The most difficult part was finding everyone I needed to make this happen. I was trying to figure out who would be best for what," Heemstra said. "I really wanted this project to be a project for people who normally don't get to do what they want to do. For me, I didn't direct that much. I was acting and producing, but I wanted to direct."
Inviting Sanchez to try out a role in the art department of "Samson" and bringing freshmen Megan McGuire and Erin Moreland onto his crew as production assistants, Heemstra's short film became much more than just a short film about boxing. The learning experience for the entire crew, cast and especially Heemstra himself made every challenge worth it.
For Sanchez, the best part of the experience was being around people that were just as passionate as he was. "There were a lot of talented people involved, but more important than the talent is the passion," Sanchez said. "Even when you were tired and losing energy on set, you gained it by seeing everyone so inspired. You felt that. You can teach people things, but you can't really teach somebody to want to be there."
Heemstra's genuine pride for his short film was evident as he equated his directorial experience as having a child and then watching the child go off to college.
"There were times when I would be looking at the monitor and I would just laugh. It was crazy because the lines that I wrote and this story that I wrote were happening," Heemstra said. "Being able to see this all come together was such a surreal experience."