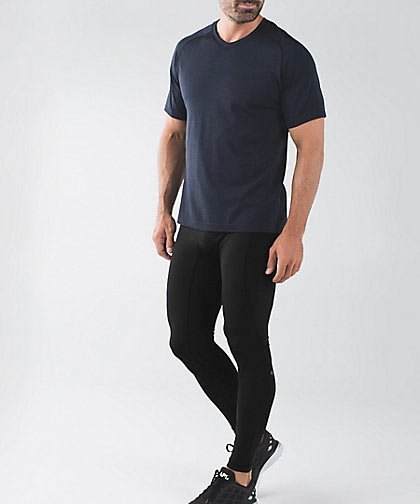 For the majority of men, a t-shirt and some sort of gym shorts are the common gym gear when working out. With the rise of upscale athletic wear for women, such as Lululemon and Athleta, brands targeted towards men started popping up, mainly online.
While there has always been athletic apparel by companies like Adidas, Nike and Under Armour, their clothes are more focused on sports, not necessarily working out. Sure, shorts from any of these three companies would be more than suitable for working out in, but it doesn't have the same appeal to some men as putting on a new pair of Lululemon yoga pants does for women.
Ape Athletics, based out of Centreville, Virginia, wanted to change that. The owner, Peter Tran, decided to release joggers in November of 2014, which are essentially fitted, tapered sweatpants made of material suitable for gym wear, and it was an instant hit. They run $54.99 a pair and the website can barely keep any size other than extra large in stock for more than a day or two after they are either released or restocked.
"The joggers give guys an alternative to standard basketball shorts or running shorts," Tran said. "They're also really appealing for people who live in colder climates in the winter because you can throw them on when you go to the gym and keep your legs warm and either lift in them or wear shorts underneath. People even wear them casually for a laid back look outside of the gym."
Joggers by Ape Athletics are fitted, but are suitable for almost any body type. Other companies, such as Rise Gym Gear out of Canada or Gymshark from the United Kingdom, target a more aesthetic-focused buyer with most of their gym apparel being very fitted and snug. Rise and Gymshark also have compression pants – sometimes referred to as "meggings" or men's leggings which run anywhere from $41 to $50 – that are popular, but leave buyers in a conundrum about whether or not to wear shorts on top of them while working out.
"The first few times I wore my compression pants to the gym I threw on a pair of basketball shorts over them because I was self conscious, I guess," Jason Chauhan, a member at XSport Fitness, said. "After that, though, I started wearing them without shorts because I got to the point where I didn't care what people thought and it's honestly no different than when girls wear super tight leggings."
Though the trend of upscale wear has crept into the world of fitness, it's seen as gimmicky by a lot of people still. Danielle Mayall, a personal trainer at Fitness Formula Club Gold Coast, thinks spending that much on fitness apparel is crazy, whether you're a man or woman.
"I see people wearing $200 outfits to the gym from Lululemon or other stores like that and just can't believe it," Mayall said. "I train these people while I'm comfortably wearing leggings from either Target or Old Navy and spend a third as much as they do for similar quality gear."
Mayall admits she owns a couple pair of Lululemon leggings, which generally retail for $98 and up, but said they were gifts from people because she would "never spend that much on something just to sweat in for an hour or so."
While some of this apparel has its benefits – joggers or compression pants worn when deadlifting can prevent the scraping of the bar against your shins from the lift – it's not necessary to have a successful workout and likely won't increase one's strength in the gym.
But as former star football player Deion Sanders once said, "If you look good, you feel good. If you feel good, you play good."
This has to apply to the fitness world too, right?