Making a scene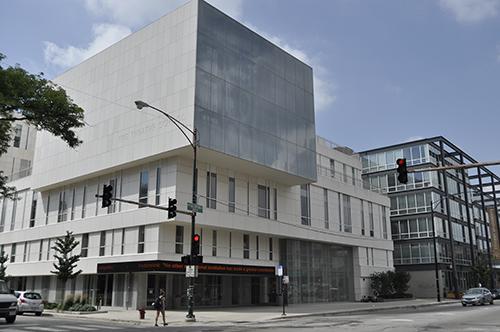 Theater is abundant in Chicago. From "My Fair Lady" at the Lyric Opera to "La Havana Madrid" at Steppenwolf Theatre, playwrights craft vivid characters and thematic surveys of the world around them.
The Wrights of Spring festival of new plays at The DePaul Theatre School gives students the opportunity to take part in that cultural tradition, opening the school's space to students to have their original plays read in front of their peers.
For two weeks, students will get to put on their plays for the DePaul community. Ranging from traditional, family dramas to alternative, sci-fi realities, to works inspired by last year's election, this year's selection of plays provides something for everyone.
Wrights of Spring is open to any student who has taken the playwriting class. Over the course of its 22-year history, the festival has hosted more than 170 playwrights. Nearly 20 of the works presented have been chosen for the school's New Playwrights Series, which takes the winners from the Wrights of Spring, gives them a cast, props and puts them on the mainstage.
"The types of plays are totally up to the students," Elise Belluccia, a marketing coordinator of the festival said. "We have a really wide range of plays from really traditional family dramas to some absurdist stuff, but it's all up to the playwright."
This year's festival has been in the works since January, when Carlos Murillo, associate professor and head of playwriting, and the planning team met for the first time. THe goal of the festival, he said, is to give the students "as rigorous a professional experience as possible." The festival is a key element of that.
"It's the highlight of the year for our playwrights and the energy we've been able to build around their work for all students at TTS is super exciting," Murillo said. "In a bigger sense — supporting new plays and playwrights is key to making the theatre a living, ever changing art form — while I love classic and canonical plays, new plays are what really excite me, as they speak to the current moment in the world and provide audiences with fresh ways of seeing the world they live in."
Chandler Clamp's "Apocrypha," which premiered May 18, is a dark comedy about a man starting his own religion — like Flannery O'Connor's "Wise Blood" but with a new age spiritual healer and a gutter punk singer-songwriter who helps transmit "the message." He said, seeing the play he's been working on since last October come to life is a surreal experience.
"It's really exciting, but just from my experience doing this in the past, there's a weird energy around it," Clamp, a junior whose work is subconsciously based on the 2016 election, said. "It's a surreal experience to work really really hard on something and then see it actualized with actors who are really good and with an audience. It feels like a rush in a way — it's terrifying, but that's what makes it so cool."
Clamp said the school provides a good support system while also giving students a lot of freedom to explore and figure out what they want. The festival goes beyond just showing student-written plays. It also serves as a way for people to have conversations about big issues going on in the world and for students to see each others works.
"There is something very empowering to witness peers in the arts grapple with and succeed at writing a play — much in the way that it is empowering to see a student athlete excel at their sport," Murillo said. "It shows us possibility and excitement."