In The Promontory's warm, candle-lit space on the second floor of the Hyde Park concert venue and restaurant, there is an exciting buzz in the air.
It's a Tuesday summer night and an intimate, older crowd is ready to hear the iconic Maureen Choi Quartet, a classically trained group of flamenco-jazz musicians.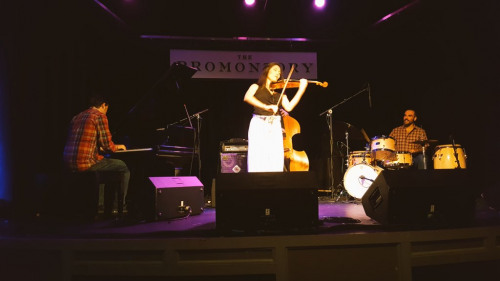 Maureen Choi steps out in a stylish sleeveless black top, billowing white pants with black stripes, and a gracious smile upon her face. She shakes back her luxurious long black hair and thanks the audience for coming out for her quartet's second performance at The Promontory.
The quartet, which consists of pianist Daniel Garcia Diego, drummer Borja Barrueta, double bassist Mario Carrillo and Choi on violin launches into a medley of flamenco based, rhythmic tunes that are energetic, inviting and appealing to an unpretentious audience.
"In the classical world, you don't perform until the music is perfect. I learned I have to engage in the moment, that I didn't have to be so perfect," Maureen Choi said. "It was a big life lesson for me. When I was playing, I approached the violin and music more naturally, without all the pressure. I don't have to be so perfect or totally prepared. I could pour out my years of training and do what I loved."
The Madrid-based Berkeley instructor and composer leads the quartet through Cuban, South American, African and Latin inspired songs that make you want to dance in your seat. The pure joy, passion and artistry of each musician made it seem like one was viewing a jam session between friends, the buildups, transitions and range of music making it a positive experience for all.
Between earnest sips of water between dynamic songs, Choi introduces an original number called "Dance of the Fallen," which is based on old Spanish rhythms. The Quartet takes it down a notch for this piece while not losing even a hit of their passion or energy. Barrueta softly plays the drums with his hands, Garcia Diego tinkles with high pitch notes on the piano, and Carrillo steadies the group with solid, funky bass notes.
The sweet song transports from the comfy seats and cocktail bar of The Promontory to a summer walk under the Madrid sun on the streets of Spain. With her eyes closed and focused on weaving the delicate notes of classical training and unique improvisation, one can tell Choi comes from a musical background.
Her mother was a Vienna-trained opera singer, and her father played guitar and made numerous mix tapes. Though she received her virtuosic classical training from Michigan State University and Berklee College of Music, evident in her gorgeous vibrato and rich tone, Choi was still entranced by other genres of music after spending nights dancing on the dance floor to Latin music and taking a jazz strings class.
"I fell in love with the improvisational aspects, and I felt this sense of liberation. I got addicted to playing jazz," Choi said.
It was after a devastating car crash that Choi decided to pursue jazz and Latin music fully. She began composing her own music, teaching music in Madrid and Valencia, and released her first jazz album with her quartet in 2011.
Choi works closely with Carrillo, who is her arranging partner, as well as her life partner.
"I go to Mario and then to the band with as much meat as possible, with my concepts and melodies as developed as I can make them," Choi said. "Mario looks at what I have, listens, and comes up with beautiful ideas. Then the band will try different things, and add their own elements."
The most fascinating part of the quartet is that each instrument and musician gets a chance to shine at any given time. In some of the numbers Choi accompanied haunting basslines, rhythmic percussion, delightful piano, at other times the musicians let her lead the sultry flamenco tunes or fascinating Cuban rhythms.
The hour-long set grew into a transcendental experience as the Quartet launched into the intensely passionate number "Sinner's Prayer," and a few songs from their album "Ida y Vuelta," which means "going and coming back."
It takes talent to be both strong and soft, and the Maureen Choi Quartet does an amazing job of utilizing both fortissimo and pianissimo in their music. Their vigor and enthusiasm really shined through in the last few songs, with everything from a Cuban twist on Rimsky-Korsakov's "Capriccio Espagnol," as well as fast paced bulerias and lively fandango numbers. The magical quality and essence of Maureen Choi Quartet's live music and passion is one that is carried long after their last notes ring out in the inviting room.
Their 2015 melodic and energetic album, Ida y Vuelta is available for download here.