Pride Parade draws in millions, celebrates Illinois same-sex marriage law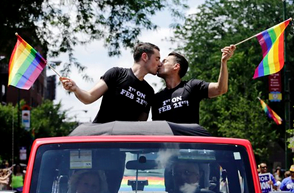 Last Sunday's 45th Annual Chicago pride parade celebrated the city's first parade since same-sex marriage was legalized in Illinois this past February.
The four-mile parade kicked off at noon at Montrose and Broadway and ended at Diversey and Sheridan.
An estimate form the Chicago Police Department found almost 1 million people were in attendance for Sunday's celebrations. In addition to the crowds, 205 groups from schools, churches, local businesses, and elected officials' offices walked the parade through the Northside neighborhoods.
Illinois politics made big statements at the event with the appearance of Gov. Pat Quinn walking in the parade.
His Republican opponent, Bruce Rauner, did not attend the parade. The gubernatorial candidate's position on same-sex marriage for Illinois has been largely opposed in the LGBT community. Large posters of Rauner's  "If I were Governor, I would veto it" position on equality in Illinois were seen hanging from sides of building in neighborhoods near the parade.
Michael Damron, a student in the Chicago area, reflects on the significance of this year's parade.
"It was by far the best one yet! Just the rush of being in a crowd of hundreds of thousands of people who support the gay community was just an overwhelming feeling. It was so great to be a part of and knowing that this parade brings together so many supporters is just amazing. I can't wait until next year's already!"
The Pride Parade was marked as one of the busiest weekends in Chicago this summer.