MoviePass cards delivered after significant price drop
September 25, 2017

MoviePass is simple. You pay a monthly subscription that grants you the option to see up to one move per day, for every day of the month. Fortunately, for us moviegoers, it just got a whole lot simpler.  Welcome to the MoviePass, the monthly payment of only $9.95.
Yes, under $10 means that if you wanted to see "Kingsman: The Golden Circle" tonight at Regal Webster Place, the adult ticket price rings in at $14.22. This means that if you are a paying member of MoviePass and you see one movie a month, you are saving money.
Established in 2011, the company struggled to get their impression recognized by theater owners. No one has known about them as they sit near the bottom, soaking in their failed ambitions to disrupt the industry as they tried to pitch their service to chains. Last year, MoviePass had a tiered system that offered subscribers two, three or unlimited movies per month. Those prices fluctuated throughout the year depending on the region and the highs and lows of the market. The monthly payment ranged between the tiers and calculated to be about $21-$50 per tier. At the end of the year, the MoviePass service had 20,000 members.
Mikey Brzezinski, a film reviewer, attends film festivals all across the country but when he's not at a festival, he's an avid MoviePass user. "I think the monthly subscription is worth it because I spend well over $10 every month to go see movies, I'm saving a ton of money with it. And I think it can also give people who maybe don't go to the theater all that often an extra boost to go see some movies," Brzezinski said.
Fast forward to August of 2017 when a significant amount of MoviePass' stock (an undisclosed amount) was sold to an analytics firm. Helios and Matheson have a similar construct of those of Facebook and Google, whereas their free service (in this case for MoviePass, $9.95, but you get the picture) relies heavily on the subsidization of personal accounts for advertisements. The price reduction occurred, and there you have it, MoviePass' website crashes like it's Lollapalooza and those 20,000 members were given the $9.95 deal along with another 380,000 newbies who are beginning their year of movies.
So who the heck can be running this deal? Well, he's known for taking down the company that everyone thought would never be destroyed – Blockbuster. In July of 2016, the Netflix CEO and the former President and COO of Redbox, Mitch Lowe, helmed MoviePass. As with Netflix, his eye for accessibility and effectiveness is at play once again with his ever-so-surprising price reduction.
Once a member, you'll retrieve a striking new debit card with your name on it. That card must be activated on the nifty MoviePass app, as this will be the only device that enables you to purchase tickets. Now here's the spin, you must be within 100 yards of the selected movie theater – although 91 percent of theaters are included in the subscription, unfortunately it disregards ArcLight Cinemas – and purchases only work for same-day tickets. The downfall here is, for example, when Stephen King's "It" opened, there's no way you could buy a same day ticket for that flick because they were sold out for the entire weekend. Patience does come into play in some particular situations, causing moviegoers to wait until after opening weekend to snag a hot ticket.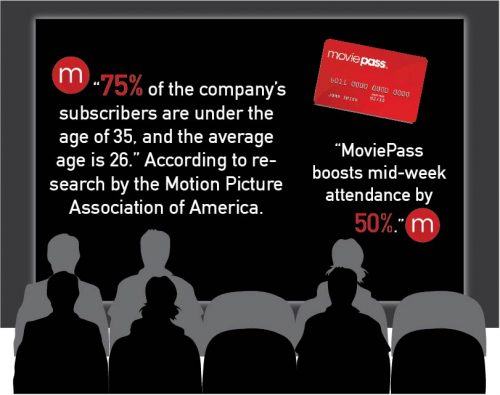 In Chicago, the MoviePass is accepted at many smaller, independent theaters around town, too. Music Box Theatre, the Davis Theater, and the Logan Square Theatre all are along for the ride. One that really hurts moviegoers is Landmark Century Cinema, as this theater includes a lot of the Oscar-worthy films around award season and is not involved in the membership.
This reaffirms Lowe's initial reasoning behind his plans. After coming off of one of the slowest summer box office seasons to date, Lowe is gearing towards the millennials who don't have the cash to visit the theater. With MoviePass, the leftover funds that would be put forth for a ticket, can now be allotted towards concessions (which is primarily the only way theater chains make money).
MoviePass hopes to build the system, especially the app, in creating marketing campaigns. They also proposed potential deals – like the option to purchase a film's soundtrack as audiences walk out of the showing or a pre-order of the Blu-Ray – to change the way movies are marketed, sold and perceived.
In preparation for the subscription price drop, MoviePass added hundreds of employees. Prior to the news, the company only had a handful of workers, but with the excessive activity surrounding the company there is around a 3-4 week wait time until your card arrives at your door. Many customers expressed their concern due to their card not arriving in the mail. MoviePass kept up with weekly emails to inform their waiting customers that their cards will be shipped once the team is caught up with the incredible amount of new subscribers.
Joey Traverso, a junior in the CDM Directing program, often visits the theater. "It's hard for me to say. Although in theory it sounds like a phenomenal deal, it is also difficult to say what theaters it will work for or not. And given the recent angry response from theater chains like AMC, I feel like some of the theater chains will draw out. So I think it's a little too early to tell. I would like to hear what people think of it before investing," Traverso said.
AMC, one of the nation's leading theater chains, is not  accepting the $9.95 subscription change with ease. Just a day after the price change, AMC filed a lawsuit against MoviePass. The thing is, for every customer to use the MoviePass at an AMC theater, MoviePass still has to pay AMC for the full price. This is causing a lot of fuss around customers that currently use or hope to use MoviePass because they don't see the longevity of Moviepass' system. Bankruptcy is a common concern among many in regards to the cheap service, estimating nationwide that a moviegoer only needs to commit to two movies a month to put MoviePass in the negatives.
"Besides the obvious financial benefit, it's an encouragement to go to the theater more often," Connor Iseberg, a political science major, said.
Of course, MoviePass fully understands their own situation. Their plans for the future rely on their subscribers but it also depends on the expansion of their service, with hopes to bring a new movie going experience to folks who normally aren't visiting the theater more than one to two times a month.
This inexpensive service will definitely fill more butts in seats. When seats are being filled then the industry, the theater chains, the filmmakers and the audience all benefit from it. But who is really benefiting from this new deal? Well, the returning moviegoers, of course.