Refuse Fascism protests off to a slow start
Despite cold and rainy weather conditions, a crowd of over one hundred activists gathered at Federal Plaza on Nov. 4. The protest was the first in a series of demonstrations scheduled to last until the 18th.
Stickers advertising the protest popped up in the Student Center but were quickly removed by Public Safety officers. Organizers of the event also tried to organize a student walk-out at DePaul, but not many students participated.
The group called Refuse Fascism organized rallies in over twenty cities, demonstrating opposition to President Trump's administration.
At the Nov. 4 kick-off, Chicago Police were more than ready to handle the crowd, with well over 100 officers deployed to the plaza. There were officers on foot, on bicycle, and some with bomb-sniffing canine units.
Commander Robert Klich said that the police department "didn't really know what to expect" in terms of crowd size.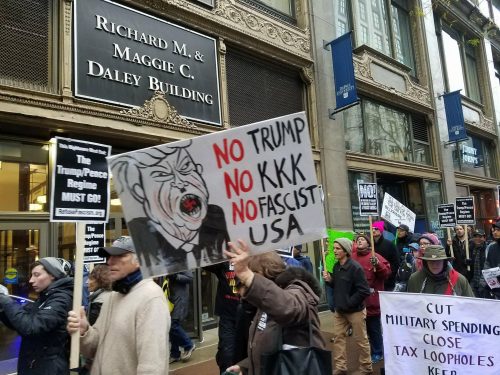 While many were directly affiliated with Refuse Fascism, others showed up to vocally oppose President Trump.
TJ Jendres of Oak Lawn, expressed his dissatisfaction with the Trump administration.
"It's the ultimate irony," Jendres said. "My dad used to fight fascists in World War II, and now we have one in the White House"
Jendres went on to blame the baby boomers for electing President Trump, saying that he hoped the millennials would make things right.
DePaul student Gwen Upchurch was at the protest. When asked why she was in attendance, she said, "it's one thing to say you're against fascism and another thing to actually take action."
The rally began at approximately 11:30 a.m., with emcee Ted Sirota calling the crowd to attention. Sirota kept the crowd energized with multiple calls to action — he even played the drums with a band saying that Chicago's rally would be "the one that brought the funk."
DePaul alumnus Edward Ward was in attendance on Saturday. Ward gained notoriety during the Milo Yiannopoulos protests of 2016 — when he and other Black Lives Matter advocates disrupted the event citing hate speech.
Ward is in the process of launching a political campaign for Illinois' 10th District State Representative seat.
Though Ward is not affiliated with Refuse Fascism, he did address the crowd. 
"We must do what must be done," he said, loosely quoting St. Vincent DePaul.
"It is important for all of us to get involved and make our voices heard."
Across the street from the Federal Plaza, approximately 20 counter-protesters gathered to denounce Antifa and support President Trump.
Initially, the group stood behind the protest — underneath the Flamingo sculpture in the heart of the plaza. But once they were identified as counter-protesters police officers politely ushered them across the street.
Insults and accusations were briefly exchanged, but they were tame and didn't amount to any violence.
Their leader asked to be identified only as J.P. Heathen. He wore a mask and a sweatshirt that read "Anti-Antifa." Heathen says that the mask is for his own protection, and he has been threatened by Antifa for protesting their events.
"I was concerned this was supposed to be a civil war and an attempt to overthrow the Trump/Pence regime," Heathen said. "Nothing happened, just a rally that can easily be ignored.  We all know whatever they say is not going to get Trump out of office."
There was a group of five masked individuals, dressed in black, that were seen being led away by police officers. Heathen later claimed that this group had attempted to attack him but were quickly thwarted by the police.
"We are launching a movement and today it begins," Sirota exclaimed towards the end of the rally. He continued with a promise to "protest every day until our numbers grow."
And protest they did, although with considerably smaller numbers.
Protesters have been present throughout the week at the Barnes & Noble at the corner of State and Jackson. For a couple of hours each day, a group of no more than 20 were seen engaging pedestrians and passing out literature.
Lina Thorne is one of the organizers with the movement.
"We're in the streets, across the country today, saying that we, the people of this country in our millions, need to protest and keep coming out until we drive out this regime. They're fascists," Thorne said during a protest held on Wednesday night, the anniversary of Trump's election.
"This isn't a 'wait-and-see' kind of moment." she added.
Evan Moore, an adjunct professor at DePaul with expertise in activism and social movements, offered his take.
"I think people are seeing where activism can go. It can transition from civil disobedience, to enacting policies and electing officials."  Moore said.
When asked what he thought of the Refuse Fascism movement, Moore said, "it's too early to see if it's going to work, or if it isn't going to work."
According to the event page on Facebook, the demonstrations will continue day-by-day through Nov. 18. The scope or length of the protests remains unclear.
About the Contributor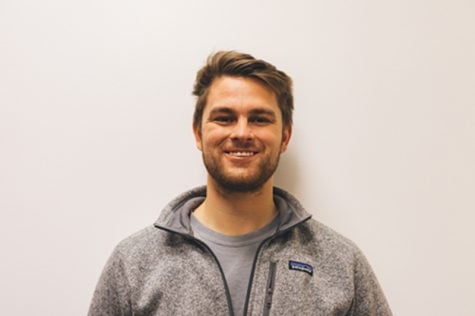 Jonathan Ballew, Assistant News Editor
Jonathan is the News Editor at The DePaulia. When he isn't arguing with Ben over syntax he enjoys watching Stranger Things and Black Mirror, or reading...