Providence stuns DePaul with 22-0 run in second half
For 23 minutes of game time, it looked like the DePaul Blue Demons would leave Wintrust Arena with a second consecutive Big East victory to their name.
But, the Providence Friars (12-6; 3-2 Big East) had other plans. The Blue Demons (8-9; 1-4 Big East) found out the hard way that it's difficult to win a game when an offensive drought extending over eight minutes of game time allows the opposition to go on a 22-point run in the second half that transformed a 12-point deficit into a ten-point lead.
"When we're good it's because we share," Blue Demon head coach Dave Leitao said after the game. "We share and we move and we become harder to guard. By percentage (assists to made field goals), it wasn't as many as we needed on offense which hurt our defense. In terms of our crispness of our execution, in terms of the slowness of our cuts and things like that and not sharing the basketball by virtue of moving around."
DePaul finished the game with 16 assists on 26 made field goals (61.5 percent assist rate), but only made one of every three shots they attempted in the second half as the offense stagnated for a long period of time in what's becoming a disturbing second-half trend.
To their credit, the Blue Demons fought back late, pulling to within eight points with 2:42 left in the game. Back-to-back 3-point field goals from juniors Eli Cain and Max Strus cut the deficit down to three points with 1:31 left to play. With 30 seconds remaining, the Blue Demons had the ball down just three points.
Strus fired up a tough, contested 3-point field goal early in the shot clock and the Blue Demons didn't get back on defense as Providence forward Rodney Bullock put the game out of reach with an uncontested dunk with 16 seconds remaining.
"I've said from the start of the season that I like this team a lot as people and athletes," Leitao said when asked about the late comeback from his team. "I think when I look inside their hearts and their minds there's really good things about them. If that's your foundation, things like that can happen (the Blue Demons late comeback). It's not going to be perfect, but I like this group for the resiliency they have. They've shown it throughout the course of the year thus far and we've had to learn some tough lessons."
In the first half, it appeared as if the Blue Demons would overwhelm the Friars in the paint and not have to worry about a late comeback. Graduate senior center Marin Maric and freshman Jaylen Butz had a combined 18 points on 7-for-8 from the field and senior Peter Ryckbosch chipped in four points as DePaul outscored the Friars 24-6 in the paint. But that advantage diminished in the second half as the Friars matched the Blue Demons with 14 points in the paint.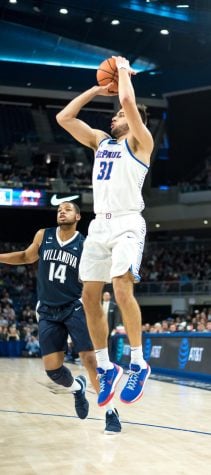 Junior forward Max Strus was held scoreless up to the 12:58 mark in the first half, but went on a personal 5-0 run after that to cut the deficit to 20-17. The Blue Demons finally pulled even with two minutes left in the first half on a free throw from Cain and then took the lead two possessions later on a Tre'Darius McCallum baby hook from the right block. The Blue Demons led 35-34 at the break, but a lack of offense sunk them in the second half (29 points on 33.3 percent from the field).
Providence keyed in on stopping Strus by bothering him with two defenders, and the Blue Demon's leading scorer finished the game with nine points on 3-for-13 from the field and 2-for-8 from behind the 3-point line.
"Cross our fingers," Providence head coach Ed Cooley said about his game plan against Strus. "He's one of the best newcomers I've seen in the Big East in a long time. He's a game changer. The minute he steps off the bus you need to know where he is. I give my players a lot of credit, particularly Jalen (Lindsey) because it was a team effort, but Jalen took it personal and he's supposed to (since) he's a senior and he's been around."
Fox Sports 1 provided an all-access (both head coaches were mic'd up and the telecast had no commercial breaks) view into the Blue Demon collapse, eliciting a mixed reaction from the head coaches.
"I think both coaches were a little leery about a few things because of the access part and not just (watching) your language and who you say (things) to," Leitao said after the game. "The exposure you give your opponents to play calls. But I think the good outweighs the bad in terms of exposure it give both programs."
Cooley was more blunt in his assessment.
"Positive from your end (reporters and fans)," Cooley said. "Very tense, parts of the game you forget you are mic'd up. I'm glad we did that for the brand of DePaul, Providence, and the Big East. It's a trend setter if coaches have the courage to do it. But I think both Dave and I want to give our fans and alumni an inside look of how hard it (coaching) really is. Because many of you, even in this audience, think what we do is easy. I hope we gave perspective today on how hard our job is.
The Blue Demons return to action on Monday night when they travel to Marquette to take on the Golden Eagles (3-3; 12-6). Tipoff is at 8 p.m. CDT and FS1 will televise the game.