DePaul in drag: a celebration of inclusivity
January 16, 2018
The student drag show kicked off on Friday, with dollar bills and cheers filling the Student Center. Presented by Act Out DePaul, an LGBTQ+ activist organization, the show succeeded in exhibiting a night of high drag, day drag, queens, kings and everything in between. 
With the seats filled to capacity, the student queens and kings performed songs from various artists like Carly Rae Jepsen, a drag cultural icon, to Panic! At The Disco, a nostalgia-bringer. This year's show celebrated a multitude of drag art forms by including "Kings, Queens, and In-Betweens," according to the show's Facebook event page. DePaul queens like Sapphire Feliciano donned full drag and danced their faces (and wigs) off, and kings like Sick Boy brought in tips by tearing their pants and bringing an audience member on stage to dance.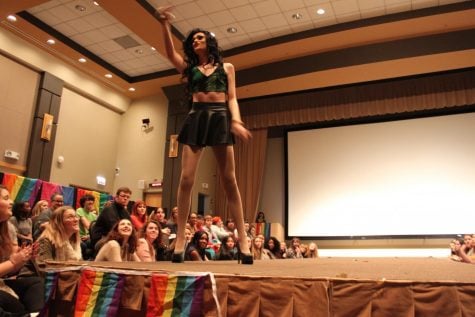 Two Chicago drag scene heavy hitters Bambi Banks and Aunty Chan hosted the evening that included their own mini-performances. Aunty Chan began the night with a hilarious performance of a traditional-sounding song, complete with a blue and pink kimono. After an intermission, the two queens pranced the stage to a "High School Musical" song, original choreography perfected.
 "I didn't know I needed that in my life, but I did," said Meghan Magats, Columbia College student and audience member.
Performances varied by drag style, and this medley of both queens and kings led to plenty of unexpected moments. Audience members 
probably expected queens in full drag, death dropping and twisting around the stage, but the drag kings kept up the energy of the queens with their own fiery style of performing.
One drag king, Sick Boy, paraded the stage a cutoff T-shirt and sweatpants, only to rip them down the middle at the beginning of their set. 
"I choose what kind of look I do based on whatever makes me laugh and have fun," said Christian Borkey (Sick Boy). 
Christian felt this year's show was more personal with the performers and the audience members. An addition of a runway received acclaim from the queens and kings. The runway allows the performers to connect with the audience in a deeper, more personal manner.
"Last year's show felt a little more packed than this year, but this year we had a catwalk and I really think that gave a lot more people the chance to be up close and involved," said Grason Clark (Lolita Gray), another performer.
Act Out DePaul works with the DePaul and Chicago community to discuss current issues regarding gender and sexuality. They have organized the student drag show for the past eight years as interest has grown due to shows like RuPaul's Drag Race. Last year's show was the first show on the stage of room 120 of the Student Center because of the huge turnout. Before, it was located in the Student Center Atrium. 
This year's student drag show aligns with the premiere of RuPaul's Drag Race All Stars season three, airing Jan. 24. Many young queens and kings' curiosity with drag begins with the show. Set up much like America's Next Top Model, queens compete to gain the title of America's Next Drag Superstar. 
The show is unlike any before it because of its diverse representation of LGBTQ+ culture, and it is an excitable and binge-worthy stride in the right direction for the community. The downside is that it's the only representative of drag queens, and there has yet to be similar exposure to the kings like the jubilee of queens in pop culture since the show premiered in 2009.
More varied forms of drag are gaining more visibility in pop culture, with the show "Boulet Brothers' Dragula" where horror drag queens compete for the title of America's next Drag Supermonster. With the school's inclusive drag show, the voices of the drag arts that deviate from the norm are not silenced in such a loud and extensive culture. The biggest takeaway from the show, many performers agreed, is that drag is about expressing yourself, art and society, free of judgment.
"It lets me express myself in ways that I might not be able to out of drag," said Omar Cruz (Omani Cross), a performer.