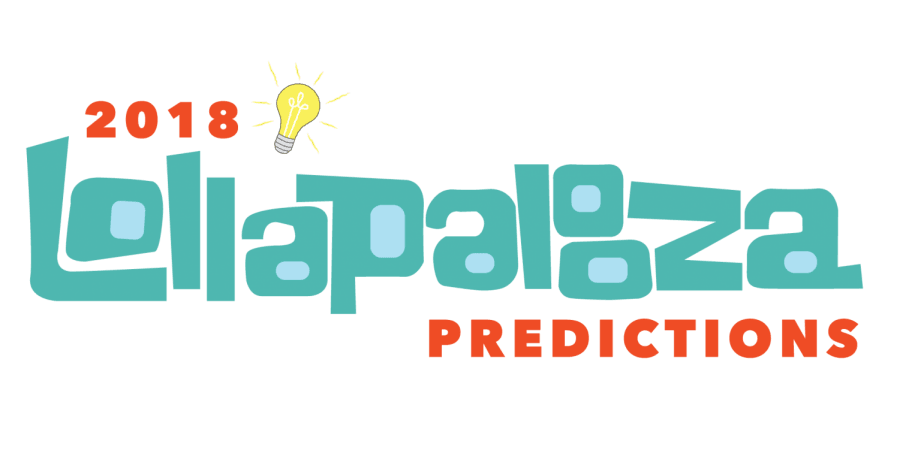 2018 Lollapalooza predictions
February 19, 2018
Coincidental gaps in touring schedules, new albums to promote and other festival lineups, oh my!  With little over a month left before Lollapalooza tickets go on sale, fans are scrambling to decode the festival's 26th-anniversary lineup. While some artists—like Cardi B—have already confirmed their appearances, the schedule won't officially be released until the day tickets go on sale.  Despite this, most of the lineup is typically leaked ahead of time through predictions, as avid fans investigate and predict their top picks for the festival.
Here are 10 artists that will probably make an appearance at Lolla's 26th anniversary:
Arctic Monkeys
2018 is the year Arctic Monkeys rise—hopefully with a headlining slot—again. With a new album after a five-year hiatus on the way, they've also confirmed headliners for 15 festivals around the globe—with a convenient break the weekend of Lolla. Coincidence? I think not.
Kendrick Lamar
Kendrick is a perfect candidate for a headlining spot. The Grammy-winning rapper hasn't performed at Lolla since the release of "Good Kid, M.A.A.D City" in 2013, so it's about time he makes another appearance—especially given the success of "DAMN."
Post Malone
As one of the confirmed higher-ranking acts for Coachella and Governor's Ball, a Post Malone appearance at Lolla would make sense. He's also never made an official appearance at the festival before—even though he crashed the Flosstradamus set with Chance the Rapper in 2016—so fans have yet to celebrate the success of "Stoney" with the New York-based rapper.
Odesza
The Seattle-based EDM group Odesza is a perfect candidate to be one of Lolla's headliners. Chicago didn't make the cut for their 2018 tour, and they're scheduled to play at nearly every major North American festival this summer—including Coachella and Firefly. They have spots on European festival lineups as well.
BØRNS
BØRNS may have performed in Chicago this past January, but the release of his long-anticipated second album, "Blue Madonna," and his past history with Lolla—performing in 2016—make his reappearance very likely.
Tyler, the Creator
Tyler, The Creator is wrapping up his tour for "Flower Boy" with a slew of summer festival appearances—including Coachella and Bonnaroo. While he hasn't played the Chicago edition of Lolla since 2015, he's scheduled to perform at the international versions of the festivals in Argentina, Brazil and Chile.
Brockhampton
Unless they book a Pitchfork performance, a Brockhampton appearance at Lolla is very likely. Given their breakout success, they're playing almost every major festival—including Coachella, Boston Calling, Governor's Ball and Bonnaroo—and they have never appeared at Lolla before.
Sir Sly
Sir Sly is quickly rising to the top of the indie charts. Their hit single "High" held a spot on Sirius XM's Alt 18 Countdown for 22 weeks in 2017 and was featured on the hit Netflix series "13 Reasons Why." They're set to perform at a variety of other festivals too—including Coachella, Shaky Knees and Bonnaroo—which leaves a pretty big open spot for them on the Lolla lineup.
LANY
Following the success of their 2017 debut self-titled album, it was shocking that LANY didn't make a Lolla appearance. With a new album reportedly in the works, they've skipped over a Chicago date on their upcoming spring tour and haven't played the festival since 2015. They're also slated to perform at eight festivals this year–including Coachella, Governor's Ball and Bonnaroo.
Post Animal
Even though they've never played Lolla before, this Chicago-based band is slated to play at Shaky Knees and Bonnaroo this year. A spot on the Lolla lineup is likely as this psychedelic-rock group is quickly making a name for themselves.