That empty feeling: Despite move to city, men's basketball attendance remains low
February 26, 2018
DePaul's debut basketball season in the South Loop has been rough — the team is currently at risk of finishing dead last in the Big East standings for the eighth time in the last decade.  But tough competition, injuries and streaky offense aren't the only ghosts to follow the Blue Demons to Wintrust Arena.
Since moving from a cavernous 17,000 seats at Allstate to a cozy 10,000 at Wintrust, DePaul's men's basketball team is still struggling to fill the stands, continuing to rely heavily upon ranked opponents and traveling fans to draw sizable crowds. 
Through DePaul's home game against Creighton on Feb. 7, the Blue Demons had drawn an average of 2,993 people to their games, including two that saw fewer than 1,000 people, according to attendance numbers obtained by The DePaulia through a Freedom of Information Act request (FOIA) from the Metropolitan Pier and Exposition Authority (commonly known as "McPier"), the quasi-governmental agency that partnered with the university to build and operate Wintrust.
Despite expectations that bringing the Blue Demons into the city would attract more fans to home games, attendance at Wintrust has seen just a modest uptick with only three games eclipsing half capacity (about 5,000), including Saturday's game against Marquette. Last season at Allstate, DePaul saw some of the lowest attendance numbers in program history, averaging less than 2,000 in turnstile attendance.
Turnstile attendance refers to the number of people who actually show up to each game. Attendance figures reported in the final box scores at DePaul games refer to paid attendance, which measures the number of people who bought or received free tickets whether or not they actually enter the arena on game day.
Through Creighton's visit to Wintrust on Feb. 7, the Blue Demons are averaging just under 6,000 in paid attendance, another modest increase from Allstate where they averaged under 5,500 in paid attendance.
Early estimates calculated by HVS, a New York City based sports and entertainment consulting firm hired by McPier when the Wintrust project began, projected DePaul's men's basketball team would account for less than 50 percent of annual turnstile attendance at Wintrust. The firm projected an average attendance of 9,500 at 16 DePaul men's basketball home games, totaling 152,000 of the arena's 370,000 projected attendees.
DePaul's athletic director, Jean Lenti Ponsetto, said DePaul had nothing to do with that projection, and it was never a target for the university.  Thomas Hazinski, the managing director at HVS and author of the feasibility study, did not return the DePaulia's request for an interview.
"We have a game-by-game projection that we are looking at because we know that we are going to get a different number for Villanova than we would for Miami of Ohio," Ponsetto said. "I would say in almost every circumstance, even in a good number of our non-conference games we exceeded the number we thought we were gonna get."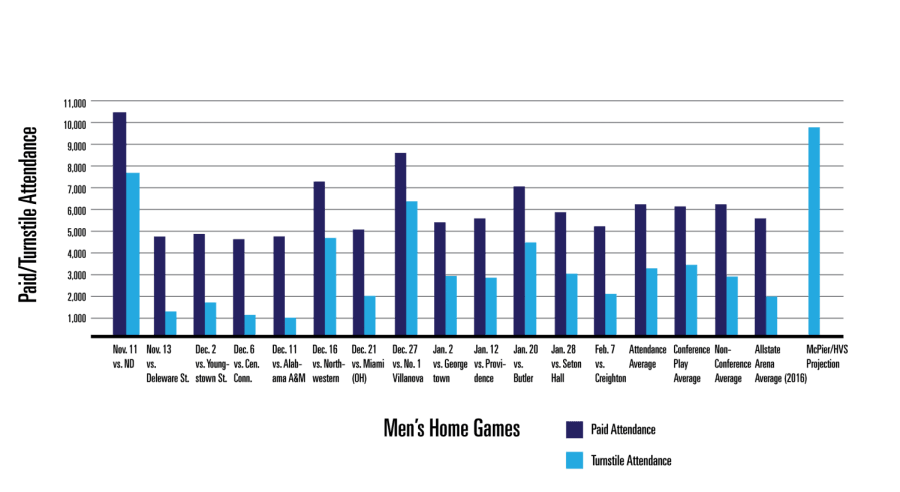 Emails obtained by The DePaulia show that McPier employees, including Wintrust Arena's Assistant General Manager for Entertainment David Kennedy, took those projections seriously.
One email from a senior analyst, responding to an assistant controller who was requesting attendance numbers to give McPier's insurance provider, carried a document outlining projected month-by-month attendance numbers for Wintrust. The address line of all related emails included Kennedy.
According to that document, McPier projected 38,000 in turnstile attendance at DePaul men's basketball home games in the months of November, December, January and February and 9,500 in March (only one game).
DePaul only played three games in November (including one exhibition game) and February — hitting 38,000 monthly fans would require all three to exceed capacity.  The six games across December would need an average of 6,333 and four games in January would need to match HVS's projection of 9,500.
McPier's FOIA office told The DePaulia that because Wintrust is currently in its first year of operation, those projections were made without the benefit of historical data. However, at that time, the Blue Demons were still active at Allstate Arena, where low attendance highlighted a waning interest in the program.   
"Since opening in October, the new, state-of-the-art Wintrust Arena has hosted a wide range of public, corporate sports and entertainment events, and has hosted more than 50,000 visitors into the South Loop neighborhood" Kennedy said. "(…) We are very pleased with the arena's performance to date."
Fortunately for DePaul, the anchor tenant agreement between Wintrust and McPier takes much of the financial burden off of the university.  The school will receive 100 percent of attendance revenues and pay none of the operating costs associated with the arena. So, as of now, it doesn't look like the school will be fighting to break even each year.
In an interview with the DePaulia, Ponsetto said the university made sure that the project would not fall on the back of student tuition.  Instead, the money used to pay for DePaul's share of the arena — which includes $82.5 million in building costs and $445,000 in annual rent — was generated by the Athletic Department through corporate sponsorships, naming rights, fundraising and paid attendance, she said.
When DePaul's lump-sum payment of $82.5 million was due in June 2016, the university funneled money from the School of Music's project to build new facilities.   
"I am really proud to say that as we are now into year one, we've met our fundraising goal, we've met our corporate sponsorship goal (and) we're probably going to exceed that," Ponsetto said. "We are probably going to exceed our fundraising goal because we are continuing to fundraise."
Ponsetto says the school has exceeded the ticket sales revenue goals outlined in their budget. Because DePaul is a private school, it is under no obligation to release budgetary information.   
While the financial implications of low attendance at Wintrust may be limited, that doesn't mean attendance doesn't matter.  In fact, quality turnstile attendance figures have potentially big implications on the success of Blue Demon basketball.
Former associate head coach Rick Carter, who resigned in June 2017 after two seasons with the team to pursue a private business venture, said some of DePaul's low attendance woes can be traced to one thing: winning games.
Carter, who also coached at Xavier University, said Xavier's elite status following NCAA tournament runs spurred "bandwagon fans" — people without a firm tie to the university that become fans after watching the teams rise to relevance — to consistently attend games.  He says DePaul need to generate a bandwagon following in order to grow their average attendance.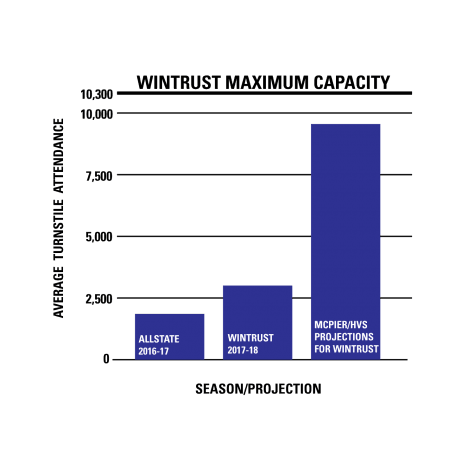 "Almost every university has them," Carter said. "The die-hards are there every single game."
Likewise, former Chicago Tribune sports writer Mike Conklin, who covered DePaul from the late 70's into the 80's, says he believes DePaul made the same mistake with Wintrust as they did with Allstate, placing the arena in a relatively inaccessible location. An arena position outside of the city is only slightly improved by a new arena in a traffic heavy downtown Chicago, he said.
Carter also said fans have the ability to help teams turn games around, comparing fans — especially students — to a DJ in a nightclub.
"If you ever go out to a nightclub (and) they're not playing music, no one is going to dance," Carter said. "But when there is energy, it's loud and the bass is bumping — everybody is having a great time.
"I think a lot of fan bases sit in the crowd and complain about what they don't have or what (the coaches) should be doing. I think that if they find a way to just cheer their team on, they will be in a much better place — everyone involved will be in a much better place."
In theory Wintrust could serve as a recruiting magnet; giving the coaches some bling to flash at starry-eyed, top-tier recruits — the key ingredient to a successful rebuild.
"Wintrust gives us something to sell to recruits," Carter said. "You can take a kid through the arena and he can imagine his jersey in the rafters."
It looked like Wintrust might pay off in a big way when Tyger Campbell stunned the NCAA basketball community last May with a verbal commitment to DePaul.  Then, this past September, Campbell reopened his recruitment and eventually found his way to UCLA over DePaul.
Ponsetto says the program has seen more recruiting offers turn into official visits — which is a step in the right direction, but far from evidence that the recruits will stick to Wintrust.
According to Carter, the biggest selling point on DePaul for Campbell is the city — top-tier recruits want national exposure, which Campbell could get at both DePaul and UCLA.  The deciding factor, he says, is simple: UCLA has a recent history of winning.
---
Written by Shane René, with contributions from Conner McEleney, Ryan Witry, Wahaj Khan and Demarco Trammell. Graphics by Ally Zacek.