As her time at DePaul ends, Maria Hinojosa looks back
As her time as a Latin American and Latino Studies professor comes to an end, journalist Maria Hinojosa reflects on her time at DePaul and what her presence at DePaul meant for her students.
March 7, 2018
Nervous, yet confident.
That is how Maria Hinojosa remembers feeling when she walked into a room of 12 department directors and faculty members, all of whom were prepared to interview her for DePaul's prestigious Sor Juana Ines de la Cruz chair.
Little did she know that all 12 interviewers were also nervous and slightly starstruck that Hinojosa was sitting in the room with them.
Hinojosa is presently one of the loudest voices for Latino representation in the United States. She is the first Latina to be hired by National Public Radio (NPR), the first Latina to be hired as a CNN correspondent and the first Latina to anchor her own PBS show, "America by the Numbers with Maria Hinojosa."
In 2010 she founded her own independent nonprofit media company called the Futuro Media Group, from which she produces the longest-running Latino-focused program on U.S. public media, "Latino USA." Among her projects is "In the Thick," a podcast covering race, identity and politics that began in 2016.

"I remember as we were all preparing for that interview, we were all really excited because a lot of us in the room were fans of Latino USA," said Lourdes Torres, professor and director of the Department of Latin American and Latino Studies (LALS). "Everybody was really excited just to meet her … to meet this figure who we knew as being a really important person in the Latino world. It was like meeting a star."
The Sor Juana Ines de la Cruz chair in DePaul's LALS department came to Hinojosa's attention in 2012 when she received an email from her best friend Cecilia Vaisman.
The two met on their very first day at Barnard College where they were both studying Latin American studies, and happened to be each other's suitemates at what was then Columbia's University women's college.  
Vaisman herself shared a similar passion as Hinojosa. Working as a radio journalist, her own radio documentaries were broadcasted in prominent syndicated radio stations such as NPR, WBEZ and even on Hinojosa's own Latino USA. Her reporting brought pressing issues in Latin America into the limelight of American media. In 1995, Vaisman had relocated to Hinojosa's childhood city, Chicago, where she became an assistant professor in Northwestern University's Medill School of Journalism. 
At the time, Hinojosa was living in New York City running Futuro Media Group and producing Latino USA.
Upon seeing the email from Vaisman urging her to apply for the job, Hinojosa responded, "Sweetie, I can't. I live in New York. I'm a mom, I can't apply for a job in Chicago."
According to Hinojosa, the conversation between her and Vaisman went a little as follows:
"You have to apply."
"But I can't apply. I can't!"
"But you have to. Imagine. It's like, amazing. It's an incredible position. It's highly competitive."
"I have to kind of admit that when Cecilia said it's highly competitive, I was like, 'well, then alright. In that case if she thinks I'm capable of competing in an academic stage, okay!'" Hinojosa said.
Her competitive streak got the best of her and Hinojosa applied.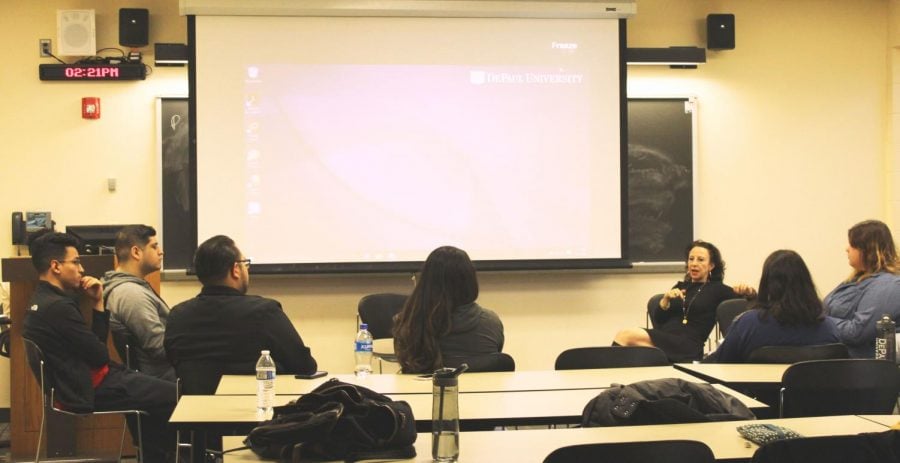 The Sor Juana Ines de la Cruz chair at DePaul was created nearly 20 years ago after DePaul's LALS department advocated for more Latino visibility at the university. The position derives its namesake from the 17th century Mexican poet, philosopher and writer of the same name, who is today considered a revolutionary figure in Latin America.
"She's a powerful Mexican woman filled with cultural feminist and poetic resistance, and the fact that the program … and the chair is named after her at DePaul is such a beautiful thing," Hinojosa said.
In a way Hinojosa's personal story is also filled with feminist and poetic resistance. Tired of the mainstream narratives that only discuss the Latino population in terms of immigration and criminalization, Hinojosa has dedicated her career to bringing attention to other issues surrounding the Latino community.
Through the Futuro Media Group, her mission is to give a "voice to the voiceless." The "voiceless," Hinojosa says, are the 58 million Latinos living in the United States who often go misrepresented on a national platform.
And it seems DePaul heard her; a few months later, Hinojosa was awarded the position.
Having been brought to the United States in 1963 when her parents immigrated from Mexico City to Chicago, Hinojosa reopened a door she thought she had closed.
And so, beginning in January of 2013, Hinojosa has flown from New York City to DePaul's Lincoln Park campus every Thursday in time to teach her 8 a.m. class, before traveling back the same way she came.
For the past six years this has been Hinojosa's routine, but in June 2018 Hinojosa's time as the Sor Juana Ines de la Cruz chair is coming to a close. As her final day at DePaul approaches, Hinojosa reflects on what brought her to the university in the first place.
"It was my dear friend Cecilia … who told me to apply for the job and was the person who basically trained me over several weeks of discussions about how to be a phenomenal professor," said Hinojosa.
In September of 2015, Vaisman, her best friend of 36 years, died from breast cancer.
"This Sor Juana Irnes de la Cruz was actually a gift I feel that was given to me so I could spend the last two and a half years of Cecilia's life seeing her every week. DePaul and Sor Juana gave me many gifts. That was one of them," Hinojosa said.
Her training as a journalist has influenced her teaching methods as a professor.
Every Thursday morning she starts her 8 a.m. class period by writing the word "illegal" in all caps. She then draws a circle around it and finishes with a fierce slash across the word.
Her point? No human being is illegal.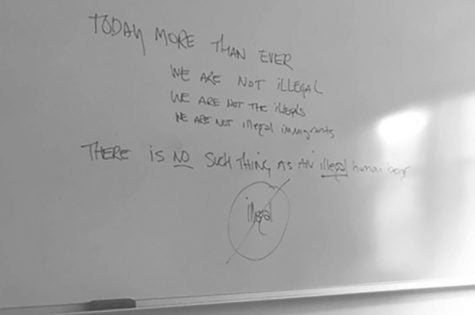 It is routine for her to combat the stereotypes and demeaning connotations that are often associated with Latinos in the U.S. She wants to uplift her students, to make them recognize their own political power and societal value in a society which, more often than not, demeans it.
To wit, Hinojosa has based much of her curriculum on the relationships between the Latino population and societal issues such as mental health, leadership and political identity.
In the United States, according to the U.S. National Library of Medicine and the National Institutes of Health, Latinas have the highest risk of depression over their Caucasian and African-American counterparts and, according to The Sentencing Project, Latinos are the fastest growing population behind bars.
According to the Pew Research Center, Latinos will rise from 14 percent of the population, as recorded in 2005, to 29 percent of the population in 2050. Experts say this can be attributed to rising numbers of second and third generation Latinos descending from immigrants and making America their home.
Yet, these narratives are often missed in the mainstream.
"As Latinos we have our own perspective of what's going on in the world and how it affects us individually," said Katia Silva, a DePaul alum and one of Hinojosa's former students. "All of her classes have that big emotional factor of how it affects not only Latinos but ourselves."
Holding true to her roots as a journalist, Hinojosa's teaching method revolves around interviewing various reputable figures whose work relate to her class topic via Skype. She offers students opportunities to interview these guests as well.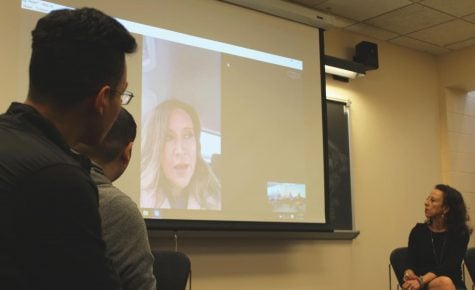 Past guests have included actress Cristela Alonza, former Trump campaign operative Steve Cortes and former inmate and activist Luis "Suave" Gonzalez.
"I've been many things in my life, but I've never been a professor. I decided to kind of trust my perspective, which is not an academic one," Hinojosa said. "Instead of feeling bad about the fact that I was different, I embraced it. I just said, let me teach classes the way I loved being taught. I wanted to create a different style in the classroom – at least, a different style for me."
As a student, Silva was enrolled in all of Hinojosa's courses except one that didn't fit in her schedule. She says the courses allowed her to reflect on being a Latina in a country where, she believes, the current government has expressed hostility toward the Latino population.
"It's a very sad thing to say that Mexicans, Latinos, immigrants, Spanish speakers, brown people, anyone with an accent are perceived to be the problem with our country," Hinojosa said. "The essential narrative is that what needs to happen in our country to get it in a great place, is to make sure there are less of these people around. So we either have to deport them, build walls, or we have to put bans on them. Sadly, that basically just sets the entire tone for everything that's happening."
It's a tone Hinojosa combats every day through her work and in the classroom by sharing the Latino narrative, and it's one she teaches her students to persevere against.
She continues to spread the message of Latino empowerment throughout DePaul by hosting an annual all-day program on campus in partnership with the Futuro Media Group. The aim is to highlight a specific issue of importance within the Latino community.
She also hosts an annual all-day program on campus in conjunction with Futuro Media Group; the topics are different every year.
Since the spring of 2016, Hinojosa has brought her political podcast "In The Thick" to the DePaul campus for one day of production, editing and distribution in conjunction with DePaul students and faculty.
In 2016, "In the Thick" aired an episode recorded at DePaul about mobilizing Latinos to vote in the presidential election and understanding their role in the upcoming election. In 2017, a second episode was recorded focusing on what Latinos could do for their communities in the wake of Donald Trump.
The upcoming live recording of "In the Thick," which will also be its last, will examine the topic of Latinos and mass incarceration – all produced in conjunction with departments of DePaul.
"There are very few voices that are talking back in the national media…I think it's been important for us to have, at this particular time, that leader," Torres said. "(Maria is) a very important leader for the Latino community that's presenting a different message. … Now more than ever, we need people who are telling a different story."
Although her time here is a quarter away from being over, Hinojosa says her students, relationships and memories at DePaul will be forever cherished.
"My relationship with DePaul – which was pretty much non-existent – has become so profound it's not even funny. … It's just really beautiful," said Hinojosa. "I'm so happy that this university has brought me back to the city of Chicago."