Commentary: Loyola's NCAA run should put pressure on Esteban, JLP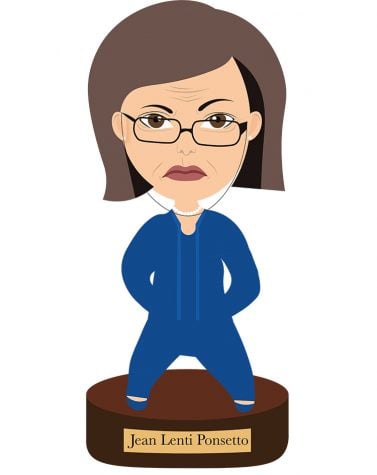 The DePaul University community is a Chicago community. If you walk around the Loop or Lincoln Park campus and ask students why they chose to become Blue Demons, they will likely say "the city." After all, "The city is your campus" is one of DePaul's favorite pitches to prospective students.    
That is why the DePaul community is genuinely happy for their neighbors, just a few stops north on the Red line. A win for Loyola is a win for Chicago — a city known across the globe for its rich basketball culture, even if it hasn't seen a winning college program in well over a decade.
"Congratulations to Loyola and their success," President A. Gabriel Esteban said. "It's a great run and I think it's great for the city of Chicago."   
But we, the DePaul Blue Demons, can and should be that program. And that is why Loyola's meteoric rise to NCAA fame should increase the pressure on Athletic Director Jean Lenti Ponsetto and push President Esteban to make the changes necessary to bring DePaul men's basketball into the winners circle.
"Am I supposed to ignore student athlete success in other sports all at the expense of men's basketball?" Esteban said to The DePaulia when questioned about the state of the men's basketball program and his support for Lenti Ponsetto.
Yes, Dr. Esteban, yes you are.
DePaul's increasingly angry fan base is sick and tired of hearing this, frankly, stupid question. Men's basketball — or football for schools with major football programs — should absolutely be the priority for any athletic department. Football and basketball are the sports that people care about and people watch.  All of that interest translates into potential revenue streams and helps to raise the academic profile of the institution.
"We always have to keep in mind that these are student-athletes not athlete-students," Esteban said. "And sometimes I think we forget the student part (…) We've been retaining and graduating our student-athletes at rates that are higher than the national average. Having said that, I understand the desire for our, imparticular, men's basketball program to be good."
New day, same bullshit. 
In fairness to Lenti Ponsetto and Esteban, DePaul Athletics has to strike a balance between men's basketball and all the other sports at DePaul.  But "balance" doesn't mean "equal," and some sports are worth categorically more to a university than others. To treat all of your sports the same is just ignorant — and I'm sure some golfers and volleyball players would agree. 
Lenti Ponsetto brought her program to the Big East — a "basketball first" conference —  to compete against the best and attract the most talented high school prospects looking to play in a league worthy of national exposure. 
Now Loyola is making noise from the comfortable confines of the Missouri Valley Conference — not a conference built to attract the nations most elite talent.
But the Ramblers got it done anyway.  They went out and bought themselves a hungry, young head coach and created a culture worthy of big wins on a national stage.
A mid-sized Catholic university from a mid-tier conference that the nation forgot about in 1964 just ousted DePaul as Chicago's college basketball team and we should all be alarmed. If losing a city worth of potential fans doesn't force change, nothing will. 
View Comments (15)