DePaul unveils new gaming center, launching esports program
After almost two years of planning, the Big East welcomed their seventh esports team to the Big East Conference when DePaul opened their new gaming center on Saturday.
DePaul's esports community had gathered in the Gameplay Lab on the fifth floor of the CDM Center for years, and the space was not visible to most students. Nicole Yang, a 2013 CDM graduate and now full-time Information Services staff member, said she sensed a need approximately two years ago, and so she began researching what would be needed to make the move. From there, she said the plans came together quickly.
"They gave us the layout of the room and said, ok, give us how you want everything to be put together," Yang said. "What equipment do you want, put a budget together. Everything was so lightning fast, but it was all super exciting."
During the process, Yang said she worked with Associate Vice President Betty Shanahan, Director of Student Involvement Courtney James and others to help bring the project to life.
"(Betty's) not a true gamer, but she's done her research and has been digging deep into what is each game, how does this go," Yang said. "She has created a lot of excitement in general. A lot of parties (were) involved in this, Courtney James was definitely a huge aspect of this as well."
James said she has worked in conjunction with the Executive Vice President's Office, Information Services, Student Affairs and the College of Digital Media. Her role is centered on getting the word out and brainstorming ways to brand the space to DePaul students both inside and outside of CDM.
"We know we have an audience that is going to naturally fall here," James said. "The students that are here now, they are going to naturally come to this space. We have a lot students that identify as gamers that may not be through CDM, so my role was also about how to create opportunities to connect with them with the Esports Gaming Center."
One of the ways James plans to do this is by making the center open to students who may be interested in hosting a tournament with a group of their fellow classmates.
"We're going to be doing pre-packaged events where you can say, 'I want to come and I want to have a tournament,'" James said. "We'll say 'Great, here's how you can do that, here's free popcorn, free Pepsi products. We can get you pizza if it's over a certain number of people.'"
James added that students will benefit from having the gaming center in a centralized location where they don't have to be apprehensive about going into buildings that might not be a part of their major, while also learning about other opportunities open to them at DePaul.
"This place can turn into a hub of student activity, places to connect," James said. "Now they can come down here and learn about opportunities at the DePaulia they can connect with the esports Gaming Center (…) this is where DePaul students can go to connect, we want to create spaces that do that and this is one of them."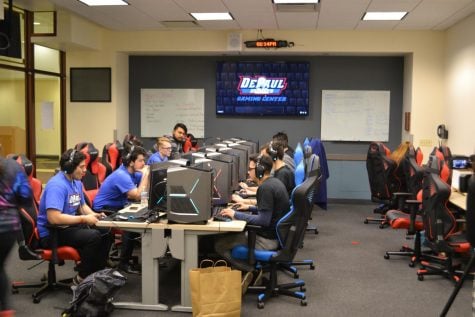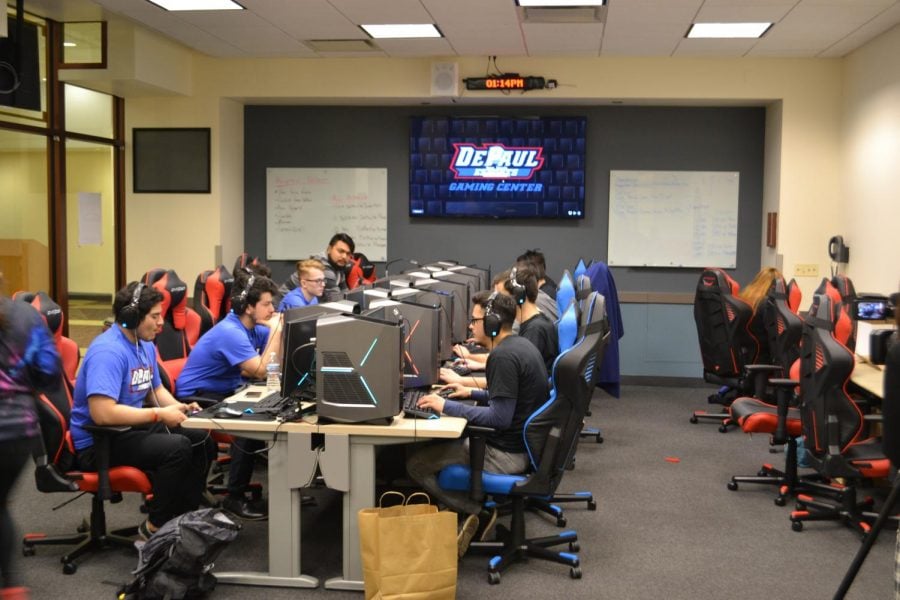 Currently, DePaul is competing in "League of Legends" and "Rocket League" but has plans to feature other games as well.
"Rocket League" is a physics-based game, with three people on each team trying to score a ball into the goal, similar to soccer. Each player has their own car, with a rocket attached to the back allowing players to fly around in a manner similar to Quidditch, from the Harry Potter series. The goal is to use the car's momentum against the ball's momentum to score the ball into the net. Each game is five minutes long, and the team with the most goals in that span wins.
Esteban Perez, a senior accounting major who assisted Yang in getting the center started, said he believes "Rocket League" is appealing as a spectator sport, where fans don't need to have played the game to understand it. This is unlike "League of Legends," which requires a lot more background and technical skill to fully grasp.
"The moment you see it for a minute you start to understand the game, you start to understand what is going on and the objectives," Perez said. "Because of the fast-paced nature of the sport and the skill that can translate into some really cool plays and the team aspect of the sport, it's going to attract a lot of people really quickly."
As DePaul began to explore the idea of esports, one school they reached out to was Robert Morris University (RMU), who founded an esports program of their own four years ago. Jose Espin, a Program Coordinator at RMU and current DePaul MBA student, said he is excited to see the school embrace esports and mold it into something that fits the school.
"The thing I really liked about DePaul (is that) they want to take their own approach because everyone is very willing to help," Espin said. "They kind of molded it to what they wanted it to be, (and) from what I've heard from them when I talked to them, they're definitely on the right path, and I just think it's really great."
Since RMU founded their program, they have used it as a marketing and recruiting tool for prospective students. James said DePaul recently met with Team Liquid and talked about the life cycle of gamers. What they learned was kids traditionally become interested in gaming around the age of nine when they get an Xbox or Wii. Between the ages of 13-17, however they become more interested in computer-based gaming, which James said fits their target market. For James, seeing the popularity of esports in the Midwest is another area they plan to market.
"There are roughly 70 different colleges that offer esports scholarships," James said. "So I think in order for us to be competitive with those, maybe not a scholarship, but just to have a space to say 'Hey, you can come and have a space to do this here' and a space that they'll see on their tour that they'll know is open to them, I think it could potentially have an impact on student's decisions too."
For now, James sees an opportunity to compete against schools like RMU, Loyola, Northwestern and the Big East, where students now have a great foundation to compete against other top players.
"I think (it is) not only Robert Morris and DePaul," James said. "Like we're doing here with the Big East, these students are playing against seven or eight different schools depending on which game it is, and I think if they keep winning there will be a certain amount of swagger and pride that comes along with that."
James added that DePaul could also serve as a great place to host tournaments in the future, potentially attracting students looking at graduate school or DePaul's game design program.
The program certainly couldn't have asked for a better start, opening at a combined 10-0 between "League of Legends" and "Rocket League" and advanced to the Final Four on April 14 and