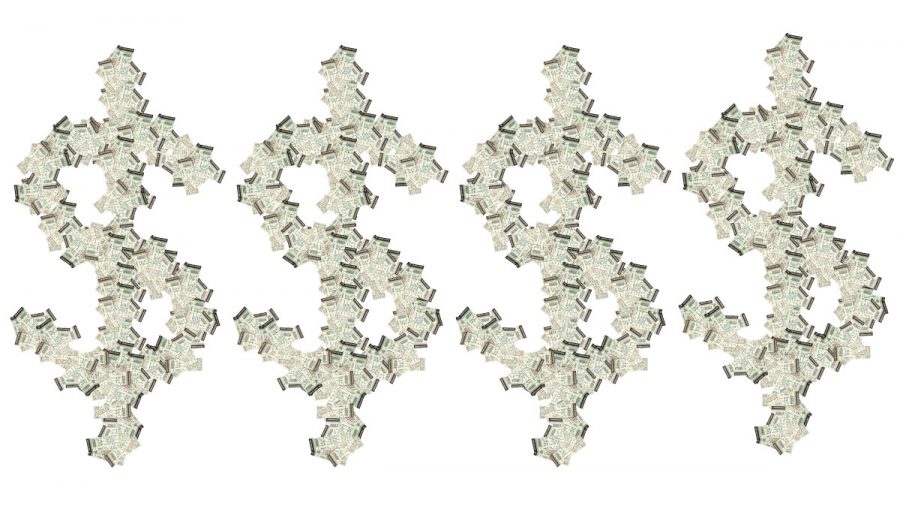 Ally Zacek | The DePaulia
Graduation gouging: Lack of commencement tickets means high prices for students
May 14, 2018
The hottest ticket in town isn't a Hamilton show or a trip to Wrigley Field; it's a DePaul graduation ticket. Due to a lack of seating at Wintrust Arena, students are selling their free tickets for exorbitant prices well over $100 per ticket, with some prices as high as $250.
It's usually a time of year filled with celebration and excitement, much of the class of 2018's final quarter has been riddled instead with stress, disappointment and anger after it was discovered that students would only be given a select number of guest tickets, depending on their individual college.
Prior to the opening of Wintrust Arena in fall of 2017, DePaul commencement was held at Allstate Arena in Rosemont. With the venue's maximum capacity of 18,500 seats, tickets were not required for graduation, and graduates were encouraged to bring as many guests as they wished. Wintrust Arena, while a sizable venue, has a considerably lesser maximum capacity of 10,387 seats, meaning there is far less flexibility concerning the number of guests allowed to each graduate.
In what seemed like a harmless solution, DePaul then mandated that graduates only be allowed a select number of guest tickets, depending on their college.
The only graduating students exempt from this policy are students from the School of Music, The Theatre School — both of which traditionally have low enrollments — and the College of Law, which holds their graduation at The McCormick Place Grand Ballroom. All graduating seniors of the class of 2018 were informed of the policy in February via email. Students in need of extra tickets were encouraged to either reach out to those with surplus tickets or enter a lottery for the possibility to win unused tickets.
Jen Kramer is the Director of University Events at DePaul — a brand new department that was at the forefront of planning DePaul's commencement.
Kramer said that although the decision to have graduation at Wintrust was made in November, the university had to wait until they knew how many conferred students they would have before moving forward.
"In terms of unlimited tickets, it is a rarity these days," she said. "DePaul was in the minority to be offering unlimited tickets."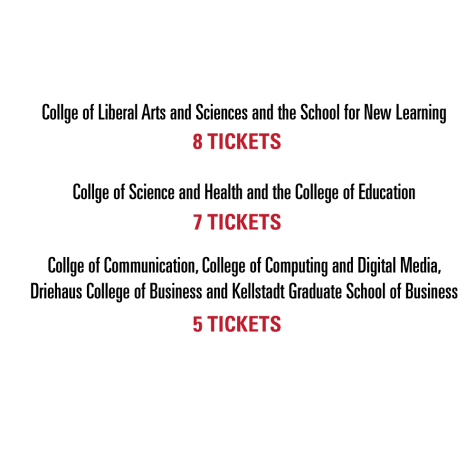 Kramer said that breaking up graduation by individual colleges in order to provide unlimited tickets, "wasn't an option."
"It was a resource conversation," she said.
Kramer said there was an "inability to reserve the space" at Wintrust Arena for back-to-back weekends.
Currently, the only conflict the weekend after commencement is a WNBA Chicago Sky game, at 5:00 p.m. The WNBA released their 2018 schedule on Feb 8, the same month DePaul announced to students a limit on commencement tickets.    
While the ticket system appeared to be a well-intentioned solution to a capacity issue, the student reaction has been overwhelmingly negative, with several DePaul seniors posting angry responses condemning the policy in the "Official DePaul Class of 2018" Facebook group. The most common grievances expressed by students are that the use of tickets limits the number of guests a graduate is able to invite.
"It definitely puts me at a disadvantage because there have been a lot of people, family and family friends, who have helped put me through school," said Tiffany Mosley, a 21-year-old management major. During Mosley's sophomore year at DePaul, both her parents lost their jobs and, as a result, eventually lost their home. Mosley was already working two jobs but wasn't making enough to cover her costs of attendance and help support her family in California.  In order to help make ends meet, many of Mosley's family and friends supported her financially, with no expectation of repayment.
"Everyone who gave me money was very generous and didn't even want me to pay them back; they just wanted to see me walk," Mosley said. She said that though she is the first woman in her family to earn a college degree, she will have to restrict tickets to only her immediate family, despite having relatives from California, Ohio, Virginia and Washington, D.C. who already purchased plane tickets to Chicago in advance.
The ticket situation has also proven challenging for international students, especially those with a lower approved-ticket count. Valerie Shur, a 21-year-old graphic design student who originally is from Russia, says she is faced with the predicament of determining which of her loved ones will be able to fly overseas to see her receive her diploma. "Part of my family are flying from Russia, and I have another important part of my family here as well who also helped me a lot, supported when I moved here with accommodation, admission to DePaul, et cetera," Shur said. "I need 8 tickets total to be able to have all of the most important people at the ceremony."
Due to the high demand for tickets many students have attempted to capitalize on the situation, with some offering to sell their extra tickets for as high as $250 a piece. Those who have made such posts in the Facebook group have been met with both criticism and potential customers, with students desperate for extra tickets agreeing to negotiate a price. "I understand why people are selling tickets. It's supply and demand," said Hunter Ansorge, a 22-year-old digital cinema major. "Everyone worked hard, and everyone wants the people they love to cheer them on at graduation."  DePaul has updated its official university commencement page to read that, because the intent was for graduation tickets to be easily transferable, the university cannot prevent students from buying or selling tickets.
One student wrote a post offering two tickets for the college of business for $100 each in the DePaul Class of 2018 Facebook group. The post said that students could meet the seller or pay via Venmo, Quickpay or PayPal.
Another was selling graduation tickets for $250 a piece. But some students reported numbers even higher.
In an attempt to mend the situation, DePaul seniors have posited alternative solutions to the commencement. DePaul senior Darian Wellington shared a petition in the Class of 2018 Facebook group entitled "Allstate Arena for DePaul Graduation 2018," with the petition's official goal reading, in part: "We demand to have the traditional commencement to be held at the larger, more spacious, unlimited, and less strict arena, The Allstate Arena." 
When discussing the purpose behind the petition, Wellington expressed extreme disappointment in DePaul. "A school cannot pride themselves on their students and their dedication to the students without considering their input on such an important day," said Wellington. Despite all the controversy surrounding the ceremony, only 69 students have signed of the desired 5,000.
Jen Kramer is the Director of University Events — a new position and department at DePaul — and is in charge of planning commencement.
Kramer said that her department has created a "commencement hotline" and email address "very typical to years past." She said that hundreds of people have called to ask questions, but that the "numbers aren't wildly different" than in past years.
"I wouldn't say by nature that they are complaints," she said.
Kramer said that the majority of students are excited and that there has been "lots of great buzz" surrounding graduation.
Kramer said that her office has talked with student government, which "spurred the creation of an early ticket pickup."
"We are certainly all ears," she said.
Asked about students selling tickets for high dollar figures, Kramer said that "it's a pretty common thing that happens."
"DePaul is really disappointed to know that students are (selling tickets)," she said. "We aren't able to control that."
Kramer said that while the university has encouraged students to share with classmates "since day one," there are currently no consequences for students caught selling their tickets.
Kramer said that her office "will take a real serious look at how things go this year," when considering making changes to next year's commencement ceremonies. She said that a "staff of over 60 people throughout all colleges work tirelessly" to make commencement possible.
This year, however, the ticket policy will remain.
"I never imagined figuring out guests for my graduation would be such a headache," Ansorge said. "This should be a happy, stress-free event, and instead, there's going to be an arena full of very annoyed people that weekend."