Athletics needs to stop hiding
May 29, 2018
I would like to expel a somewhat popular myth.
Last week, a reader posted a comment on The DePaulia's story about Romeo Weems' stunning commitment to the Blue Demons last Tuesday afternoon that began, "And I'm sure the DePaulia folks are mad about this…" I've heard and seen this sentiment thrown around a number of times; as if The DePaulia has some age-old grudge against Jean Lenti Ponsetto and her athletic department.      
This is categorically false, though I suppose I understand the confusion. The DePaulia's coverage of Lenti Ponsetto's athletic department and the men's basketball program in particular hasn't been flattering, but it's not supposed to be. That's not why we're here.
Student-led newsrooms are essential to the health and well-being of college campuses across the country. In most cases, student media represents the only source of objective campus news and, in the case of private schools like DePaul, they can be the only organization to hold university faculty and administrators accountable for their actions.
But criticism of university conduct and policy shouldn't be interpreted as standing against the university. We raise questions and peel back the curtain because we, like any other rational, thinking person, believe that the only way to solve a problem is to first recognize that there is one. That's why we're here (see accompanying editorial for more on The DePaulia's pursuit of transparency).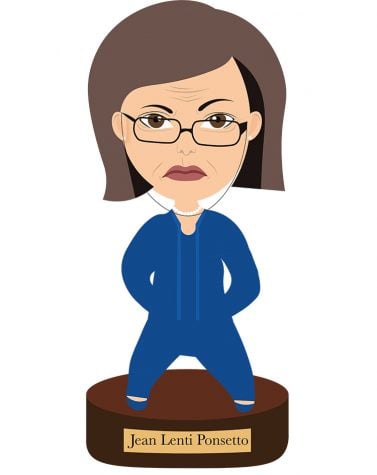 The DePaulia, just like every other campus newspaper in the country, is staffed with students — and that's a bias we don't hide. We report with a student perspective on issues that impact the people paying a high premium to better their lives moving forward.
Having an athletic department that acts as an effective front porch for the university is a student issue. Having a flagship men's basketball program that makes the DePaul community proud and energetic (i.e. wins games) is a student issue. Having an athletic department that knows its potential value and how to maximize it is a student issue. When The DePaulia reports critically about the athletic department, we do it in the interest of students, not just to rake muck and wreak havoc. And Weems' commitment, so long as it holds through signing day, is good for the student body — so why would it make us mad?
The truth is, DePaulia sportswriters — myself included — have been bubbling over with excitement about Weems all week. "Maybe I will get to see an NCAA tournament berth before I graduate," I kept telling myself, before knocking my knuckles on the closest  slab of wood I can find. Because if there is one thing I do have in common with Lenti Ponsetto, it's that we're both DePaul basketball fans.
But don't be fooled, we haven't abandoned our principles. None of this renewed hope and excitement invalidates or reverses any of the positions taken by this newspaper over the academic year.
To give credit where credit is due, the Blue Demon coaching staff — namely second-year assistant Tim Anderson — was able to convince Weems that Lincoln Park, Chicago is the ideal place for him to flower into a high-end NBA prospect. A few things to keep in mind: Wilson Chandler was DePaul's last NBA draftee in 2007 (2016 graduate Myke Henry recently earned a two-way contract with Memphis the long way), DePaul is currently under NCAA investigation and public trust in the integrity of Division 1 men's basketball could not be lower. But, assuming Weems doesn't get cold feet like the last Blue Demon heartbreaker, Tyger Campbell, he could very well be the one big domino to make other top prospects fall in DePaul's direction.
But it took over a decade for Lenti Ponsetto and company to knock down the first domino, and a sweeping overhaul of DePaul's athletic department is still warranted, if not necessary for the future of men's basketball in Lincoln Park.
Lenti Ponsetto's leadership of DePaul's athletic department would be commendable in a mid-major conference or Division 2, but for a major Division 1 basketball program, her priority list has been making an enemy out of her own fan base — even to the point of a GoFundMe campaign being launched with the aim of having her removed, which raised over $2,100.
"If DePaul wanted to be a Loyola, a UIC (or) a Chicago State, play in a lower-tier conference, play most of their home games on campus and their sole goal was to graduate students and make great student-athletes, then I get it. It doesn't matter if you're good or bad if that's not the ultimate goal of the university," 2012 DePaul graduate and face behind the "Remove JLP" GoFundMe campaign, Matt Martinez, said. "But from an outsider's perspective, when you start making these big moves (namely transitioning into the Big East conference and building Wintrust) it sends the message that we care about basketball, we're going to invest in it, and we want to have a great program. But to make the (coaching) moves that they have over the past 10 years, it just doesn't make any sense."
The trail of bold promises, odd actions, and scorching public hot takes coming out of the Sullivan Athletic Center (more aptly named the Lenti Family Compound) is enough to make your head spin. One minute she's telling a room full of sports reporters that DePaul expects to win, and win now, and the next she's telling every top-100 recruit in the country that DePaul probably isn't the best place for them.
"I'm excited (for) what I hear from our longtime, loyal season ticket holders who come to games because they want to support DePaul student-athletes," she told the Chicago Tribune. "They're not coming to games expecting it to be the junior NBA."
I'll tell you who is coming to games expecting it to be the junior NBA: everybody else in the entire world — especially those who make a living within the junior NBA, commonly known as the NCAA. Good thing Weems didn't listen.
The most glaring error in the Lenti Ponsetto formula over much of the last two decades has been coaching. Few people would disagree that after spending eight of the last 10 seasons in dead-last place, head coach Dave Leitao's second stint with the Blue Demons should represent a poetic third strike for the embattled AD. Wainwright, Purnell, and Leitao, all making seven figures each year for just one total NIT appearance. You're out.
DePaul won't open their books to The DePaulia, so there are limits to what we can learn and report about all things Wintrust Arena without cooperation from the university. However, Lenti Ponsetto can't expect to just sit back and hide behind privacy claims. Even if the naming rights and banking agreements with Wintrust Bank and her sister-in-law Kandace Lenti were 100 percent kosher (which, again, as a student at DePaul, I hope is true), and absolutely zero tuition dollars were used to build the arena, Lenti Ponsetto still needs to answer for a spectacularly underwhelming first year at Wintrust. A first year that exposed so many misconceptions in the collective brain of the athletic department.
From poor attendance to poor hires to categorically bad management (and don't forget potential nepotism and NCAA violations), Lenti Ponsetto's record with the men's basketball program is more than enough to force an overhaul. Even if the table is starting to turn in a positive direction, the window for patience has long past. Hopefully, Romeo Weems gets an athletic director that will foster a culture in which he can truly bring back Blue Demon basketball.