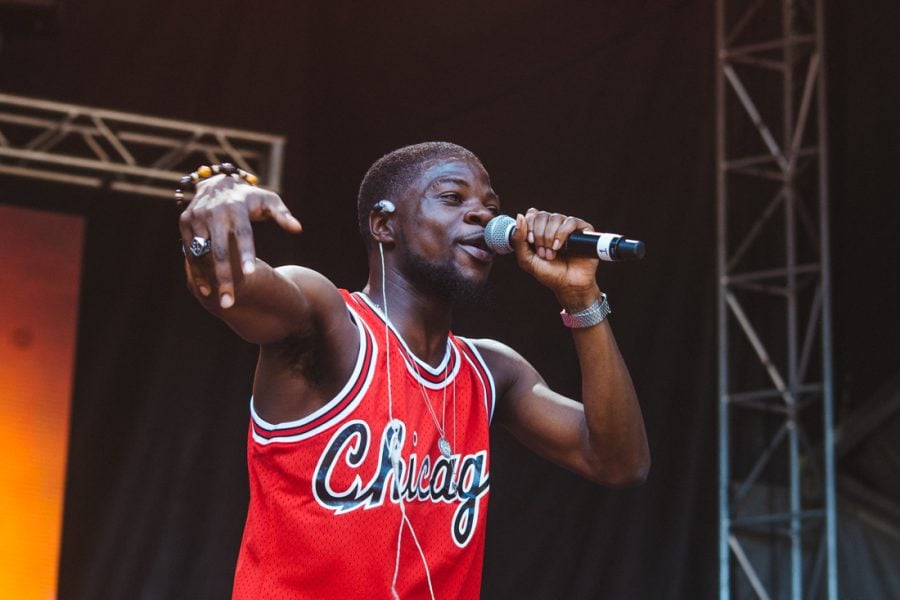 Lollapalooza 2018 Recap: Saturday
Going to three days of Lollapalooza in a row is an accomplishment in itself, but to do so in almost 100 degree weather? That's something else entirely. But that's what thousands of people did on Saturday, and I was among them. Under the blistering sun, most Lolla goers remained unfazed by the heat, but many found refuge in rare shaded areas of the park that are still in view of the stages. Luckily, the heat didn't seem to affect any of the artists, making for another great day of live music.
Femdot kicks things off
Femdot, DePaul student and official Lollapalooza artist, made his debut on the American Eagle stage in the early afternoon. Starting off what was destined to be a scorching hot day, Femdot didn't let the heat get to him. Instead, he performed with so much energy and passion that you forgot it was 90 degrees outside.
With the band and backup vocals in gold Pippen jerseys, Femdot emerged on stage in a bright red Michael Jordan jersey. It was then that he took command of the stage and with a modest audience he made sure that everyone that heard his set would remember his name.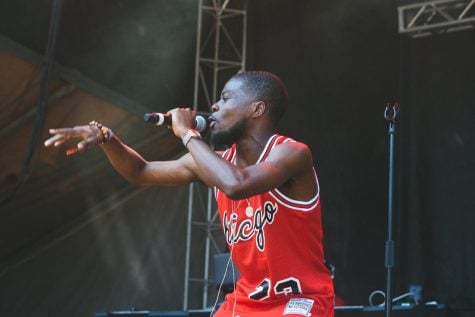 Throughout his set, Femdot jumped around stage with his bandmates and backup vocalists, getting that crowd to do the same. With bouncing music that is impossible not to dance along to, Femdot was able to rally a tired, hot and sunburnt crowd around him.
At one point during his 40-minute set he simply said, "I'm having a ball up here. I'm sweating and I'm having a ball." So were his fans.
Watching Femdot make his Lolla debut was something quite unique. Very rarely do you get to see someone with such a promising career, at the edge of success, simply enjoying themselves while the world takes note.
Lil Pump shows up late to his own party
An already shortened set became that much shorter when Lil Pump finally took the stage. What was originally planned to be an hour-long set had been cut to 45 minutes due to a schedule change. But due to his early absence, the performance only ended up being about 30 minutes. And what an unimpressive 30 minutes they were.
After 15 minutes of the DJ desperately attempting to hype up the crowd, Lil Pump had a tough challenge ahead of him: to win back the audience that has been waiting for him. Unfortunately, things just weren't on his side.
Multiple times throughout the show he was forced to pause because festival goers in the audience kept passing out from the heat, dehydration, too much alcohol or any combination of the three. Hurting his case even more, the Tito's stage is one of the few that do not have any video monitors which made it extremely difficult for many people to see what was happening on stage. Fans in the back were jumping to get a better look, their heads bobbing up and down among the sea of people. This only added to the confusion of the crowd as there were long bouts of no music whatsoever while they handled the situation upfront. As a result, crowds began filing out about 10 minutes in, many headed to other shows happening elsewhere in the park.
It was only when Lil Pump played his hit song "Gucci Gang" that the crowd rallied behind him for a few short minutes. After his performance, even he realized the disappointment his fans were experiencing and he apologized for the brevity of his Lolla appearance. But for some, the brevity was more than welcome.
LL Cool J and the revival of classic hip-hop
The crowd definitely skewed a bit older around the Bud Light stage for LL Cool J, but there was a fair number of younger fans who were curious about what the hip-hop legend had to bring to the table. It turns out he brought some of his timeless hits and a lot of record scratches. I mean a lot.
Starting off, his DJ was one of the only ones I've seen over the past few days that was actually successful in hyping up the crowd. Once they were excited, LL Cool J rose to the stage, lifted by an elevating section from underneath the stage. Rocking a black basketball jersey that said "Rock the Bells," a reference to his 1985 hit of the same name, LL performed some of his greatest hits.
At one point, LL took it upon himself to fix a problem he saw in the audience. Not many people were that familiar with classic hip-hop so he took it upon himself to give them a quick run down. In doing so, LL promised to "dig through the crates" and give a sampling of what classic hip-hop was all about, eventually leading to him playing a mix of a lot of his most recognizable hits.  
While classic hip-hop is making a resurgence, the crowd at Lolla was not necessarily the perfect market for it. There were of course some original fans, but for many, LL was more of a novelty than a performer. With that said, he was still right when he said, "Ain't no party like an LL party."
Luke Combs adds some "country flare"
With a festival lineup so heavily leaning toward hip-hop, any genre difference is a welcome break and you couldn't get more different than the authentic country music of Luke Combs. Following a LL's encore that eventually took about 15 minutes away from his set, Combs started things up as a large crowd excitedly waited for him. Combs himself even acknowledged the lack of country at the festival stating his hopes to add some "country flare" to the mix. Little did he know, there were plenty of dedicated country music fans ready to add it with him.
With three No. 1 singles this past year, no one could make it through his set without singing along to at least one. "Hurricane," "When it Rains it Pours," and most recently "One Number Away" all made it into the show, much to the delight of the crowd.
With such a large turnout for the one big name country artist at the festival, Lolla organizers might find it in their best interest to follow Combs' lead and add a little more country flare to next year's lineup.
Dua Lipa plays a packed Grant Park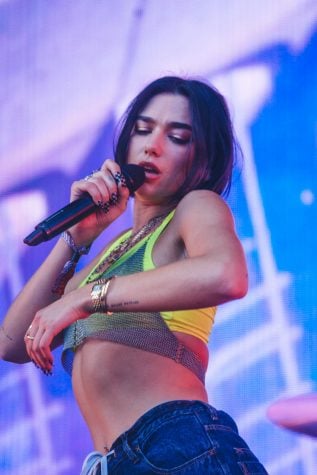 The British singer-songwriter dazzled a huge crowd with songs from her debut album as the majority of festival goers settled into their spots for the nights final shows.
Despite being relatively new to musical stardom, Dua Lipa owned the stage, belting out her songs while dancing with her background dancer. Her chin length brown hair whipped around as she moved to the music, her fans doing the same.
At one point, Lipa jumped down from the stage to be closer to her fans when finishing the song "I Won't Let You Down." Standing on the gate, just barely above the sprawling crowd in front of her, Lipa further demonstrated her vocal ability and impressive range.
Ending her set with her two biggest hits "IDGAF" and "New Rules," everyone in Grant Park joined in to sing and dance along. At the end of her performance she said she'd be back anytime they'd have her. Take the hint Lolla.
The Weeknd, Zedd, Blackbear end the night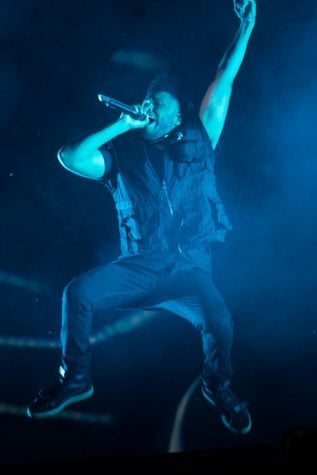 Moments after Dua Lipa exited the Lake Shore stage, The Weeknd began his headlining performance on the Grant Park stage on the opposite side of the field. A large mask cracked down the center and a hand next to it provided the backdrop for his show. In addition to interesting graphics and impressive lighting behind him, The Weeknd kicked the show off with an epic rendition of "Starboy."
Just across the street, Zedd was catering to the EDM community at Lolla on the Perry's stage. Throughout the festival, Perry's often provides the soundtrack for everyone walking around Chow Town, getting food and heading to the next show. Tonight was no different, just this time the crowd spread out onto the street, all captivated by the strobe lights, lasers, fire and fireworks that accompanied his music.
Zedd treated fans to a mix of his extensive catalog including his hits "Stay," "Spectrum," and "Stay the Night" while also remixing other songs and artists including Michael Jackson's "Billie Jean." Zedd's beats could be heard well beyond Perry's. It wasn't until I made it all the way down the street, past Congress Parkway, to the American Eagle stage that Blackbear's music took over.
Another relatively young artist, Blackbear commanded the stage solo further demonstrating his skill and confidence as a performer. Additionally, in one of the best decisions of the entire festival, Blackbear added a bridge to the stage that allowed him to stand about four feet taller making him completely visible to everyone in the audience. At a stage with no video monitors to help the crowd see the artist, Blackbear solved the issue on his own taking his show to the next level.
Throughout, Blackbear was able to really establish his talent vocally, extending his abilities beyond rapping. Finishing his set with his chart-topper "do re mi," the crowd he had earned cheered him on for an encore, a reprisal of the final song complete with fire to add some deserved flare.