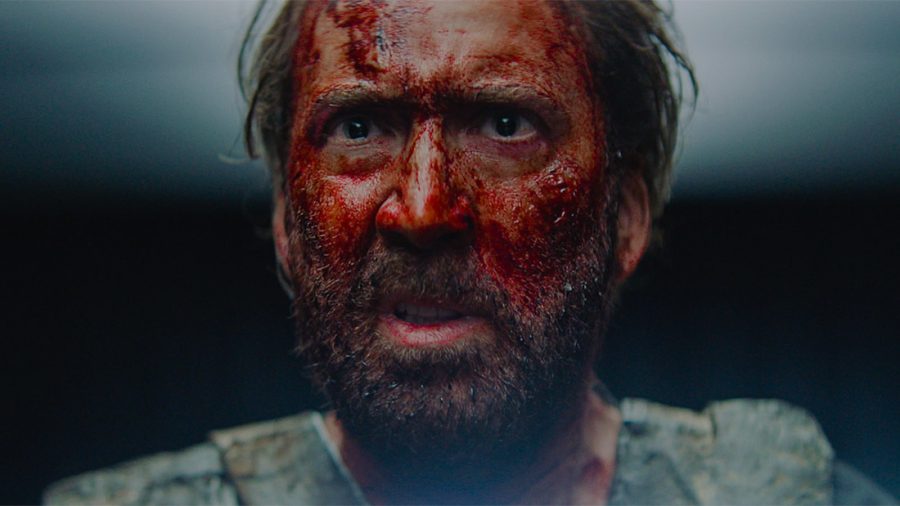 An enthralling, ultraviolent revival of Nicolas Cage's career
Director Panos Cosmatos's new action-horror film "Mandy" can be simply described as an LSD-fueled nightmare featuring a Manson-esque cult, motorcycle- riding demons, chainsaw fights and a whole lot of blood. In other words, it's a horror fan's dream.
The film is set in the year 1983 and follows Red (Nicolas Cage) and Mandy (Andrea Riseborough), a loving couple living an idyllic life in the wilderness of the fictional Shadow Mountains. Their lives are suddenly thrown into chaos when a psychotic religious cult, led by the charismatic but insecure Jeremiah Sand (Linus Roache), calls upon a mysterious band of demons to kidnap the two of them. After a series of harrowing events, Red finds himself hell-bent on delivering murderous justice to the ones who wreaked havoc on the life he and Mandy built together.
Though wildly original and unconventional, "Mandy" clearly stems from a tremendous appreciation for '80s horror films and the grindhouse era. Its vivid, neon color scheme and vibrant art direction are reminiscent of films like "Evil Dead," giving it the appearance of a tantalizing graphic novel brought to life. In addition to eye-popping visuals, the film contains a very distinctive lore, which is revealed at a steady and deliberate pace as the film progresses. The potential for an expanded universe is certainly present.
The film's score, which was the final work of Icelandic composer Jóhan Jóhannsson, plays like a psychedelic requiem. It is an unorthodox combination of orchestra, vaporwave and heavy metal. This sounds like quite the mixed bag of musical genres, but Jóhannsson managed to use it to his advantage, creating one of the most beautiful and compelling scores put to screen this year.
Perhaps the biggest selling point of "Mandy," though, is its remarkable cast of eccentric characters. Roache shines as the deranged, sociopathic lead villain, who can be characterized as a mixture of Charles Manson and Buffalo Bill from "The Silence of the Lambs." He plays Jeremiah with a subdued and unpredictable volatility, leaving the viewer in fearful anticipation of the moment he unleashes his next fit of rage and mayhem.
Riseborough's touching performance as the sympathetic title character keeps the film's relentless brutality from overwhelming the viewer. The layer of emotional weight she brings forth complements the surprising, show-stealing performance by Cage.
Cage, who was once considered one of Hollywood's most renowned actors, has had a rollercoaster of a career. In 1995 he won an Academy Award for his performance in the film "Leaving Las Vegas" and has since starred in numerous critically and financially successful films such as "The Rock," "Adaptation," and "Kick-Ass." Unfortunately, Cage's career has also been marred by a handful of critical failures like "Season of the Witch" and "Left Behind." His most infamously cringe-worthy performance, though, was in the 2006 film "The Wicker Man," which has been lambasted in internet memes ever since its release.
But Cage's performance as Red is at once heartbreaking, hilarious and absolutely bonkers. This is Cage at his most vulnerable, and he immerses himself into the role so deeply that we forget we ever doubted him in the first place. One notable scene, which involves Red downing a bottle of vodka, is arguably Cage's best work in decades. With explosive passion, he carries the viewer through the whirlwind of sorrow and agony his character is experiencing. His performance is the indisputable highlight of the film, and it will likely revitalize his career for years to come.