Prompting political efficacy: DePaul is becoming a hotbed of political optimism
October 8, 2018
At the forefront of the many values taught via the Vincentian school of thought is the belief that you can make a difference and any contribution, regardless of magnitude, has a ripple effect that will impact and empower the collective. This notion is applicable in virtually any field, but it holds particular significance in politics.
DePaul University's location has certainly caused the institution to imbibe some of the political fervor prevalent in the city of Chicago. The university has bred its fair share of politicians seeing that it is the alma mater of both former Chicago mayors Richard J. Daley and Richard M. Daley. It's not only alumni that cement DePaul's status as a hotbed of political enthusiasts.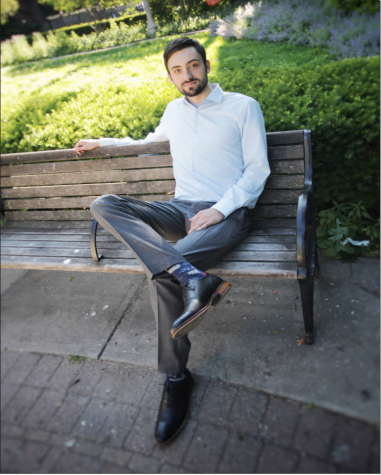 Photo Courtesy of Matthew Roney
Current students also credit the atmosphere at DePaul for kindling their enthusiasm to study, debate, and participate in politics. The prime example of this is DePaul student Matthew Roney, a 20-year-old political science student at DePaul whose belief that he can influence politics has led him to run for alderman of the 43rd Ward. Roney originally moved to Chicago intending to pursue a career in medicine. However, after witnessing first-hand the disparity and inequality in the city, he decided to found the "Garden Party," a third party that focuses on empowering residents to engage in the city's growth and sustainability.
Roney credits the atmosphere at DePaul for encouraging him to run for office.
"My time at DePaul has played a key role in my decision to run for office," Roney said. "When I began my undergraduate studies at DePaul, I was drawn to the teaching of Saint Vincent DePaul, and more importantly, trying to find the answer to the question that he asked himself over 350 years ago, 'What must be done?' I have taken this question to heart, and I have been traveling all over the city to find the answer to that question."
Roney also mentions how a brief stint at his local alderman's office led him to understand more about how the political process works and what needs constituents have.
"My internship taught me that we must always be careful when we interact with people," Roney said. "My internship also helped me gain a thorough understanding about some of the issues that residents in our ward were concerned about: public safety, infrastructure, pedestrian safety, zoning ordinances, noise pollution, and congestion. This experience proved to be invaluable, because it helped me understand the influence that local actors-businesses, constituents, community organizations, and institutions- have (and don't have) over the political process."
Roney also credits his study abroad experience in Chile as a major factor that allowed him to understand the importance of community and the positive effects that rise from strengthening it and empowering every individual in the collective.
"During my junior year at DePaul, I got the opportunity to study abroad in a prestigious university in Santiago de Chile," Roney said. "I lived in the city for five months with my Chilean host family, and I got the opportunity to visit several cities and take advantage of everything that Chile had to offer."