Men's soccer looks forward to brighter future
November 5, 2018
After big losses and minimal tournament appearances since 2011, the Blue Demons brought back in former DePaul player to get the team back on track. Since Mark Plotkin has taken over he has been trying to lead a resurgent group of players to more conference victories. However, the process of getting back to their glory days in the early 2000s will take a little bit longer than possibly hoped for.
The team has beaten some tough opposition this season, including, at the time, 14th ranked Western Michigan 1-0 at Wish Field. Plotkin believes these type of games will help the team in the long run because playing tougher opposition will test his side and make them better.
"My entire goal coming into this season was help the program move forward, and to put us on in a position to compete in each game," Plotkin said. "Our team has done a good job of growing and developing within our system and culture."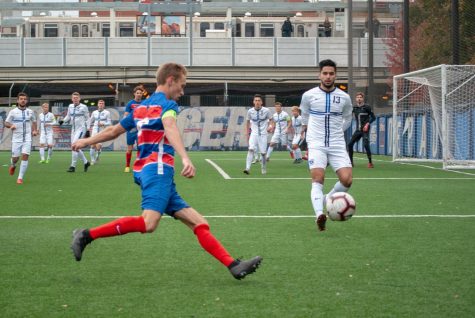 Plotkin says he is excited to see where the program is heading and how it will improve in the near future.
"I'm excited where the future of this program is going because next year we return 10 of 11 starters, losing senior captain Harry Hilling," Plotkin said. "We have been playing three or four freshmen in every single game, the development and confidence of this group is awesome. I think there's no question that we are moving in the right direction."
Among those freshman are Jack Richards, Matthew Brickman, Matt Solem and Jake Fuderer. Both Brickman and Richards have made significant contributions in their first season, with Richards having scored two goals this season.
"My first season was great," Richards said. My teammates and the coaching staff have confidence in me to go out and play well. It didn't start out to well, I've had to work myself up and build my reputation. Hopefully I can keep improving and keep the job (as starter)."
While these freshmen are the future of DePaul men's soccer, seniors have also helped the team improve and better throughout the season. They been be mentors to the younger players, but have also made significant contributions on the field.
"It's been a good and memorable season," Hilling said. "We have had some really good moments and some tough moments, overall all the guys have had a blast. There have been big changes from the prior seasons, and I'm looking forward to reading about DePaul soccer in the years to come."
Other seniors say they are excited to see the direction the program is heading, and that the team will be a force to be reckoned with in the years to come.
"I think going forward for the years to follow the program is going in the right direction," senior Anton Sell said. "All the players coming back next season have a good framework to build off, so I'm optimistic for the future."
Sell also talks about the experience about playing on the road and how exciting that is for him and the younger players.
"Travelling with the whole team to places like New York, Philadelphia and Milwaukee is exciting and certainly an honor to represent DePaul," Sell said. "It's tough when you lose, but it's also really electrifying when you get a win on the road. It's an awesome experience playing on the road."
In terms of on the field performances this season both Plotkin and his players say they feel there have been times when the team has played well, but that they still have areas in which to improve. For Plotkin, that starts with the defensive side of the ball.
"To put ourselves in a position to win more games it starts with the defensive side," Plotkin said. "Your defense is your culture; that shows the character of your players and the type of student-athletes you are working with. I think we have some phenomenal student-athletes on our team, they are great kids who really care about each other. They have been willing to buy-in and do a lot of the hard working stuff that keep you in games, and give you a chance to win."
Even though DePaul failed to qualify for the Big East tournament after losing to Marquette on Wednesday, the team has shown they are getting better and growing every single day. Some of the wins they had this season, like beating Western Michigan, show that the future is bright for Plotkin and his team.