Following civil rights suit, law professor leaves DePaul
November 5, 2018
Distinguished Professor of Law Terry Smith agreed to part ways with the university following an agreement with the university's lawyers to end his civil rights lawsuit.
Smith had been a professor at the College of Law [COL] since 2010. Before he left, he was one of only two tenured black male professors. The only one remaining is the law librarian.
"I have no regrets. What I look back on are my achievements at DePaul," Smith said. "I look back on my leadership of DPUBLC [DePaul University Black Leadership Coalition] and my advocacy for people of color and other marginalized groups."
"His voice and his advocacy for students of color, faculty of color and staff of color has been very valuable at DePaul," said Quinetta Shelby, a chemistry professor and a leader of DPUBLC.
Smith said he doesn't harbor any hard feelings toward the university. " at's because I leave DePaul as a much better advocate, a much stronger person and a much better lawyer," he said.
Smith said his journey from poverty to being a distinguished lawyer was reason enough for him to be proud after leaving his post.
Smith's departure comes as the university is seeking to increase the diversity of the faculty, staff and students. Valerie Johnson, a political science professor and frequent critic of the university's handling of racial matters, said there is a disconnect between DePaul's goals and its actions.
"The university indicates that it is interested in recruiting and retaining faculty of color," she said. "Well, it is a contradiction of terms if they are simultaneously buying out or pushing out faculty of color."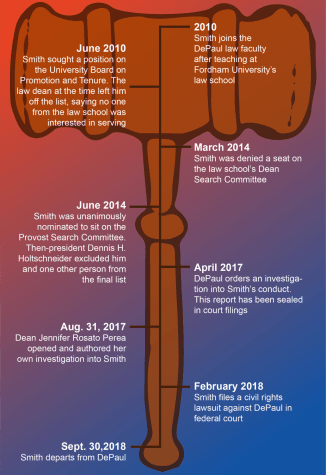 Annalisa Baranowski | The DePaulia
Smith said in his lawsuit that he had "suffered significant abuses" in retaliation for his outspokenness on racial issues within the law school. The university defended itself by saying Smith had acted aggressively and inappropriately toward other faculty members.
"
I have no regrets. What I look back on are my achievements at DePaul. I look back on my leadership of DPUBLC and my advocacy for people of color and other marginalized groups.
— Terry Smith, former law professor
Johnson said that the latest edition of the Faculty Handbook was used against Smith, and could be used similarly against other faculty of color, citing a new rule that says a professor could be charged with
misconduct for displaying a "pattern of extreme aggression and intimidation towards colleagues."
"As a person of color, I feel that section of the handbook makes faculty of color especially vulnerable," Shelby said. "Sometimes the way that we communicate is seen as outside of the norm, but it's very normal for us."
"If you get charged with extreme aggression and intimidation against colleagues, that is a very substantive charge," Johnson said. "What the hell does that even mean? What's extreme to you may not be extreme to me. (…) Black men in particular and people of color in general are always pegged as threatening, intimidating, aggressive, just because of our appearance."
Sumi Cho, a law professor and ally of Smith's, was also brought up on this misconduct charge. "It's no coincidence that a black man and Korean woman were the first targets of a misconduct charge involving a pattern of extreme aggression and intimidation of colleagues," Johnson said.
Smith's final day at DePaul was Sept. 30.
"We have very different views and have mutually agreed to part ways pursuant to an agreement," a spokesperson for DePaul said in a statement.
A request by The DePaulia to interview law dean Jennifer Rosato Perea was forwarded to and denied by a DePaul spokesperson "because this is a personnel matter."