Golf thaws out for spring season with simulator
February 18, 2019
Even if you've never read Malcolm Gladwell's bestselling book "Outliers," you've probably still stumbled across its central message that practice makes perfect — about 10,000 hours of practice, to be more precise.
To master any skill, whether it be baking, darts or the saxophone, Gladwell says 10,000 hours of dedicated practice time is the ticket to success. Talent, luck and positive circumstance may lend an advantage to some, but the sacrifice of time and energy to incessantly hone one's craft has no replacement.     
For those who play a warm-weather sport with a heightened sensitivity to weather conditions in a region still thawing out from a polar vortex, finding just one hour of quality practice time can be difficult. DePaul's men's golf team is familiar with that problem.
"I think schools from the south and warmer states have an advantage during the spring season," DePaul head coach Marty Schiene said.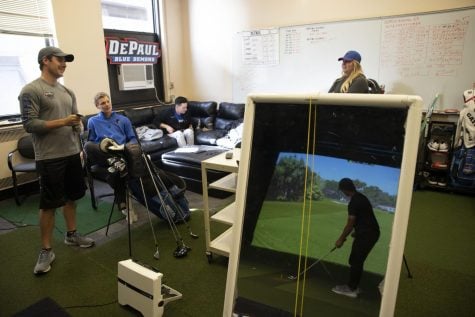 Senior Bobby Thomas said the first round of tournaments in early spring can be difficult as the players are still feeling out their distances in a new climate, and notes that almost every school in the Big East shares this cold-weather conundrum. All 10 are situated in cold-weather states, with midwest members like DePaul, Marquette and Butler catching the brunt of January's polar vortex.
"You just get used to [the cold] after a while," said Carlo Antonio Gatmaytan, who hails from the Philippines. "The first couple months I was here it was pretty hard to adjust."   
The solution for any athlete trying to prepare for competition in unsuitable weather is to practice indoors, even if that means modifying aspects of the game. But, while a baseball player can perfect his swing in a long, narrow batting cage, a golfer cannot properly evaluate the state of their game within the same confines. In the 60 feet 6 inches between the pitcher's mound and home plate, a baseball player can see a vast array of pitches to contend with while accurately analyzing the angle off the bat and how hard they are hitting the ball — what happens to the ball beyond the netting is relatively  insignificant.
When you launch a golf ball 300 yards off a tee and must hit the next shot from where the first one comes to rest, understanding the entire flight of your golf ball is essential — the difference between a great shot and a disaster can boil down to a millimeter difference at impact. That sort of indoor space is hard to come by and leasing an airplane hangar isn't in the Blue Demons' budget, so DePaul's men's golf team has turned to a 21st-century solution in the form a high-tech golf simulator.
"It's fantastic," Schiene said. "It gives us an opportunity to test [our players]."
In a nondescript room on the third floor of the O'Connell hall on the Lincoln Park campus, the men's golf teams have a dream hangout for any avid Sunday hacker. A large L-shaped sofa sits in the back corner across from a flat-screen TV — likely tuned to the week's PGA Tour coverage — with golf clubs and training aides scattered about. In the middle of the room sits a large, canvas cave with artificially turfed floors and a large projector screen stretched against the back wall, on which they can project a simple driving range or one of 50 different world-class golf courses to be played as accurately as the technology can allow.
Schiene says that while having an indoor facility provides a sanctuary away from Chicago's brutal winters, the system allows the team to practice in a variety of conditions they may face traveling around the country.
"We'll play match play tournaments in the simulator going into match play events to give the guys a feel of what match play is like," Schiene said.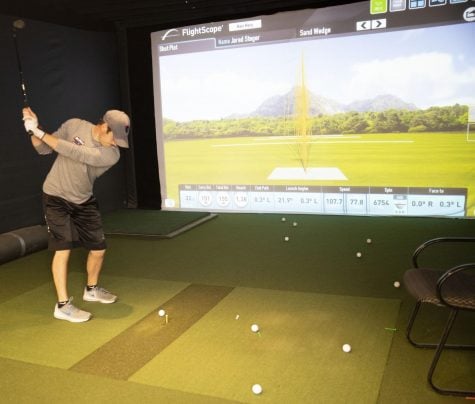 He said programing different wind speeds also helps players learn to calculate their distances on windy days out on the course.
"[The simulator] allows us to spend a lot of time on our swings so we can get that dialed in and won't have to spend as much time on the range at tournaments," Thomas said.
The simulator allows players to practice their full-swings as much as they want, but is much less effective for practicing short games, which is predicated more on feel and turf conditions than swing mechanics.
Many of the world's top professional golfers use a device called a Trackman, which generates precise feedback on everything from distance and clubhead speed, to the spin rate and launch angle of the golf ball, down to a decimal. That system retails for upwards of $25,000. Coach Schiene calls their FlightScope system a "poor man's Trackman," which does many of the same things at a more affordable price.   
The Blue Demons' first tournament of the year wrapped up Feb. 11 in Florida, where the team won two of three match-play matches. After a 3.5-2.5 loss Monday morning to Ball State, DePaul rallied back to win their afternoon match 3.5-2.5 against Drake University and took down Ohio University 4.5-1.5 Tuesday morning.
"The guys were disappointed we didn't win the first match and that's kind of the pivotal one to get into the winners bracket," Thomas said. "We didn't feel like we played up to what we expect … personally I struggled through the first round, but we bounced back and played better the second round.
"Then we went out and smoked Ohio, which was nice."
The Blue Demons will travel to Palm Valley Golf Club for the Loyola (MD) Intercollegiate in Goodyear, Arizona on Feb. 23-25.