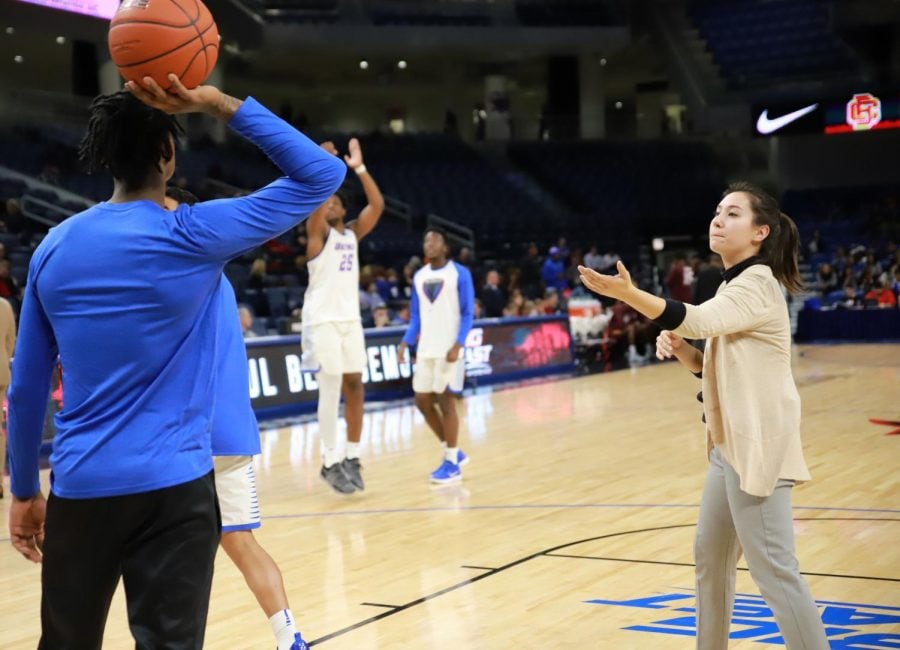 Shane Rene | The DePaulia
Behind the unsung heroes in men's basketball
Water bottles, laundry and carrying equipment are all stereotypical images that come to mind when you think of what a team's student manager does.
These duties come to mind  because they are essential responsibilities of a student manager. However, the role does not solely consist of completing these tasks. The student manager is actually the backbone to a team. Their role behind-the-scenes plays an integral role to a team's development.
Maya Scanlon-Kimura, a senior majoring in computer science, is one of 12 student managers with the men's basketball team. Scanlon-Kimura began her journey as a student manager with the men's team at the end of her freshman year after seeing an ad on a Facebook page for DePaul students.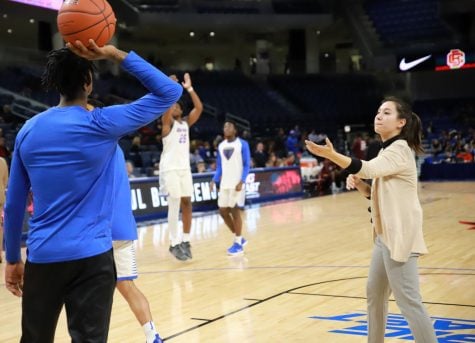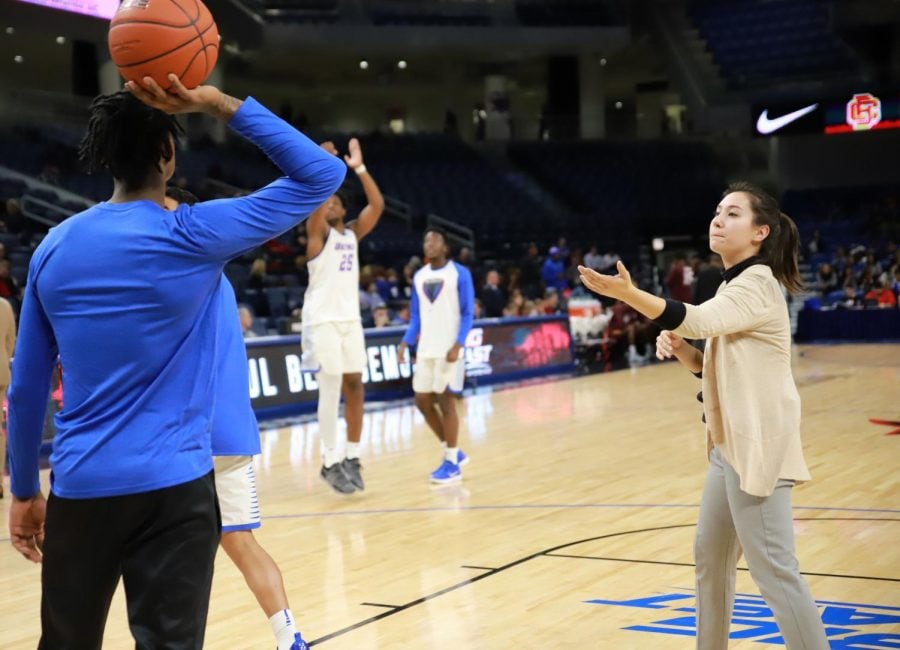 "I saw an ad on my class' Facebook page from a past head student manager," Scanlon-Kimura said. "I've been involved in a lot of sports in my life and basketball was one that I had not been in. I landed an interview and did not know what I was getting into really. I thought I was going to be an equipment manager."
After landing the role, Scanlon-Kimura learned that handling laundry and water runs are not the only tasks managers are responsible for. There are jobs that fans see managers carry out at live games, but many can overlook what happens behind-the-scenes at practices.
"That is where you are going to be running around a lot," Scanlon-Kimura said. "We set up cones for drills and we are the people that push the energy, so when it is lagging a little bit, or if the team is not having the best day, we are the ones who make up for it with our voices."
Mick Sullivan, a freshman forward for the Blue Demons, highlighted the energy that student managers carry with them day-in and day-out.
"Anytime you want to get into the gym, they are willing to help you with anything," Sullivan said. "They always have a great attitude about them. They are there for you. You see yourself improve because of them. The student managers bring the most energy. The managers and [Pantelis Xidias] rival each other for the highest energy level."
Off-the-court duties are just as important to the team as the ones that are taken care of on the court. The array of tasks that student managers are responsible for can vary anywhere from setting up food after practice to paperwork and beyond.
"Our guys have to go to check ups at the doctor sometimes and that is something we help out with with the trainers. We will drive them to and from those appointments," Scanlon-Kimura said.
Scanlon-Kimura also mentioned that a manager has to be ready to go whenever they are needed.
"Sometimes, you'll get a call in the middle of the night," Scanlon-Kimura said. "They'll ask if you can go to the airport to go pick someone up; you have to be ready for anything."
When it comes to the coaching staff, not all student managers interact with the staff on the same level. Similar to the business world, in order to develop a trustworthy relationship with the person in charge, you must earn it.
"Guys that are new this year aren't really going to be interacting with the coaches as much as someone who is a senior or someone who has been with the program a little bit longer," Scanlon-Kimura said. "They have a million things to worry about at this level of basketball and managers can't really be one of them."
One more role student managers are involved in is assisting the team's video coordinator, Lucas Shapiro.  The video coordinator helps with scouting opponents and DePaul's own team. The role also involves film; analysis, scouting reports and helping coaches evaluate players.
"The student managers help me out a lot with cutting up film," Shapiro said.
Shapiro is also a former graduate student manager, so he understands the value of determined student managers.
"They are there for you whenever you need something. The managers are an asset to what we do here," Shapiro said.
In any role, people have a favorite thing about their job. In the cases of Scanlon-Kimura and Shapiro, they share the same opinion as to what the best part of being a student manager for DePaul men's basketball is.
"Getting to work one-on-one with these guys and building that sense of trust makes you realize how much it is worth it," Scanlon-Kimura said.
"Building relationships with the players is the best part," Shapiro said. "You're taking part in their development, so whether you are rebounding or making sure they are in class on time, it is cool to see yourself having a positive influence on someone else."
The team of 12 managers is passionate about a job that gets overlooked and fans of DePaul basketball should be proud of them, too.