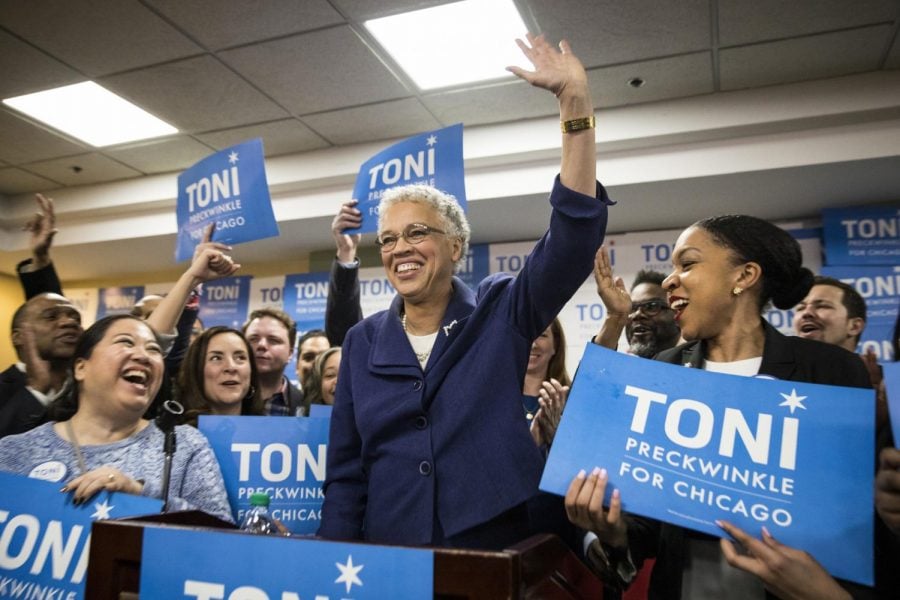 Election Coverage
Chicago voters won't elect a new mayor until a runoff election on April 2, but one thing is for sure: Chicago will have a black woman in the mayor's office for the first time in its history.
After a late surge in the polls, former federal prosecutor Lori Lightfoot topped the 14 candidates vying for the mayor's office with 17.5 percent of the vote. President of the Cook County Board Toni Preckwinkle slid into second place with 16 percent, punching her ticket to the April 2 runoff election.
"This, my friends, is what change looks like," Lightfoot said to a crowd of supporters at her election night event. "I want to thank the voters of this great city for fighting through the noise and coming to a place where we brought in the light."
If Lightfoot wins the runoff election, she will also become Chicago's first openly gay mayor.
Preckwinkle greeted an enthusiastic crowd at her campaign event at the Lake Shore Café Tuesday night to celebrate the historic results and reminded voters that the campaign will continue for another month.
"The fight is far from over and there's a lot more work to do," Preckwinkle said. "But let's first acknowledge how hard we worked to get here. We worked shoulder to shoulder to shape a campaign that reflects our vision, our values and our hopes for Chicago."
With only about 50 percent of precincts reporting, supporters at the Preckwinkle rejoiced not only about the pending success of their own candidate, but about how the 2019 election would mark a major victory for people — particularly women — of color, and long neglected neighborhoods on the South and West Sides.
"The days of neglecting the folks in Austin and Garfield Park, North Lawndale — those days are over," Cook County Commissioner Brandon Johnson said to the crowd of Preckwinkle supporters. "A just and equitable Chicago is in front of us. The grip of the racist past in this city — that grip is coming to an end."
It seemed likely that Bill Daley, who had a robust fundraising operation and the strongest name recognition in the field,  would find his way into the runoff with either Lightfoot or Preckwinkle, but he came up 6,437 votes shy.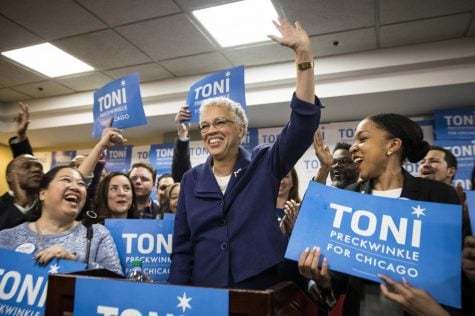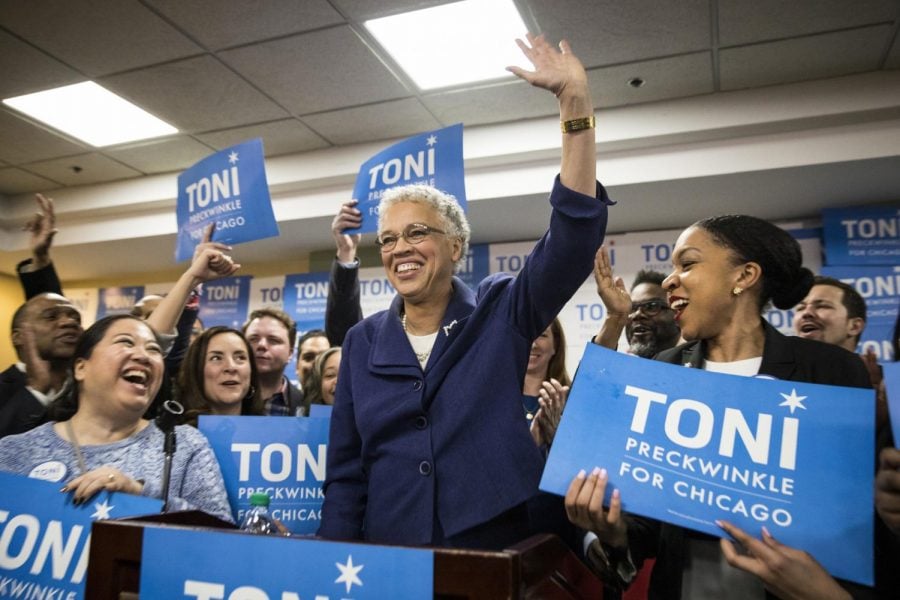 Third place finishers within 5 percent of the second place candidate were allowed to request a discovery recount (which recounts 25 percent of the ballots cast), but the younger brother of former mayor Richard M. Daley and son of former mayor Richard J. Daley elected to conceded the election to Lightfoot and Preckwinkle Tuesday night at his campaign event.
"No matter who wins in April, our commitment to Chicago will never end," Daley said.
"I don't know the demographics of who voted for Lightfoot, and I'm not sure if it was a lot of younger voters. There's a big gap there," said Daley supporter Brian Benedict.  "I think you have the millennial generation, which is a big generation. I think they would prefer someone like Lightfoot. Daley, to a lot of people, represents the old."   
State Comptroller Susana Mendoza was also considered to be a strong contender in the race, but came up short of the runoff with only 9 percent of the vote. She conceded early in the night.
"Here we were on a historic run to elect the first Latina mayor the city has ever had,"
said Mendoza's campaign co-chair Mae Whiteside. "She had a very solid plan, and I guess it didn't resonate with as many voters as we thought. It was a low turnout."
Nineteen-year-old DePaul freshman David Krupa lost his bid for alderman of the 13th Ward by a landslide to incumbent Marty Quinn, racking up a mere 14 percent of the vote.
The race was contentious as Krupa leveled allegations of voter tampering against Quinn, House Speaker Michael Madigan, whose legislative district is in the 13th Ward.
"It goes to show that you can be under federal investigation and still win an election in Chicago," Krupa said.
Krupa is currently suing the Chicago Teachers Union along with Madigan and his opponent Marty Quinn for allegedly trying to force him off the ballot last December. He has also battled a handful allegations against himself, including an order of protection filed against him by a high school girlfriend as well as bullying and harassment claims from middle school teacher Jan Muir, according to news reports.
One of his supporters, Pete Sofus, said he believes the community is due for a big change because of Quinn and Madigan.
Incumbent Lincoln Park Ald. Michelle Smith will enter a runoff election with challenger Derek Lindblom after she received 38.7 percent of the vote.
Turnout for the election reached a near historic-low throughout the day as young voters once again cast fewer votes than any age group, answering questions of whether or not the strong millennial turnout in the 2018 midterm would carry over into the municipal election.