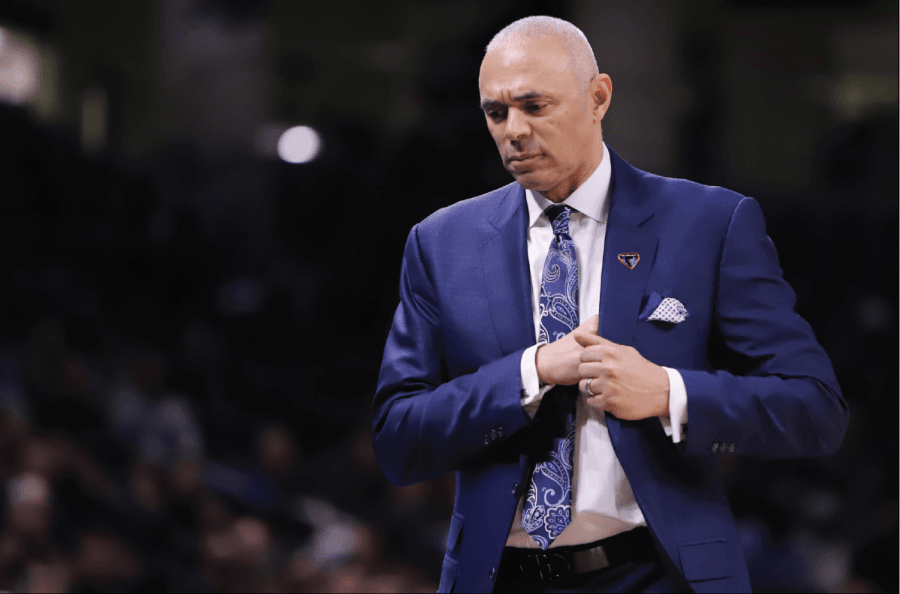 DePaul squanders chance at bye, finishes last in Big East
DePaul went into its final regular season game against Creighton on Saturday playing their best basketball of the season, coming off two impressive wins against Georgetown and St. John's. That two-game winning streak was quickly put to an end against the Bluejays (18-13; 9-9 Big East) in Omaha, Nebraska, as DePaul (15-14; 7-11 Big East) lost its final game of the regular season 91-78.
There was a chance for DePaul to earn a No. 6 seed and a first-round bye in the Big East tournament, which begins Wednesday at Madison Square Garden, with a win over Creighton. Instead, the Blue Demons had no answers for the Bluejays' sharp shooters all night long, as sophomore guard Mitch Ballock exploded for 39 points on 11-for-12 shooting from the 3-point line.
"It feels good, obviously, when you get in that zone," Ballock said after his 39 point outing. "I don't think I've ever been in a zone like that, so it was pretty fun."
As a result, DePaul will play once on opening night as the bottom seed against No. 7 St. John's, who fell 81-68 to Xavier earlier in the afternoon that opened the door for the Blue Demons to potentially grab the final bye. Since the Big East realigned in 2013 to only 10 teams, the Blue Demons have finished in last place three times; since DePaul joined the conference in 2005, the Blue Demons have finished in last place nine times in 14 seasons.
"We were fighting an uphill battle," DePaul head coach Dave Leitao said after the game. "We got close but we never really got comfortable, where we found a really good rhythm."
The game between Creighton and DePaul was the last of five games slated for Saturday, and both sides understood the consequences of a loss. For DePaul, there was a possibility to be as high as the fourth seed at the start of the day, but losses for Villanova and Marquette left the sixth seed as the Blue Demons last chance at a bye.
After an explosive start on Wednesday against Georgetown, this time around against Creighton the Blue Demons got off to a rough start. It took DePaul over six minutes of game time to get their first basket of the game, after starting the game 0-for-4 from the field and committing seven turnovers.
"You got to be careful sometimes when you are not overemotional, but when you rise to that emotional level that there is not at a fallout," Leitao said before the Georgetown game on why it's important to not to be too overconfident. "We talked a lot about it Monday, stay a little bit away from the court to get some rest because we are in a nine game stretch to end our season. I have to trust, and I trust their mental state of mind that they can refocus themselves, so today was a good day to test that."
Leitao throughout this season has talked about his team making sure not to get too overconfident after big wins, including the wins over St. John's and Georgetown last week. That has been somewhat of an issue for DePaul this season, after winning an emotional game the Blue Demons tend to get off to a slow start the following game.
DePaul went into the break against Creighton trailing by seven, 41-34. Given how the game started that seemed like a victory for the Blue Demons. This was largely a result of DePaul doing a good job of containing most of Creighton's players in the first half, besides Martin Krampelj and Ballock, who combined for 31 points on 11-for-12 shooting and 6-for-6 from behind the arc. The rest of the team scored 10 points on 4-for-16 shooting in the first half.
"We were all over the place," Leitao said about his team's performance Saturday night.
The second half proved to be even more frustrating than the first half, with DePaul going on short runs to get within four or five points multiple times, only to see Creighton respond with a 3-pointer or 3-point play to suck the life out of the Blue Demons. The closest DePaul got in the second half was within three points, 66-63, with 9:17 left to play when sophomore forward Jaylen Butz scored a layup.
But Creighton would respond once again, going on a 5-0 run instantly and it wasn't too long before the Bluejays would restore their double-digit lead to see out the victory. The closest DePaul would get after that was with 1:31 left in the game, when senior guard Eli Cain cut the deficit to nine points.
When these two sides met for the first time this season the Bluejays did a solid job of defending sophomore forward Paul Reed and senior forward Femi Olujobi, limiting them to only 12 points. Their plan of double teaming both of them when they touched the ball worked well again on Saturday night, Reed and Olujobi only scored a combined 13 points on nine shot attempts all night.
"Really proud of our team, obviously DePaul they were on fire and Strus was on fire," Creighton head coach Greg McDermott said after the game. "I think our fans got a glimpse in the second half of what he's capable of. We had some guys in different spots and everybody contributed. Obviously, Mitch had one of those nights, it was incredible, it was fun to watch. So, really proud of our time."
With the loss, DePaul finish the season in last place in the Big East for the second straight season.
St. John's is coming into the Big East Tournament on a three game losing streak, with their hopes of making the NCAA Tournament in serious danger if they don't win at least a couple of games at Madison Square Garden. The Blue Demons swept the Red Storm this season, including a 92-83 win on March 3 at Wintrust Arena, where senior guard Max Strus scored a career-high 43 points.