Oversized sunglasses remain popular summer trend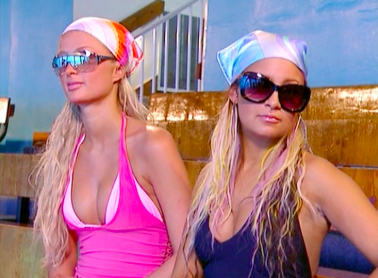 Summer is approaching and everyone is reaching for a stylish pair of shades. There's a pair of trendy sunglasses for everyone, but a common theme amongst them all is the overdramatic and oversized look. The bigger, the better.
Some celebrities who originally started this trend are Paris Hilton, Nicole Richie and some of the Kardashians. Remember the infamous goggle-sized shades that Hilton and Richie used to parade around in on the TV show, "The Simple Life"?
The 90s and early 2000s and Hollywood are to blame (or thank) for this exaggerated look. It's a size that'll never go out of style, and it's suitable for protecting your eyes on the sunniest days.
Erin Pocza, 21, is a junior at the University of Illinois at Urbana-Champaign and used to work at Sunglass Hut in Orland Park. She noticed the trend emerge separate from Hilton, Richie and the Kardashians.

"The trend of oversized sunglasses started with people wanting to look glamorous and over-the-top," she said. "Honestly, the first memory I have of seeing oversized sunglasses was while watching 'Jersey Shore' on MTV."
Fair enough. One of the "Jersey Shore" cast members' favorite quotes was "gym, tan, laundry," so with all the tanning they're doing, they have to guard their faces somehow.
Pocza said that the most popular style customers would ask for are the classic aviators or classic plastic frames. She has noticed that the shield style has been something a lot of celebrities are trying out.
Customers want quality brands that don't break the bank. Summer is a time of festivals, concerts and events. The last thing anyone wants to do is empty their wallet for some shades.
"After working at Sunglass Hut for a few years, I'd say the most popular glasses besides Ray-Ban was either Michael Kors or Burberry," Pocza said. "They're high-fashion brands, but still affordable."
The climbing prices of certain styles do tend to break the bank. However, lots of dupes of large aviators from the classic, well-known brands Ray-Ban, Gucci and of the Australian brand Quay have been made.
Kiosks in the mall that give you swinging deals that seem too good to be true are usually the home of knock-offs. Knock-offs make trends a little easier and affordable because when the trend is out, not much money was invested into following it. Think of fast-fashion brands like Forever 21 and Urban Outfitters; neither store is a stranger to jumping on the bandwagon of trends. So whether they're actual knock-offs of big brands, or just a pair from a fast-fashion store that highly resembles the style, it doesn't matter. This does cause the original brand to lose sales, but there's nothing wrong with saving money either.
"I had been wearing knock-offs my whole life prior to working at Sunglass Hut," Pocza said. "Once I started working there, I truly noticed the difference between the brands we carried and the $10 ones I'd been buying from random stores. Knock-offs or unbranded can be cute to complete a look, but as far as protecting your eyes, it's definitely worth spending the extra cash."
Aili Mannisto, 21, is a junior at DePaul. She understands that the big and bold sizes of shades are trendy, but said she prefers to keep them a bit smaller.
"I don't mind it, but if they don't look good on your face shape then you probably won't like them," she said. "I think it's all about how they fit."
But don't be fooled; Mannisto still tends to go for regular and medium-sized sunglasses. Another trend hitting stores is the slim geometric sunglasses, but Mannisto doesn't wear those either.
"I like to wear sunglasses that complement my face," she said. "I usually go for a medium-sized frame in black."
Chris Bala, 21, is also a junior at DePaul. While Mannisto sticks with sunglasses that frame and complement his face, Bala has a different style inspiration.
"I mostly buy aviators because they look tough and I watched 'Top Gun' once," Bala said.
Media have an impact on what people buy and how they tend to accessorize.
"Even though it's [oversized sunglasses] more of a women's fashion trend, I am a fan of the look," Bala said.
Both Mannisto and Bala agree that Ray-Ban is their favorite brand. They also agree that they lean more toward solid and simple colors, such as black or silver, when it comes to choosing what shade they want their shades to be.