DePaul student prepares for pro boxing debut in front of home crowd
September 30, 2019
Getting hit was never a problem for Summer Lynn.
The DePaul freshman has been preparing for this moment for most of her life. With years of martial arts and combat sports experience under her belt, Lynn is no stranger to high-level competition, and said she's ready for her professional career to begin at Wintrust Arena on Oct. 12.
Lynn has trained at Body Shot Boxing Club in the Pilsen neighborhood since she started boxing five years ago. Growing up in the neighborhoods around Midway Airport, Lynn has competed in Jiu-Jitsu and Judo since she was 7. Participating in those martial arts gave her a set of skills and a mindset that provided a base for boxing – a base that has led to two junior national championships.
The switch from martial arts to boxing was one based on personal needs – in a sense, a need for speed. Fast-paced and heavy, boxing was a tantalizing idea for Lynn.
"I've always done contact sports, and when I was around 12, I decided I wanted something a little more fast-paced," Lynn said. "I felt like [boxing] gave me that adrenaline."
One of Lynn's first big victories was at the 2017 Junior Olympics in Charleston, West Virginia. There, Lynn won the 145-pound division, taking home the top prize. Earlier this year, she won a second national title in Reno, Nevada.
Those victories are not just a product of Lynn's own skill, but also a little bit of the relationship she has with coach Rick Ramos and other members of her gym.
Ramos, owner and coach at Body Shot Boxing Club, has been running a gym for 13 years, the past six of which have been in Pilsen. His gym's walls are covered in photos of him and other boxing icons around the country, as well as paintings of older boxers in the middle of heated bouts. It gives off a welcoming, familial vibe, but the constant banging of fists into bags, bells during sparring sessions and the blaring hype music coming from a speaker lets you know it is all about training and competition.
The bond between a coach and a fighter is built on mutual trust and confidence. That bond is part of what has gotten them to this point.
"Coach told me one day that I was going to the Junior Olympics and win more tournaments, after the fact that all that came true it was the deciding moment," Lynn said. "He told me eventually one day I would turn pro, which I am."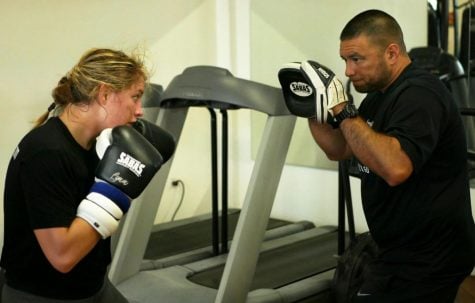 For Ramos,  the time he gets to spend at his gym is always a positive. Training young fighters and representing them as they get older is what he finds to be one of the best parts. His faith in his boxers' abilities means he is confident in preparing them for their professional fights early on.
"Even when the kids are amateurs, I try to promote them there," Ramos said. "When they go to the national tournaments, I try to keep the social media following involved. My fighters are always in the mix, whether it's training kids or keeping up their following."
Body Shot has always been the main boxing gym for Lynn; it has even felt like another home. Among Ramos, Lynn says the rest of the fighters and staff at the gym have made it a remarkable experience.
"What I love about this gym is the people in it," Lynn said. "I have the best coach ever and he tells me things that I don't even believe, but somehow they always work out."
Lynn has always had to face questions regarding the sport she loves. Teachers, neighbors and doctors have questioned her participation in a sport that, for outsiders, is seen as too violent.
"I've had a lot of backlash and negativity for being a woman in boxing," Lynn said.
While at Marist High School, Lynn was competing in national level events and winning. Although she wasn't representing her school in the fights, she still got no recognition from the community.
"They never even asked me for an interview," Lynn said. Yet there are hurdles in the boxing community as well based around her identity. As an upcoming professional, Lynn has to market herself in a way that many male boxers don't have to.
"You have to show your feminine side, look pretty and sell yourself," Lynn said. "Boys don't really have to show anything like that."
One of the fighters Lynn trains with is Jessica McCaskill. The current World Boxing Council and World Boxing Association super-lightweight champion, McCaskill has been involved in Lynn's growth as a fighter and as a woman.
"We sparred countless times and I remember the shift from [Lynn] being this younger girl and [sparring] being easy for me, to her coming into her woman's strength and me having to actually defend myself," McCaskill said. "She was getting faster, stronger and wiser."
Having a boxer as accomplished as McCaskill to look up to is crucial for Lynn, and having another woman boxer is just a bonus. Women's boxing, long overshadowed or downright banned, boomed in the 1990s. Being a woman in combat sports is often overlooked by the mainstream. There is a disparity in the pay, fame and reputation compared to men's combat sports.
The welcoming nature of Body Shot Boxing Club wouldn't make you think of any of that. Having the connection with McCaskill, along with the other Body Shot fighters and coaches, is impossible to overlook.
McCaskill is an important voice in Lynn's career. As Lynn prepares for her first professional fight, McCaskill will also be on the fight card, defending her title. McCaskill can also give advice on how to mentally prepare for a professional fight and deal with the circus of it all.
"I try to keep myself open to any questions and as much advice as she wants, but I also don't want to ground her in all of this stuff," McCaskill said. "There are a lot of things that are going to happen and life lessons that she needs to learn on her own."
Lynn has a lot of respect for McCaskill, and her influence on her career goes further than winning fights.
"I look up to [McCaskill] and I want to also make an impact for women in boxing, especially in Chicago," Lynn said.
Readying up for a professional fighting match is tough enough, but balancing a college education on top of that gets excessive. The time schedule is rigorous, but it can be managed.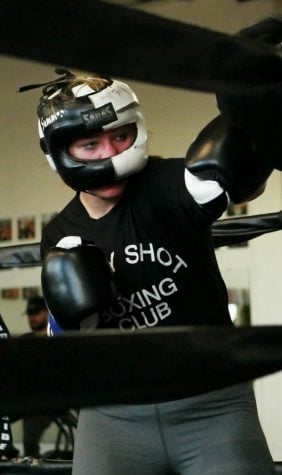 "There is definitely a struggle with it," Lynn said. "But you just need a time schedule on when you train, when you do homework or when you go out. It is definitely hard to juggle it all, but it is something I have been doing so long that I have the hang of it."
Lynn graduated from Marist High School in the southwest side of Chicago. The catholic school rigor helped her become better-focused and more equipped to balance everything.
"They were a little bit harder on us than most public schools tend to be," Lynn said.
Boxing tends to be a sport that people see as extremely blue-collar and one that is carved out for specific people from specific walks of life.
"She's a good kid who comes from a good family, she's educated and she doesn't have to do this," Ramos said. "She has been in the combat world since she was 7 years old, so I think she is comfortable getting hit and hitting people."
Now, Lynn is reaching the next milestone. Coming into a professional fight is a huge step in a boxer's career. Lynn has proven herself in fights across the country, but the family-like bond between her, her gym and Ramos has given her all the support a pro needs. As for the fight on Oct. 12, Wintrust Arena should feel a lot less intimidating than it could be for most fighters. .
"The emotions and preparation are entirely different," she said. "It's going to be in front of thousands of people; it is a different atmosphere, but fighting is all the same."