DREAMERS band shines in Chicago, shoots for the moon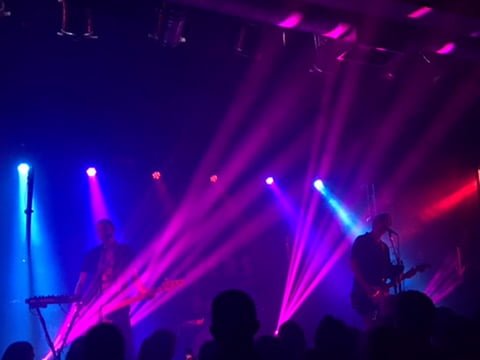 Nick Wold, guitarist and lead singer for the rock band DREAMERS, leaped into a cheering crowd of fans Nov. 19 at the Bottom Lounge. At one point in the night, he told the crowd: "We are dreamers and so are you." His statement was met with a roar from the crowd.
"We want to be dreamers, thinkers, imaginers," Wold told The DePaulia before the show. "I feel like that's the role of the artist in society."
DREAMERS and Wold embody the message of their name. Wold's love for music started early; he said his mother tells him he wanted to play saxophone when he was just two years old.
Growing up in Seattle, that love of music was fostered by the sound of artists from the Pacific Northwest, particularly Nirvana rock legend Kurt Cobain.
"We worshipped at the Church of Kurt Cobain," he said. "I still love Nirvana; it's probably my favorite band."
The draw to jazz led him to New York, where a band came together but eventually split up. Writing songs by himself in what he described as a "self-imposed homelesness," Wold saved money by moving into his sound-recording space and purchasing a $20 gym membership to shower.
"It was a really awesome time because it felt like I really kind of lived in music for the first time," he said. "That's when I met (bassist Marc) Nelson and we started doing stuff."
That "stuff" included DREAMERS' 2014 single, "Wolves," which was added to the rotation of SiriusXM's Alt-Nation. Wold, Nelson and former drummer Chris Bagamery, a carryover from Wold's first band, were on the way up. Wold and Nelson moved to Los Angeles in 2015, where they added current drummer Jacob Wick.
"I feel like it's just been a series of really small victories," Wold said. "One after the other and kind of just continuing to grind. 
"Chicago's one of our first, actually, where we got radio play and people would actually come to our shows," he added. "That was cool. And then you see it start to happen in some cities and not others and then it just kinda grows."
Having done everything from small-time shows to Lollapalooza and even opening up for Weezer on a radio station, DREAMERS has experienced the grind of the music industry. Bands in such developmental phases often splinter because of internal conflicts, but the three members have remained strong and still enjoy being in each other's presence. 
Initially, some of the questions a young band often faces, such as whether or not they had chemistry, may have existed. But that quickly went away. Wold said they work great together and feel comfortable incorporating and collaborating with different artists and sounds.
"I'm proud of all the tours that we've been able to do," he said. "And that everyone is still sane and healthy and alive and still love each other. I've seen a lot of bands, bands [that] fall apart from the inside. It's not like they lose because it's so difficult out there. It's usually like they argue, they disagree, they break apart, so I'm just glad that we're able to keep this ship tight and running."
Though their message has remained the same over the years, in certain capacities, the process has changed. Whereas their first album was done in one month at Sound City, their next record was done in pieces, going back and forth from home and doing performances while putting it together. 
That's not to say the product hasn't changed, though. Wold said they try to get into different creative spaces to push their music farther. It's a process that happens on its own, but it's resulted in heavier and "rock and rollier" music for the band.
"I noticed that happening at least, especially in the last few months when I've been writing," Wold said. "Mostly it feels like the same goal, like I'm always trying to get back to that Beatles, that Nirvana feeling that I have from great rock and roll."
Part of the appeal to the Beatles and Nirvana during their heyday was the messages portrayed through their music. Wold describes rock and roll as philosophy — as how we should live. He said that through watching artists like John Lennon and Cobain as a kid, he learned how to be a person.
Not every DREAMERS song carries a message. Some are simply about moments in time and less about philosophical provocation. But Wold cites their latest single, "Desensitize," as well as "Listen Out Loud" as songs with strong statements. At Bottom House, the trio also performed an unreleased song about suicide, an issue Wold said on stage was near to their hearts.
Their debut album, "This Album Does Not Exist," was released in 2016, with "Sweet Disaster" hitting number seven on the alternative radio chart. and they've had multiple singles and EP releases since then. Their latest single, "Desensitize," was released earlier this year.
Billy Samek and Jon Maier, both 19 of Peru, Illinois, traveled two hours to see DREAMERS. They were introduced to the band by their friend during their freshman year of high school.
"It's not like the pop everyone's going to," Samek said. "It's a little different. Almost like retro-2000s. Not autotuned and all that stuff."
Maier pointed out how he has seen DREAMERS grow, noting that the video game Forza Horizon 4 includes one of their songs.
"One of their songs is in the game," Maier said. "And when I first noticed it I was like 'That's pretty cool.'
"It's different, because I'm used to having to search them out and add them to my playlist," he added. "But now it's on the radio and in the game. It's kind of neat." 
Maier continued to say that he's heard DREAMERS at Jimmy John's on the restaurant's curated radio station. For both Maier and Samek, hearing a band they've seen on the ground floor is an exciting experience.
"[My] heart kind of skips a beat when you hear them in public," Samek said. "I think my phone's going off or something."
DREAMERS' tour stop in Chicago was met with delight from their fans. As they grow, it's fair to wonder what their dreams are.
"Our goal is to play the first sold-out arena show on the moon," Wold said, grinning. "Anything short of that goal is fine too. But we're just going to keep on moving."