CHAARging on: A new women's health group at DePaul rebrands women's health and fitness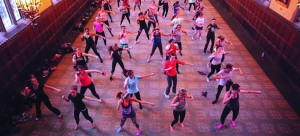 Society expects women to look and act a certain way.
But a group of DePaul women are branching out to change that. Carina Coss, a sophomore, adopted a popular health and fitness club that is catching on across the nation.
CHAARG, which stands for Changing, Health, Attitudes, and Actions to Recreate Girls,  is a new health and fitness group for all women that started at DePaul this fall. Racking up more than 100 members in less than a month, this fast-paced growing organization's goal is to empower college-age women to live and overall healthy and happy lifestyle for themselves.
"You don't have to fit into a certain mold to think that you're beautiful at all," Coss, president of CHAARG, at the DePaul chapter said.
Founded by Elisabeth Tavierne on Oct. 5, 2012 at Ohio State University, Tavierne's mission is to raise awareness and bring CHAARG to every university in the United States. There are currently 14 active chapters and one virtual chapter with about 2,500 members, hitting this milestone about two weeks ago, to support and empower one another along their fitness journey.
Not to be mixed up with just any workout group, this organization is here to let every girl know that healthy does not equal skinny.
The workouts vary from employing techniques of CrossFit, Pure Barre, salsa dancing and any other unique workout.
"Healthy equals being healthy emotionally, physically and spiritually," Coss said.
The idea to form CHAARG at DePaul happened when Coss was an employee at the Nike store on Michigan Avenue. While browsing for shoes, Tavierne met Coss for the very first time. Small talk about their mutual passion for health and fitness led Coss into becoming the president of CHAARG at the DePaul University chapter.
"I always felt that I needed to do something to impact the world," Coss said.
CHAARG's main goal is to liberate girls from the elliptical machine and show them a cleaner, healthier lifestyle while also having fun, Coss said. With seven executive members in DePaul's chapter, each executive splits into small groups that meet up once per week to work out.
One of those executives is Andrea Kinnerk, who is a film major. Even though she played tennis her entire life, Kinnerk never thought she was fit. Not having any particular fitness goals, Kinnerk would just like to be the best version of herself that she can be with healthy eating and being active as much as she can within the organization, and one day she hopes to become a fitness instructor in the next few months to a year.
"Being a big motivation to the girls and showing them that working out is fun, while keeping a positive attitude at the events girls can take charge of their own lifestyle," Kinnerk said.
Another executive, Courtney Clinkert, said she joined CHAARG to help her prepare for her brother's wedding in March. But what she got out of it was much bigger than what she originally thought.
"I like that it kind of encourages you to be independent and motivates you to make better decisions," Clinkert said.
View Comments (3)