End of the decade: a decade in the White House
As we say goodbye to 2019 and hello to 2020, we reflect on everything that's happened within the last 10 years. An entire decade has gone by in the blink of an eye. Makes you feel old, doesn't it?
Our world, specifically our country is full of history. Throughout the decade, two of the most defining moments in history happened in the White House.
Barack Obama was re-elected for a second term in 2012 and became the first African American president four years prior. Many monumental events happened during his presidency such as the legalization of same-sex marriage in 2015.
A second major happening was Donald Trump being elected in 2016. Regardless of his controversies, having a reality TV star as president has been nothing short of a wild ride, gripping the GOP, Democratic Party and the general public.
R. Craig Sautter is an adjunct professor at DePaul University and an expert in elections, political media, U.S. Presidential politics and more. He has taught courses in politics, history, literature and creative writing for the last 38 years at DePaul's School for New Learning and now teaches for the School of Continuing and Professional Studies. He has co-written and co-produced political ads, speeches and more for offices across the country.
Sautter believes the election and re-election of Barack Obama is one of the most defining moments in history.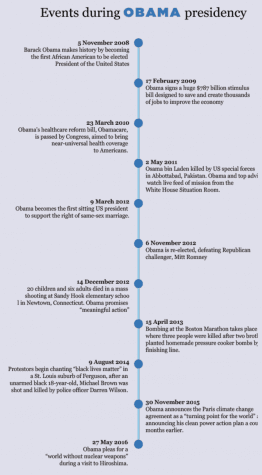 "President Obama's election marked a historical landmark that showed how far the nation had come since the Civil Rights Movement of the 1950s, 60s and early 70s," he said. "It was a visible marker that many white voters wanted desperately to turn the page on the vicious history of racism."
Sautter calls it "a moment that meant deep personal pride to many people." The same goes for his re-election as he says it "opened the way" for his future progress.
"It was a great defining moment for the country, and even the world," he said.
Sautter says that Trump's triumph gave voice to another constituency.
"Just as President Obama helped give greater voice to the disinherited of our nation, so did President Trump's triumph give voice to another constituency which has been left out economically, and disrespected and discounted by many of the nation's elites," he said.
"I disagree that most of these people are racists, and this is just a backlash to President Obama. The Democrats were losing these folks for decades, since President Reagan. Many of them just dropped away from the political process, and candidate Trump brought them back, and gave them some hope, and some pride in the same way Barack did for African-Americans."
Sautter reminds us all that politics are constantly changing.
"Politics can change every four years, and does change every eight years," he said. "The divisions of today will not last all that long as the divisions of tomorrow," he said.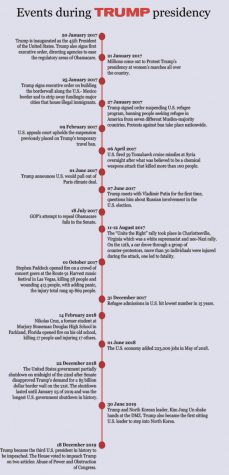 Elena Grigoryan is a sophomore at Loyola University and also believes that Trump's election was a defining moment in our country over the last decade. She said the election called for some "uncomfortable conversations."
"Since the election, meeting new people called for some uncomfortable conversations," she said. "So many major changes in current events have happened since Trump's election. For instance, discussions of abortion ban and gun laws following mass shootings, and those are things that you're bound to discuss with others."
Grigoryan believes the election has woken people up when it comes to politics.
"I believe that it was such a defining movement for our generation because during the previous presidencies that we have been alive for, we were too young to keep up with the politics during those times," she said. "Since Trump has been elected we have been more or less mature and aware enough to keep up with current events."
Layan Beirat is a freshman at the University of Illinois at Chicago and says that she has seen people differently since her freshman year of high school, all the way until she graduated due to their differing political views. This is what makes Trump's election a monumentally defining moment of our history.
"Minorities are the ones he [Trump] targets more frequently because of their abundance and what seems to be their 'sensitivity' based off stereotypes," Beirat said. "I think he's made a lot of people feel inferior, feel unsafe, and feel as though they should always prepare for the worst."
What does the future hold? Could it be something as extreme as flying cars? Or, even another  change in the political system? With the upcoming election, perhaps America could even have our first ever woman as president.