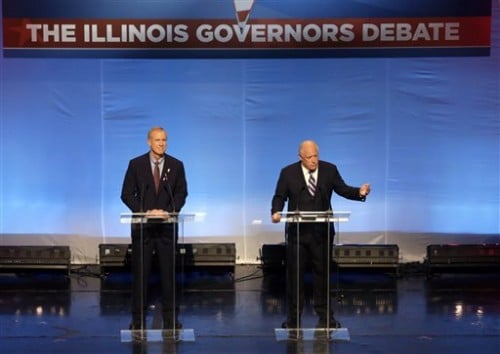 Gov. Pat Quinn and Republican candidate Bruce Rauner squared off again Tuesday night in the second gubernatorial debate, opposing each other on everything from education funding to increasing the minimum wage.
The debate, hosted by the Chicago Urban League, was intended to focus on issues plaguing African American communities going into the Nov. 4 election. The candidates' differences on minimum wage and education dominated the debate, often being included in answers unsolicited. Quinn says he will increase the rate to $10/hour no questions asked while Rauner says tax cuts will stimulate the economy; Rauner favors charter school while Quinn favors public education.
Perri Small, Corilyn Shropshire and Jay Levine asked the candidates questions, but the candidates got the opportunity to ask questions to each other at the end of the debate.
"On the 27th of February of 2001, Mr. Rauner, you fired a woman executive at your firm for not laying off enough workers and you threatened her," Quinn asked. "…You said you would hurt her and her family. Why did you say that…It's never right to threaten anyone."
Rauner smirked and shook his head before offering his retort.
"Gov. Quinn, this is more of the baloney you throw out continuously….You are taking an accusation and spinning it into an ad because you can't run on the truth. The truth is, you're the worst governor in America."
The candidates will meet for a final debate Oct. 20.