Still Woozy releases newest single "BS"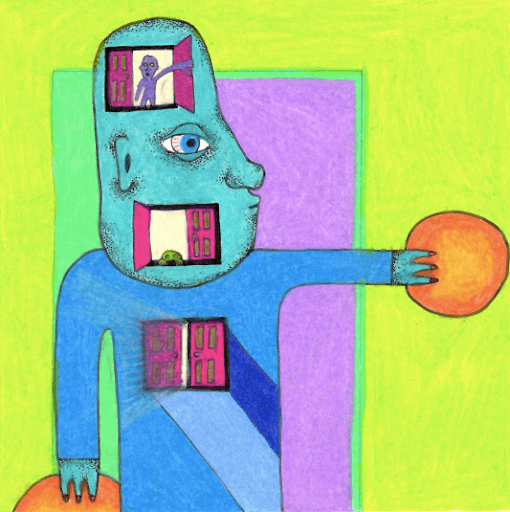 Sven Gamsky, known on stage and by his music as Still Woozy, sat with his head leaned back against a pillow while fielding questions over a Zoom press conference, an activity that has become all too familiar for artists in 2020. 
On his chest is his tiny dog, BMO, appropriately named after the tiny, anthropomorphic video game console from Cartoon Network's "Adventure Time." He wears a long-sleeved purple shirt, a common feature of his wardrobe that works its way into what he wears in his music videos as well as the hue of the scenes.
Still Woozy released his latest single on Thursday, titled "BS," a continuation of the musical growth he's undertaken over much of the last decade as a solo artist. The cover art is an abstract amalgamation of a turquoise creature set to a neon backdrop. The brightly-colored creation was done by Gamsky's fiancé, Amiya Kahn-Tietz, the usual artist behind his cover art of bright colors and distorted shapes. 
"It's just inspiring to see," Gamsky said over Zoom. "Like, she got so good at making these fancy things like out of nowhere. Or like when she dresses, she just puts all this detail… I don't know, there's just so many, she just kind of makes her whole life into the art and I feel like it just, has kinda just has inspired me more than anything else."
Still Woozy often talks about relationships and intimacy in his music, and "BS" does much of the same with the low-fi, relaxed beat that fans are familiar with. The second single he's released in 2020, it's a song about bringing one's best self to the people they love. His music has been described by the San Antonio Current as "psychedelic funk," and he incorporates random little beats that seem out of place but still fit in the picture. 
"I'd describe his music as indie, electronic vibe music," said Carlie Jacobsen, a sophomore at DePaul. "That's a super weird description but I feel like it's fitting."
Gamsky says he loves beats and the process of finding new rhythms to play with. The way that he describes making them as fun is layered with the same enthusiasm as a kid would describe playing outside. He compares the process of building beats off one another to building outward from a skeleton, adding muscle until the song fully takes shape. "It kind of always blows my mind a little bit," he says.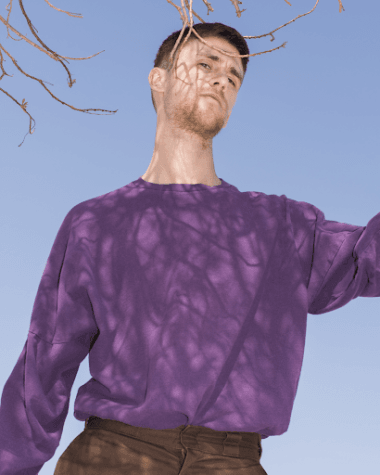 "I liked his style of music," said Jacobsen, "and when I first discovered him I found out he was all self-produced and recorded and I thought that was super cool."
Gamsky says he's spent time during the COVID-19 pandemic listening to Dominic Fike's album, an artist to whom he's compared to by Brady Merkl, a senior at the University of Oregon.
"I discovered Still Woozy through artists like Dominic Fike, Forrest. and Surfaces," Gamsky said. "They all share a similar groove in their songs that force the body to move and/or feel something, which I really seek out in music."
A self-described perfectionist, Gamsky has long produced his own music. After years of doing it and after years of curating his tastes, he's made his own sound to the point that he says if someone else produced it, it'd be noticeable that it wasn't his. 
"You know there's certain sounds that just resonate with you," Gamsky said. "And that's, I feel like, the beautiful part about self-producing, is that you just, you're just curating all these sounds for people. And it kind of, maybe that's why it feels like a more unified whole is because… this is like my particular lens."
His beats and sound make a listener want to pop on a pair of headphones, lay down in bed and stare at the ceiling. Mellow beats are a staple to Still Woozy's music, a result of the tastes he's developed in his music, though he tries not to limit himself to just one genre, as is the case of many artists today. Attaching genre can be a way an artist boxes themselves in, but Gamsky sees it as more of a guide for listeners to discover music, saying, "It's more like it's a tool for people to navigate music." Because of this, he tries to ignore categories.
"I don't want to ever get stuck in a genre," Gamsky said. I don't want to be limited to just one thing, cause that just, you know, I have too many ideas to be stuck in one place. And I don't want people to get used to one thing either."
Also like many artists, Still Woozy has been unable to tour due to the COVID-19 pandemic, despite planning to. How much he enjoys performing seemed to clearly come through while he spoke on Zoom, explaining his most memorable tour moment as him crowd surfing on a rubber ducky in Los Angeles. He's built a following to the point of over 4 million monthly users on Spotify, bringing his obsession with beats and sound textures to people who want to listen.
And while the touring part of the job is on pause, as it is for so much of the music world, "BS" is a creation done in spite of the mess that will be remembered as 2020. Whereas he used to often create music and upload music on the same day, as someone now on a label, it takes time for projects to be released, a sign of his growth in stature. 
He said that listening to Dominic Fike's recent album made him excited to put one out himself, adding that he has "a lot of stuff," so more Still Woozy may be on the horizon.