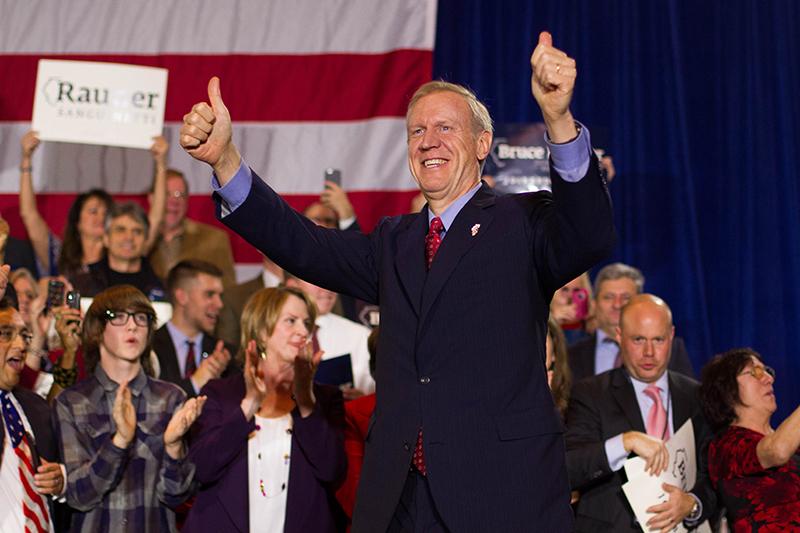 Republicans pulled away with the win in Illinois today when Republican Bruce Rauner defeated Democrat Gov. Pat Quinn in the dead heat gubernatorial election. Rauner is the first Republican to be elected governor since 1998 in the strongly blue state and home of President Barack Obama.
"We are going in a new direction, the voters have spoken," Rauner said to supporters at his election party Tuesday night. "This election was about bringing back our great state."
With 99 percent of precincts reporting, Rauner won 50.8 percent of the votes with Quinn at 45.8 percent and Libertarian candidate Chad Grimm taking 3.4 percent. All major news outlets declared Rauner the winner Tuesday night, but Quinn waited until Wednesday afternoon to concede at a short press conference.
Rauner was down in the polls leading up to the election but pulled ahead of Quinn with a four-point victory. Waiting for Quinn to concede, Rauner finally took the stage just after 11 p.m. to a fired up crowd.
"I am honored, I am humbled to go to work for you and every family in this great state," Rauner said. "We need Illinois to be competitive, we need Illinois to stay compassionate."
The night started off slow with a stale room, a cash bar and no food at Rauner's election party in the South Loop. But, the night took a turn and the energy was electric at about 9:15 p.m. when Rauner took the lead with about 60 percent of the state reporting results.
Rauner spent more than $63 million on his campaign, of which $26.1 million came from his own pocket, compared to Quinn's $29.1 million. The combined total of Rauner and Quinn nearly doubled the state record for spending on campaigns.
In a slew of attack ads, the Illinois governor race pumped in an estimated $54.9 million on advertising to the state's overall advertising spending total of $71 million for the midterm election cycle. Rauner spent an estimated $31.9 million on ads compared to Quinn's estimated $23 million, according to the Center for Public Integrity.
Jorge Zavala, a 26-year-old DePaul alumni, was a Democratic candidate on the ballot for the 4th Congressional District in Illinois for the primary, and was in attendance at Rauner's election party Tuesday night to show his support.
Zavala believes that Rauner's $63.7 million investment on his campaign is well worth it.
"I think it's a good investment in somebody who, at least on the surface, is planning on making positive changes in the state of Illinois," he said.
With Rauner winning the governor election, it is possible that Illinois will see lower income tax rates and an expansion charter schools for public education. However, these policies will have to be passed through a democrat-controlled legislature downstate.
Rauner's win plays a key part in this year's election of what Republicans hope is a shift of power from the democrats to the republicans in Illinois state politics.