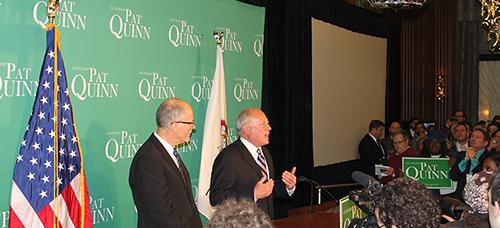 Governor Pat Quinn could not overcome a national Republican tidal wave as all major news organizations have declared his challenger, Republican businessman Bruce Rauner, winner of the governor's race, making Rauner the first member of the GOP to hold the office in nearly 12 years.
As of 12:30 a.m. Wednesday morning, Rauner held a 51-46 advantage over Quinn with 91 percent of the voted tallied.
Quinn, however, does not plan to concede until all ballots have been counted and the numbers are officially reported. Shortly after the race was called, Quinn spoke to the large and supportive crowd  expressing his intentions to remain in the race until all results are in.
"I will not concede until every election authority in every county count their votes," Quinn said. "We are the government of the many and will never ever yield until all the ballots are in."
Supporters crowded the Walnut Room of the Hotel Allegro Chicago for Quinn's election night party. They cheered throughout the night as results came in on the big projector screen set up in the ballroom, and maintained their support even after results were coming in with Rauner in the lead.
Political figures such as Rev. Jesse Jackson and State Representative Greg Harris attended the event to support Quinn and spoke about the importance of this year's election and the issues Quinn raised during his campaign, especially the push for raising the minimum wage.
"I think people were very concerned about this election, I think they took it very seriously," Harris said.
State Senator Dan Kotowski showed his support before Quinn spoke and said that he was proud of the governor for running a strong campaign until the very end.
"I'm proud of Gov. Quinn. And I'm proud of him because he ran a straightforward race and he told people what he was going to do, he was really specific," Kotowski said. "He's taken responsibility and that's what we want a leader to do and I think what the people in the state of Illinois would hopefully want is someone who would say that and deliver that message."
The number of remaining ballots left to count remains unknown. Spokespeople for Quinn suggested there could be at least 150,000 uncounted ballots in the city of Chicago. Rauner currently has an 113,607 vote lead over Quinn according to a Chicago Tribune report.
The governor emphasized early voting and brought in some powerful allies like President Obama, first lady Michelle Obama, former president Bill Clinton, and former secretary of state Hillary Clinton to boost his campaign.
During the campaign, Quinn, who has an approval rating hovering around 35 percent, turned the attention to Rauner's record as a businessman. The strategy very much mimicked the one used by the Obama campaign against Mitt Romney in 2012.
Quinn made appearances at several area universities, including a stop at DePaul's Lincoln Park campus, where he shook hands and took pictures with students while urging them to get to the polls.