OPINION: The pandemic is far from over in India and abroad
May 9, 2021
Every morning, I check the news in India to monitor the Covid-19 crisis abroad, which currently makes up over half of the cases worldwide. I talk to my mom to see how our loved ones are doing, and I reach out to my friends and family that live there to make sure they are safe.
For the past few weeks, I've started my mornings this way to account for the over 10-hour time difference between Chicago and Mumbai. While many of my loved ones abroad are fortunate enough to stay safe, that isn't always the case. 
Over the past month, I've learned about family members and friends in India who have passed away from Covid-19 complications, most of which resulted from the country's inadequate health care system. While I physically live in Chicago, my mind is 8,000 miles away.
Chicago officials announced the city will be moving into its Bridge Phase, which precedes Phase Five — the full reopening of all businesses and a removal of nearly all Covid-19 mitigations. The city could return to normal as early as July 4, according to Mayor Lori Lightfoot.
I recognize that this is good news considering the decreasing infection rates and increased amount of vaccinations, but I cannot comprehend what returning to normal means. For me, going back to bars, restaurants and concerts is the last thing on my mind, because the pandemic is far from over. 
As of Saturday, May 8, more people in India are dying from Covid-19 than during any other stage of the pandemic, including my very own family.
Learning that a loved one has died is difficult in itself. The distance between us and the restrictions prohibiting me from being there makes it all the more devastating.
Most of these deaths aren't quick either, in fact, a lot of people in India are dying slowly and painfully as they struggle to breathe due to the oxygen shortage and insufficient hospital beds. Not only are the deaths often slow and excruciating, people cannot properly say goodbye to the deceased as many states are under lockdown. 
Usually in India, people are cremated, and oftentimes their families will gather to scatter the ashes. The Covid-19 crisis has overwhelmed funeral establishments, and funeral pyres are in place across the country where the deceased are burned en masse to account for the rapidly increasing death toll. What is supposed to be an intimate ritual has become a public display of trauma and grief. 
It is disheartening knowing that so many Indians, myself included, must miss out on such an integral part of the grieving experience. Some residents may even be unaware if their loved ones are alive or not. Death itself is not the worst part of the Covid-19 crisis in India; instead, it is the events preceding and following death. 
While the country's current condition affects most Indians, Covid-19 disproportionately affects lower caste Indians such as Dalits, Muslims and indigenous peoples. Prime Minister Narendra Modi's Hindu nationalist administration has exacerbated the persistence of masked oppression-based violence.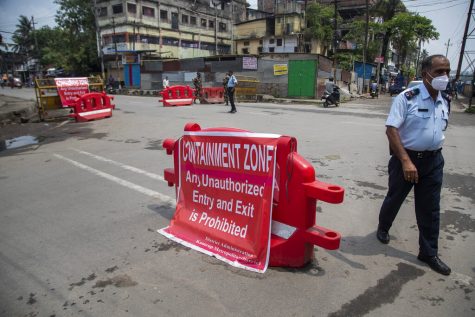 According to Induja Kumar's paper on inherited prejudices, Hinduism itself is an imperial-based construct, resulting in the upper-caste appropriation of culture and spirituality. Many members of the South Asian Western diaspora are complicit in perpetuating Hindutva-based ideas, resulting in problematic narratives that cater to the homogenization of what India is. 
"Brown folk are not just Hindu cishet Hindi-speaking Indians, and the diasporic imaginary pushes out marginalized people, whether they are Indo-Caribbean, South Indian, non-Hindu, etc," Kumar wrote. "Nuanced understandings of movements themselves cannot happen with a two-dimensional understanding of South Asia."
"I believe a lot of diasporic crises, and the harmful aspects of the diasporic imagination itself can be dispelled when talking to people of the same age doing organizing work in India," Kumar added. 
As the situation abroad worsens, I have witnessed many Desi celebrities turn a blind eye to India's current state. Many Indians profit off discussions of cultural appropriation or identity politics, yet they feel sufficient in making a single donation or repost, if at all, instead of engaging in ongoing mutual aid efforts that could greatly benefit from such traction.
The most notable Indian figure that comes to mind is Vice President Kamala Harris. On May 7, Harris announced her support to help India and relayed her personal ties to her family abroad.
While the Biden administration is now providing aid to India, including shipping essential medical supplies, they previously denied waiving the protections that would allow India and other countries the patents to boost vaccine production. On May 5, they agreed to waive the intellectual property rights for Covid-19 vaccines.
Although the U.S. continues to offer India much needed aid, too many Indians have died waiting for the administration to make a decision — one that concerns basic human rights.
While I recognize the importance in diversity, Harris is a prime example of how representation is not necessarily a good thing. Harris highlighted her cultural background throughout her campaign, yet she turned her back on those she supposedly represents. 
It is just as frustrating to watch Indian residents continuously be silenced for trying to speak on the issues they face. Rana Ayyub, a Mumbai-based journalist, described the complexities of reporting from India in a time of crisis.
"The carnage continues unabated," she told CNN. "How do you also report at a time when your own family members are losing their lives?"
Ayyub also described the relationship between journalism in India and Modi's administration, who has a history of trying to censor the country's media by issuing content restrictions, threats and in some cases, physical violence.
"Journalism is happening in India, but the gatekeepers are not allowing the truth to kind of get on the front pages," she said. "Everything has been taken over by the Modi government."
Modi and Hindu nationalists alike have exacerbated their media censoring tactics in the face of the ongoing Covid-19 crisis in an attempt to skew the narrative in their favor.
The limitations imposed by the Indian government, the general inaction from prominent officials and the constant influx of negative news is mind-numbing for me at times. Every day, I feel helpless as I await potentially tragic updates. These feelings are compounded when I see many South Asian Western diaspora members perpetuate casteism, whether consciously or not, influencing those outside the diaspora who may take said information at face value.
Some of the most integral actions other nonresidential Indians and allies can take is to follow and amplify reputable organizations that work directly with those who are most affected by the country's current climate. It is equally important to self educate, reflect and raise awareness to the Covid-19 crisis as well as the persistence of caste-based violence in India and abroad. 
As Chicago and other places around the U.S. lift coronavirus restrictions, it is not lost on me that India and other countries continue to struggle. Soon, bars will reopen, indoor dining will return and concerts will resume once again. However, my life will only return to some semblance of normalcy once I no longer fear for the lives and well-being of my loved ones, when I can safely hold them in my arms and give proper goodbyes to those I've lost.