New year, familiar energy: DePaul falls to Providence 74-59 at home on NYD
January 2, 2023
Following DePaul's first Big East win of the season on Dec. 29 against Georgetown, the Blue Demons tried to repeat that success on Sunday but were outplayed by Providence in a 74-59 loss. 
As the all-time series now sits at 37-16 in favor of the Friars, DePaul also holds a 0-5 record in New Year's Day games. 
Heading into the matchup, one of the storylines was the homecoming for Oak Park, IL native Bryce Hopkins. Ranked No. 33 in ESPN top 100 recruits in 2021, the sophomore forward committed to Kentucky before transferring to Providence last year, which made fans wonder why DePaul couldn't keep the local talent close to home.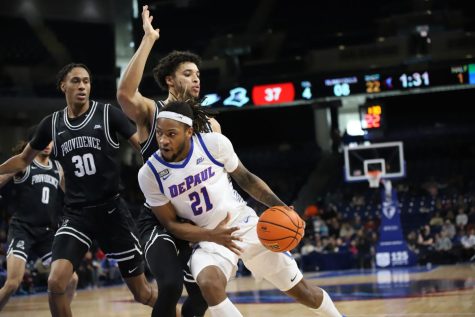 In front of 3,316 fans including DePaul alumni and former 2007 NBA first round pick Wilson Chandler DePaul failed to deliver for their fans. 
Within the first three minutes of the game, it was evident the Friars were the better team. DePaul's offense had one of its worst shooting performances of the season, finishing just 35% from the field. 
Providence's physicality was too much for DePaul on Sunday. Graduate student Yor Anei only attempted six shots and was never able to establish ground in the paint. 
The Blue Demons' tandem of Javan Johnson and Umoja Gibson also had a quiet night in the 15-point loss. After picking up two fouls in the first three minutes, Gibson did not see the floor until late in the first half. Both finished well below each of their points per game average, as Johnson tallied 11 points and Gibson recorded 10.
Despite DePaul's lackluster offensive performance, junior forward Da'Sean Nelson was truly the only productive player able to score on Sunday. Nelson finished with 17 points and seven rebounds, both team-highs, and just one point shy of his career-high of 18. 
"He was solid," said head coach Tony Stubblefield. "Da'Sean has got some talent, he just needs to bring it game in and game out, every game." 
DePaul's team energy never really materialized Sunday. After scoreless possessions and careless turnovers, there seemed to be no real fight from the Blue Demons or urge to battle on their home floor.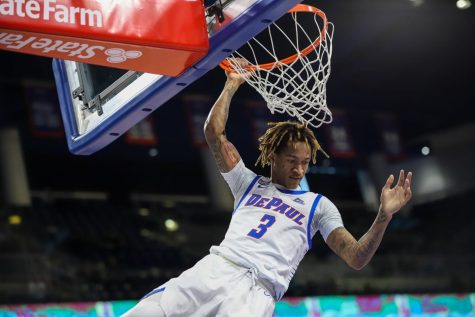 Junior Jalen Terry was one of the few who brought energy and intensity for DePaul. For the majority of the game, the guard led the team in rebounds, orchestrated the offense and managed Providence's defense strategies. 
After playing all 20 first half minutes, Terry was absent for much of the second. After being taken off the floor early in the second half, he returned when the game was out of reach in the closing minutes. 
Stubblefield spoke about his decision as to why Terry wasn't on the floor as much in the second half.
"It was a matter of going with a different group that I thought could get us going." Stubblefield said. 
Providence looked like the more poised team and moved the ball with fluidity. They attacked offensively, and were able to make the big shots when it mattered throughout the game. 
"I tell the guys all the time, if you are depending upon your offense to be successful every game, then you're going to have a long year," Stubblefield said.. "You have to be able to defend, rebound still while the shots aren't falling. That's what happened to us today."
Another major component to DePaul's 15-point loss was the three ball on both ends. Coming into the game, the Blue Demons were ranked 69th by NCAA in 3-point attempts per game and 79th in the country in 3-point percentage. 
On the season DePaul is ranked 108th in the country shooting 35.5% from three so far on the year.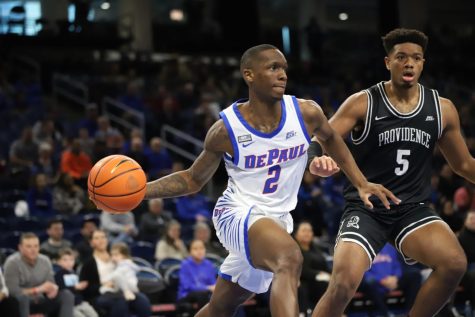 On Sunday, DePaul's 3-point shooting  was not a worry for Providence whatsoever. DePaul shot just 21%, making only four of 19 in the game. The story was different on the defensive end, as the Blue Demons allowed a 50% shooting day for theFriars, who went 7-14 from behind the arc. 
"We missed some shots that we made on Thursday, and it affected us on the defensive end," Stubblefield said. "Again, you can't let teams shoot 48% from two and 50 from three and give yourself a chance to win." 
As the heart of the Big East schedule approaches and opponents continue to get tougher, DePaul will have to find a way to take something from each game. 
Sunday's loss adds to the list of disappointing performances for DePaul this season. While the program's turnaround was unlikely to happen overnight, fans are still eager to see this team's name be called on selection Sunday and show some positive steps as the season goes on. 
DePaul (7-8, 1-3)  will be back in action on Wednesday Jan. 4 against Butler (8-6, 0-3) in Indianapolis. Tip-off is scheduled for 8:00 p.m. CST.