What are DePaul students wearing this winter?
Students are not only settling into their winter quarter classes but their Chicago winter fashion as well. There are lots of great looks on DePaul's campuses and there are some fantastic aspects of the outfits to take notes on for the winter. Just because you've got to wear lots of layers, doesn't mean you can't stay fashionable.
Making their way through the Loop campus, Dessi Lang can be seen dressed fashionably and prepared for the cold. Lang, a junior majoring in experience design, explained how their outfit comes together for an average winter day in Chicago. 
"I don't really like piling on too many layers, so [I go with] a tank top and then a flannel," Lang said. "It's simple and when I take off my winter coat I can have that on. For my shoes, they protect me from the cold, fur lined on the inside. And joggers, they're always good." 
Lang continued, explaining how they dress for the winter and gave a great tip, which is to not forget accessories. 
"I like scarves, earrings — dangling ones, and shiny jewelry," Lang said. "Something that pops. You know with winter clothing you're always bundling up and I still want some type of flare."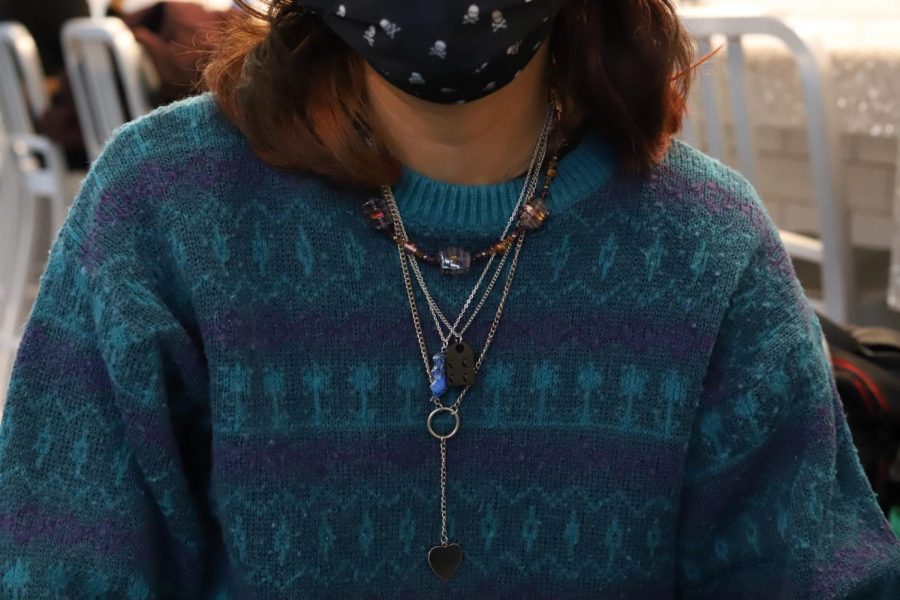 Lang also wore large headphones, which are great for the winter, because they can double as earmuffs. 
In the Loop's student center, sitting relaxed and well-styled while they enjoyed a meal, sat sophomore Savannah Romero.   
They jumped right into explaining their vintage, somewhat skater-esque outfit that works perfectly for Chicago's winter. One specific thing that they had in common with Lang was not to sleep on accessorizing in the winter. 
"I have these rings, I'm obsessed with jewelry," Romero said. "Most of the jewelry I'm wearing is matching with my girlfriend. This heart chain necklace is hers. I have this knitted-cat hat, I am really digging a lot of hats right. And I really like the color, I'm into very dark tones and I like to have some sort of contrast in my outfits. And I have this belt I also thrifted! I like to have the belt hanging around the front a little bit, it adds a little difference."
Keeping the focus on Romero, they explained the layers they had on.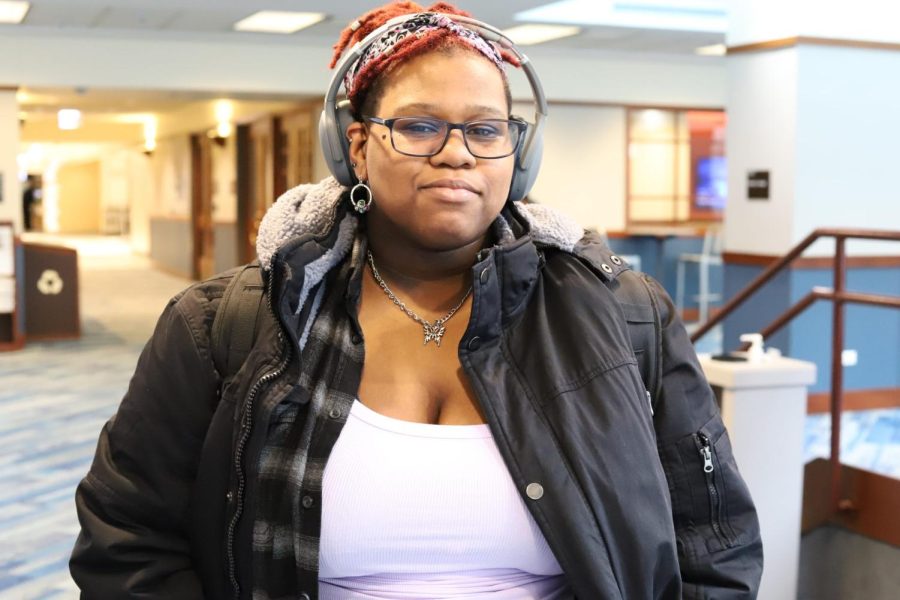 "So actually, this is my girlfriend's sweater. Her style is also amazing. I have on these corduroy pants that I thrifted, usually most of the things I wear are thrifted from my neighborhood thrift store. I've got some Jack Skeleton socks. And some high-top Converse, can't go wrong with Converse." 
The sweater that Romero is wearing is a vintage, knit sweater with intercite patterns in blue, green, and purple. Another key detail in this outfit is the clean cuff on the corduroy pants, which allow the very emo Nightmare Before Christmas socks to be seen by all, as they should be. 
Romero also shared some advice for anyone new to Chicago and wanting to dress warm, but still look good. 
"Layer!" Romero said. "Layering is so fun. I love to wear vests with sweaters or vests. And jackets, like trench coats. Don't let the weather restrict what you wanna wear."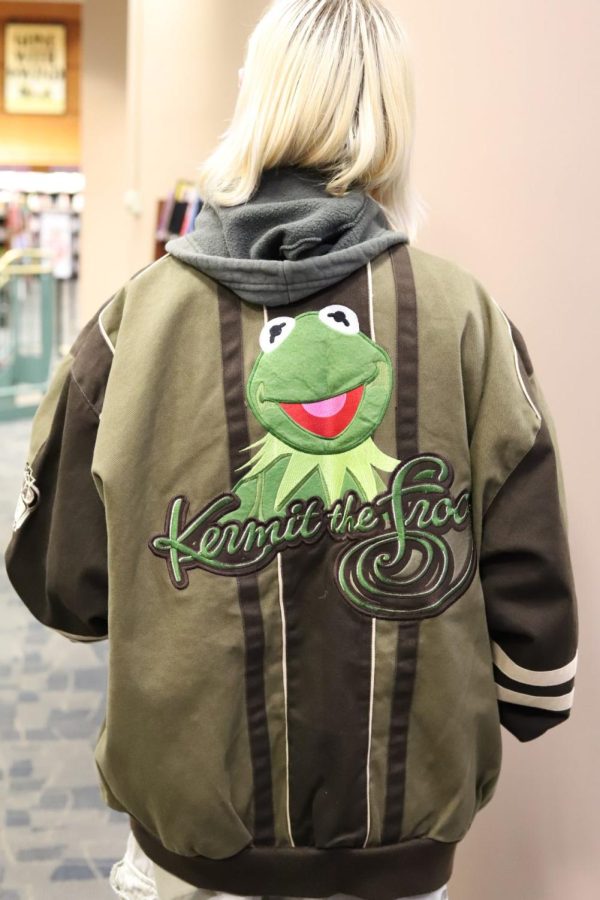 Jaret Ledford, a freshman art media and design major is the epitome of dressing fashionably, comfortably and warm in the winter. Take a close look at the details in their outfit. 
Ledford explained how they got dressed for this winter day. 
"Well I've got some thrifted pants on," Ledford said. "Just some classic khaki cargos with some camo. And I've got my Kermit the Frog racer jacket on, one of my all time favorites."
They also had layered necklaces on, as well as some chunky headphones, which all perfectly complemented their fit. 
The advice that Ledford had for staying warm and looking good was simple. 
"Layers are number one," Ledford said. "Definitely a good jacket, and a cool hat and gloves." 
Ledford makes an excellent point with having a good, staple jacket. Even a bold, loud winter coat can spice up a winter outfit.