Blue Demons split week: Best Villanova, drop close game to Seton Hall
January 15, 2023
DePaul split its matchups this week, winning against Villanova on Tuesday and snapping a 22-game losing streak against the Wildcats, but dropped a nail-biter against Seton Hall on Saturday.
The team secured its most impressive win of the season Tuesday, besting Villanova 75-65, led by junior forward Da'Sean Nelson's career-high 24-point night. The double digit win was also their all-time largest margin of victory against the Wildcats.
"Villanova is a very good basketball team," head coach Tony Stubblefield said. "They're a very well-coached basketball team and they got some really good players… They weren't going to give us anything." 
DePaul snapped a 22-game losing streak against Villanova and won for the first time since Jan. 3 2008. 
"I made them very aware that DePaul has lost 22 games in a row," Stubblefield said. "We're trying to get this program off the ground. We're building something and this is where it starts. You have to beat the guys that are at the top." 
Tuesday night may prove to be Nelson's breakout game. Nelson was the key factor in DePaul's upset win, as the junior forward scored a career-high 24 points, shooting 9-for-12 from the field to go with a team-high eight rebounds.
It was the third-straight impressive showing for the 6-foot-8 forward after scoring 14 points against Butler a week prior and 17 against Providence on New Year's Day. 
"From the beginning of the game, coach [Stubblefield] said you gotta stay strong and keep playing strong," Nelson said. "[I'm feeling] more comfortable playing on the block, transferring from being able to stretch the floor to playing down low as the five man." 
Villanova head coach Kyle Neptune credited Nelson post-game for his breakout performance.
"He's a good player," Neptune said. "He pivoted, took his time, made shots over guys, he was stronger than us. He got to the rim and he bullied us." 
Stubblefield also spoke highly of Nelson following the game.
"Da'Sean [Nelson] is talented," Stubblefield said. "I tell Da'Sean this almost every day that he's only going to get better." 
The Blue Demons shot 46% and held the Wildcats to 41%, Villanova's lowest against a Big East opponent this season.
"I feel like we played like lions tonight," graduate forward Javan Johnson said. "We wanted to just play strong and be the aggressors as opposed to letting them throw the first punch. We wanted to throw the first punch today."
Johnson continued his stellar play against the Wildcats, scoring 18-points and connecting on 4-of-6 three-pointers. 
"Every game we try to get deflections and each game we do, we end up on the right side winning the game," Johnson said. "I feel like [we've] got to continue to bring that every game and get in the passing lanes and force turnovers."
DePaul's defense was stout during their double-digit victory on Tuesday night, recording seven steals and forcing 14 Wildcats turnovers. 
"[Defense has] been our main focus," Stubblefield said. "That's how we're going to have to win games and I thought our guys were very focused and locked in defensively."
A 15-3 run won DePaul the game and included back-to-back three's by Johnson and senior guard Philmon Gebrewhit, which forced Neptune to call a timeout and regroup.
Saturday vs. Seton Hall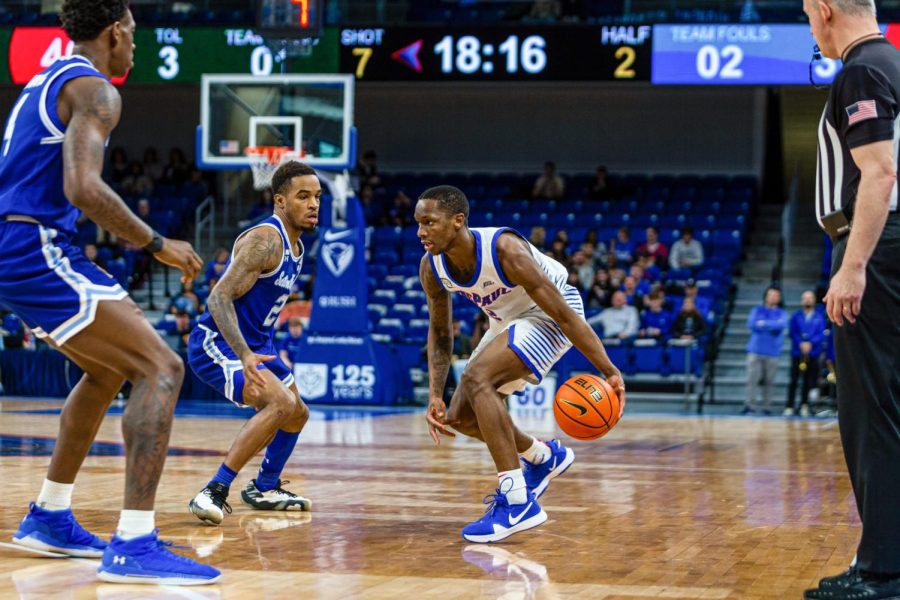 DePaul went toe-to-toe with a tough Seton Hall squad on Saturday but came out on the losing end, losing 71-67. The final minutes of the game were chaotic, and late mistakes likely cost the Blue Demons the game.
"We knew going into this game, the key to winning was on the defensive end and rebounding the basketball," Stubblefield said. "They're strong and we knew… we didn't match their physicality… When you don't, you lose a game you shouldn't have."
Nelson's strong play again provided a spark for the Blue Demons. He finished the game recording 15 points, three rebounds and two assists, while shooting 6-of-8 from the field. Still, Nelson's head coach wanted more production from him on the boards.
"He [Nelson] can score the ball and he's skilled," Stubblefield said. "He can score the ball inside, but when you play 26 minutes, you got to come up with more than three rebounds. I'm more interested in rebounding and defending."
Early on in the first half, Seton Hall had a 8-0 run followed up by DePaul 7-0 run of their own to bring the Blue Demons back into the game.
Seton Hall scored 24 of their 39 first half points in the paint, while DePaul tallied just 14. Yor Anei struggled down low against the Pirates athletic bigs. Anei still may not be 100% since returning from a foot injury that sidelined him for multiple games.
Saturday was the first game this season that DePaul entered halftime tied with their opponent. At the break, the score was 39-39.
The second half of the game, similar to the first half, was a lot of back and forth between the two teams. When it mattered most, the Pirates stepped up when needed. Seton Hall went on a 7-0 run, and during that stretch, DePaul missed six of its seven shots.
Javan Johnson had one of his worst games of the season, finishing with 10 points. Johnson shot 2-for-13 from the field and 2-of-10 from beyond the arc with a plus minus of -7.
"Just missed some shots that I usually make," Johnson said of his poor shooting performance. "Just gotta get back in the lab."
The final minute of the game was tumultuous as it started with senior Philmon Gebrewhit connecting on a corner three, followed with a three by Johnson to bring the game within one. Seconds later, Johnson recovered a loose ball and got a defensive stop with 14 seconds left, but as he tried calling a timeout, the officials ruled a jump ball, with possession favoring Seton Hall.
With 10 seconds left, Seton Hall missed a free throw that would have put the Pirates up four points, but the rebound slipped right through Gebrewhit's hands with no one around him. Seton Hall was able to recover the rebound which forced DePaul to foul and ultimately end the game. 
"I should've grabbed that rebound, that's on me," Gebrewhit said. "That's all that's really to it."
Wintrust Arena went silent, as DePaul fans knew that the game was likely over and Gebrewhit's late-game mistake may have cost them a chance at overtime.
DePaul (8-10, 2-5) will continue their homestand when they host No. 12 Xavier (14-3, 6-0) on Wednesday with tip off scheduled at Wintrust Arena for 7:30 p.m. CST. The game will be broadcast on FS1.