Old Wounds: Tyre Nichols' killing brings painful memories to families of police violence
February 5, 2023
Arewa Karin Winters didn't watch the footage of Tyre Nichols being beaten to death by five Memphis police officers in January. She didn't have to. 
Pierre Loury, who was just 16 years old when he was shot and killed by Chicago police in 2016, was Winters' great-nephew. Whether or not she watched the video, the Tyre Nichols story is one she knows all too well.
"I don't have to see it," Winters said. "Once you hear what happened, trust me, I've seen it in my head. I can't not [see] it."
Winters was joined by other families impacted by police violence outside the Chicago Police Department Public Safety Headquarters on Wednesday night. Each one shared stories of losing their loved ones in the wake of Nichols' shocking death at the hands of Memphis police officers.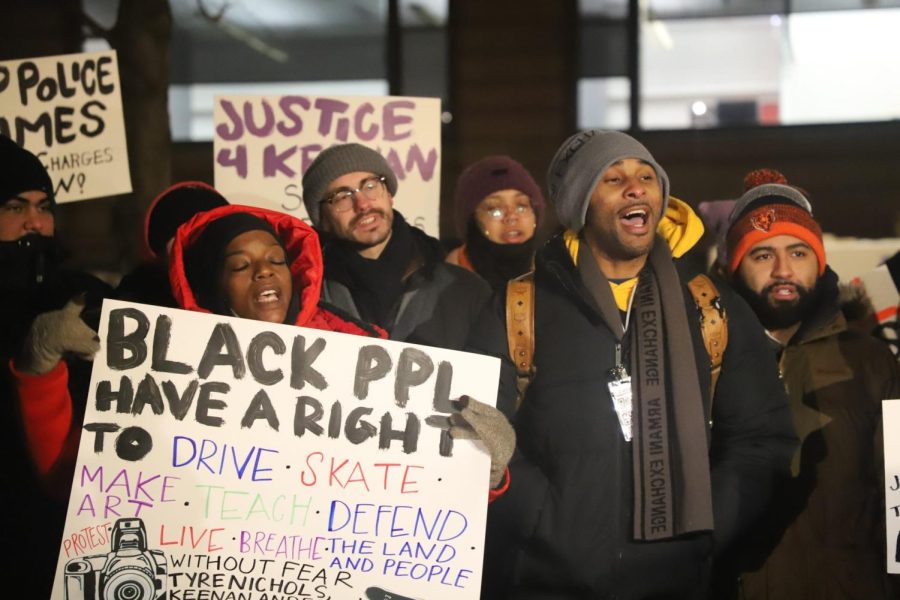 Rabbi Michael Ben Yosef, Chicago Activist Coalition For Justice organizer, prepared the event, attended by The DePaulia and other Chicago news organizations. His coalition advocates for police accountability and criminal justice reform. 
After years of working with countless other families like Winters', Yosef knows how painful it can be for them to see what happened in Memphis. 
"Families who have gone through this, most of them are traumatized yet again," Yosef said. "Every time a murder happens, they're retraumatized." 
Video shows Nichols was beaten by Memphis police officers on Jan. 7 after being stopped for reckless driving. He was taken to the hospital and died three days later. The city of Memphis released the surveillance video of the confrontation on Jan. 27. 
The video included the violent altercation between Nichols and the five officers. Major broadcast channels publicly played the 13-minute video. 
"I can't watch that. I can't watch that," said Pansy Edwards, mother of Dakota Bright. "I had nightmares for years… I just don't know what to do. I don't know what to say."
Bright was shot and killed by a Chicago Police Department officer in 2012 when he was 15 years old. His killing was widely covered by Chicago and national media. Edwards had to cope with the death of her son while his story was thrust to the forefront of nationwide discussion.
"I'd be so mad with the internet, saying 'it's not a race thing.' It's a race thing," Edwards said. "It's always about race. We don't matter. My son was 15, and I'm getting all these comments saying I should have checked his sock drawer because he had a gun in his sock drawer. He didn't get caught with a damn gun. People get down on us as the family, like we did something wrong. I just pray for his family to have to see that and go through that, because it's heartbreaking."
In 2018, the CPD officer that killed Bright was cleared of wrongdoing and allowed to remain on the force, according to the Tribune. Edwards continues to fight for justice for her son.
"I thought stuff's going to change, stuff's going to change," she said. "But the more I fight, ain't nothing's changed."
One by one, these mothers, fathers, families and friends told their stories. Some were well-known and well-covered, like Edwards'. Others were overlooked or overshadowed in the media by other tragedies. 
According to Mapping Police Violence, U.S. police killed at least 1,192 people in 2022. That's the most since 2013, when experts first started tracking police killings nationwide. This comes after George Floyd's murder in 2020, which prompted widespread support for police reform in the U.S.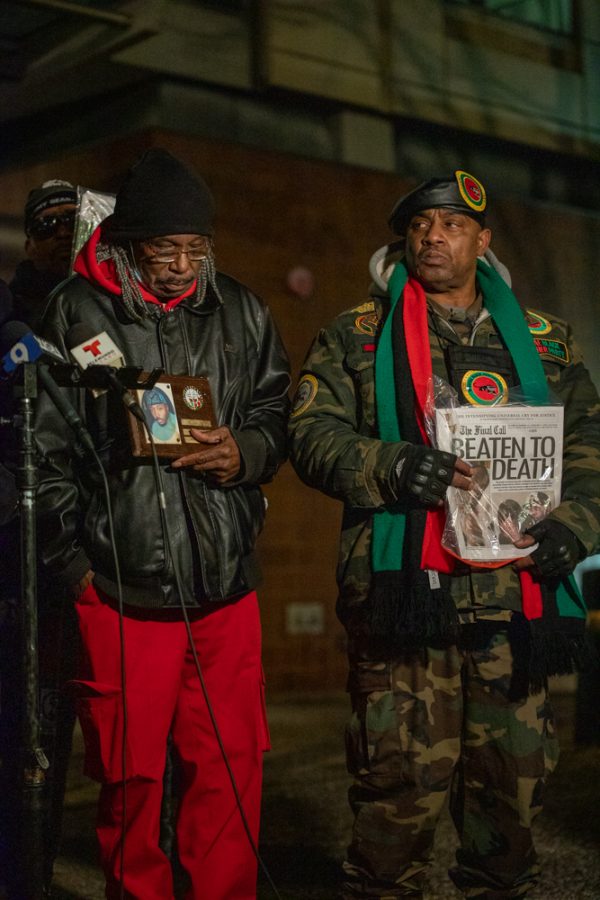 Yosef says he's tired of lawmakers insisting that police brutality is an unsolvable issue.
"You can do something. Put forth legislation to end qualified immunity," Yosef said. "The George Floyd Act has not been passed. How disrespectful is that?"
Qualified immunity, introduced in 1871, gives state and local officials, including police officers, protection from individual liability that civilians do not have. This can make it difficult to sue police officers for violating civil rights. Qualified immunity is banned or limited in Colorado, Connecticut, New Mexico and New York City. 
Dozens of other states have attempted to end it, but lobbying efforts from police officers and unions squashed those efforts.
Restricting the use of qualified immunity is one of several reforms included in the George Floyd Justice in Policing Act, for which Yosef also advocates.
Yosef said he was encouraged by the Memphis Police Department's quick action taken against the five officers involved in Tyre Nichols' death. The five officers were fired and charged with second-degree murder, two counts of official misconduct, two counts of aggravated kidnapping, one count of official oppression and one count of aggravated assault. 
Yosef hopes the CPD follows suit for the families that joined him on Wednesday. 
"We witnessed the Memphis Police Department bring swift justice," Yosef said. "It didn't take weeks. It didn't take years… We're now standing in front of the Chicago Police Department demanding the same service for these families."
As he made his closing remarks, Yosef looked to the families that surrounded him.
"This is a fraternity that no one wants to be a part of," he said.