E-charged: New electric sports cars keep the experience alive
February 12, 2023
For over 50 years, the roads of Chicago and beyond have been flooded with fast and loud American V8 sports cars — staples in U.S. culture. In favor of tightening fuel economy regulations and the pursuit of a cleaner, greener world, many manufacturers have started taking the first steps towards fully electrifying their iconic ranges of sports car models.
To display these new EV sports cars, the 2023 Chicago Auto Show opened its doors to the public last Saturday at McCormick Place, showing the initial offerings to local crowds for the first time ever. With the electrification of sports car powertrains imminent, consumers are bracing themselves for a ride on the silent side.
Making its public debut at the auto show was the Chevrolet Corvette E-Ray, a groundbreaking development in the electric (EV) sports car market. Its launch marks the world's first pairing of a naturally-aspirated, non-turbocharged V8 engine and an electric motor in a two-door body style.
"Seventy years ago to the day of when we revealed E-Ray [online] in January was the first time that the [C1] Corvette ever was shown to the world, at Motorama in 1953," said Chad Lyons, Chevrolet Executive Director of Communications. "With this newest generation of Corvette [C8], we introduced a new mid-engined architecture and from the beginning we knew we would incorporate hybrid [technology] into this."
Buried under the carbon fiber-laden center console is a 160-horsepower electric motor, working in tandem with a 495-horsepower gas V8 to produce a combined 655 horsepower, a massive jump in power from the base Corvette Stingray model. This makes E-Ray the fastest-accelerating version ever, taking only 2.5 seconds to travel from 0-60 miles per hour.
"The E-Ray is very well-rounded. If you want to drive it on the track, or if you want it for touring on a Sunday with some curvy roads, it's a great vehicle," Lyons said. "We call it the 'Swiss Army knife' of Corvettes."
Also located on the center console of the E-Ray is a leather-clad selector knob which activates "stealth mode" and shuts off the gas motor altogether, leaving only the aforementioned electric motor to power all four wheels for a total of three to four miles of EV range.
"Hybrid was always part of the plan and we're obviously very excited, but Corvette customers are probably not all ready for full electric just yet, and we recognize this," Lyons said. "Stealth mode currently lets you start E-Ray up in pure EV so that you're not waking up the neighbors and firing up your V8 at six in the morning. But once you step on it and hit above 45 miles per hour, the V8 kicks in and makes it a perfect bridge to the moment when we do get an electric Corvette."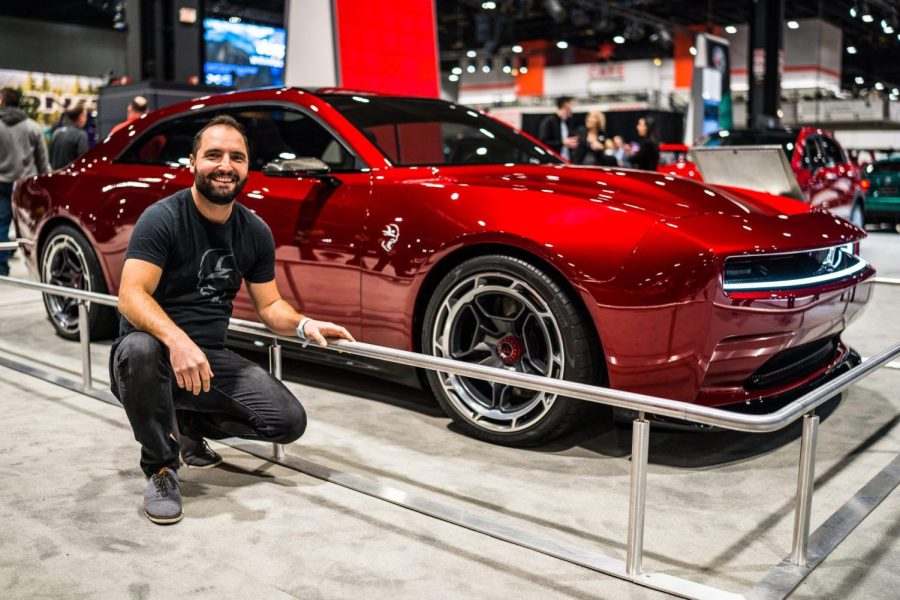 Meanwhile, in the opposite hall from the Chevrolet display, Dodge made waves of its own with a drastically different direction for its infamous Charger nameplate. Featured in iconic films over the years such as "Dukes of Hazzard" and several installments of "Fast and Furious," the Charger has become a mainstay in the muscle car segment.
Finished in a striking shade of red and wearing a heritage "Fratzog" logo inspired by a Dodge designer from the 1970s, the all-new Charger Daytona Concept previews what the brand's imminent EV muscle car could look like, as the company plans to launch its first electric offering as soon as 2024. 
"From a Dodge point of view, we weren't going to do an EV car if we didn't do it the Dodge way. It has to be something that has the same visceral experience, the sound, the energy of Dodge cars as we know them," said Deyan Ninov, Dodge Exterior Design Manager.
The most controversial feature of the Charger Daytona Concept is its patent-pending "Fratzonic" exhaust system, which aims to salvage the traditional experience of driving a hardcore Dodge sports car.
"It takes all the inputs from the driver's gas pedal movements and the drivetrain and amplifies those sounds through a [energy conversion] system that blares it into the cabin. It can generate comparable sounds to our [gas-powered] Hellcat models," Ninov said.
Since it is still only a concept car, information on power outputs and possible engine choices has not yet been finalized. 
"We're excited to enter this new era, and we'll only do it our own way," Ninov said. "We don't really look at what anyone else is up to, and it's got to be better than anything else we've ever done before. And it will be. Today you're looking at our preview of where we want to go, and hopefully we'll have a full electric offering just as impactful as our current range." 
Lamborghini Countach model
Despite the buzz around EV muscle cars for 2023, the star of this year's Chicago Auto Show hails not from America, but instead from Sant'Agata Bolognese in northern Italy. 
To celebrate the 50th anniversary of their legendary 1970s Countach model, Lamborghini made a surprise reveal of an all-new $2.8 million hybridized version at the 2022 Monterey Car Week in California. Visitors to McCormick's North Hall will have the rare opportunity to view one of only a handful of brand-new U.S. specification Countaches that will ever be made, a first for Chicago.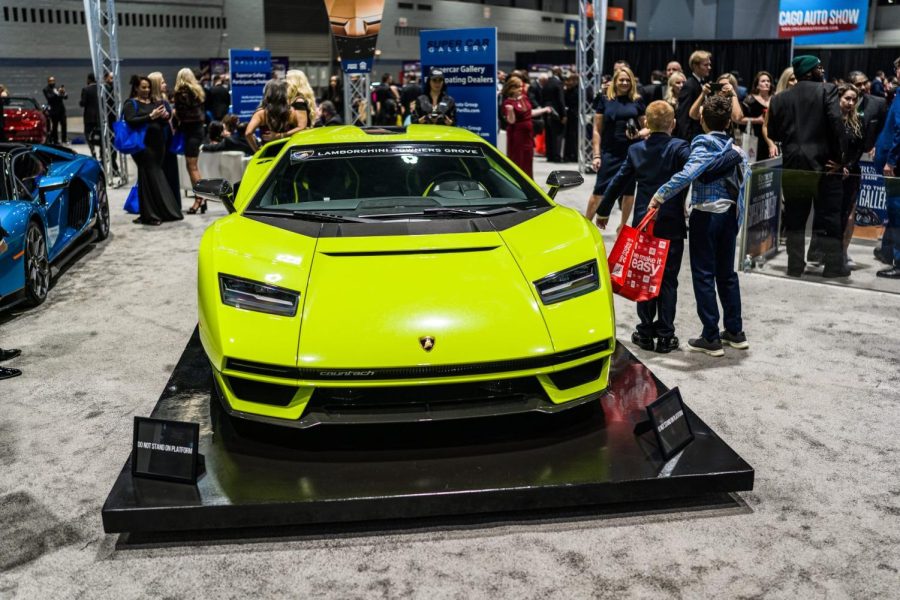 Auto show attendees have until Feb. 20 to check out this uber-limited V12 sports car before it heads off to its new permanent home in Wisconsin. 
In order to be selected to receive one of the 112 units worldwide, and one of the roughly 28 destined for the North American market, longtime Lamborghini collector and new Countach owner Austin Kearns said he and his family had to go through a rigorous application process.
"There were rumors swirling that they might make a new Countach, and Lamborghini wanted them to go to big collectors who are really into the brand. My dad's portfolio with Perillo Downers Grove fortunately fit that with our previous purchases, so it got pitched to us," Kearns said. "Under his name, we had to put together a portfolio of all the cars he's had over the course of time, and what he has right now."
Fortunately for Kearns and his family, Lamborghini approved their application, solidifying their reputation as VIP clients while leaving out other Countach hopefuls in the process.
"Once we got selected for one of the two or three slots Downers Grove was getting, we had to go down to New York for a 'top-secret' meeting where they showed us the car for the first time before putting down a deposit," Kearns said.
Unlike the previous Countach from the early 1970s, the modern version from 2022 pairs its gas-powered V12 engine with a tiny electric motor called a "supercapacitor" which has three times the power of a normal lithium-ion battery. Although it only has around the same range capabilities — roughly four miles — in pure EV mode as the aforementioned Corvette E-Ray, this technology pushes the envelope for Lamborghini as they move towards a new era. 
"I like the combination of futuristic and retro cues that Lamborghini took in the design. The supercapacitor wouldn't have been make or break for me either way, but I love seeing how things progress and think it's cool that they're adding these new elements," Kearns said.
For 33-year-old Kearns, as well as his 35-year-old brother Travis and 61-year-old father Steve, the most memorable element of the entire Countach build process was having the chance to share it with family. The three own and operate their own car dealership based in central Wisconsin dubbed "Kearns Motorcar," which sold over 100 pre-owned Lamborghinis in 2022 alone, and their passion for the brand spans 20 plus years.
"Growing up with my dad, we got into cars pretty early and now being in the car business we've been involved with high-end cars a lot more over the last five years," Kearns said. "It was incredible to even have the opportunity to make a car with such an iconic brand in a one-of-one paint the way we did. My brother and I are pretty much best friends and we have a great relationship with my dad, and we're glad to share our passion that has grown over the years."