Two walk-off victories help Blue Demons start off 2023 with perfection
February 12, 2023
ROSEMONT, ILL. — From stellar pitching performances, to come-from-behind walk-off wins, the Blue Demons capped off a third consecutive DePaul Dome Tournament with an undefeated 4-0 record and head coach Tracie Adix-Zin's picked up her 100th career win along the way. 
In a competition of 10 teams, DePaul opened its season and the tournament on Thursday, Feb. 9 with a win against Valparaiso 7-1. 
Freshman newcomer Bella Nigey pitched a gem in her debut in the opener, throwing a complete game. The Bettendorf, Iowa-native struck out six and gave five hits on only one earned run. 
"You know, seeing how hard we work in the offseason and how hard these girls have worked in and put into the program, that kind of just makes you want to work hard to kind of fill that in," said Nigey.
Senior Brooke Johnson sparked the DePaul offense when she launched a three-run homer in the first inning. It was Johnson's 21st career home run as a Blue Demon. 
Bowling Green
DePaul returned to play two on Saturday in Parkway Bank Park against Bowling Green and Saint Louis for the final game of the day. 
In the first of two, DePaul struggled offensively and couldn't get any runners on the base path in the first three innings. 
The game was stopped in the middle of the fourth inning for 30-minutes after Bowling Green junior Greta L'Esperance went chasing for a ball into deep centerfield and colliding with the wall. She was taken off the field in a stretcher in noticeable pain. 
"They had a player that had a similar experience last year," Head coach Tracie Adix-Zins said. "So I think that was the biggest thing for us to do, [was] take a pause. But, Hopefully she heals very quickly." 
DePaul prevailed by a score of 2-1 over the Falcons behind another all-around quality pitching performance. Freshman Abbey Pochie got the start and went five and third innings, surrendering one run and four hits. 
Purdue Transfer Brenna Smith entered the game making her Blue Demon debut Saturday, pitching 1.2 innings and completing the final five outs and securing her first save. 
Senior center fielder Tori Meyers went 4-for-6 with an inside-the-park homerun that turned out to be the winning run in the fourth inning.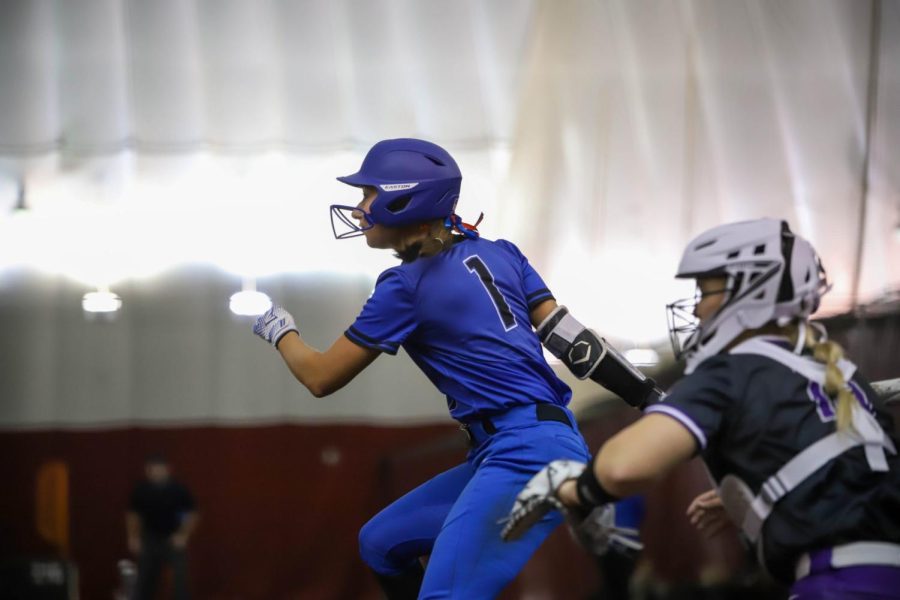 Saint Louis
In the nightcap, DePaul faced its toughest opponent of the season yet. The Saint Louis Billikens came in and stiffly challenged the Blue Demons. 
Junior college transfer junior Katey Pierce got the ball in the second of two, but did not have the same success as the previous starters. She gave up four runs on nine hits and was pulled in the fourth inning. 
Twice DePaul trailed by three at 6-3 and 7-4 after five unanswered runs from the Billikens. It came down to the final half inning of the game in the seventh inning, with the demons needing a late rally to pick up the win. 
Sophomore infielder Bailey Cosgrove started the bottom of the seventh with a triple, followed by a walk for junior catcher Riley Pool. Both runners advanced home on a double from senior outfielder Grace Frazier. 
As Meyers came into the batter's box with bases-loaded and one out, the moment quickly appeared to get the best of her. 
"Well actually, [I] put a little bit too much pressure on myself because I thought there were two outs," Meyers said. "I was just taking it one pitch at a time. That's all you can really do." 
Meyers laced a single in between the shortstop and third base as the tying runner made it home. A throw error from Saint Louis's left fielder Natalie Sullivan allowed for freshman Maddy Miklesh to round third and slide in safely for the winning run. 
The former All-American alumni Adix-Zins took over her alma mater's softball program in 2019. In Saturday night's come-from-behind win, she reached her 100th career victory.   
"We've talked [as a team] all the time about just playing DePaul softball," Adix-Zins said. "Keep competing every minute of every inning and let the chips fall where they may." 
DePaul returned to action on Saturday in their final matchup of the tournament to faceoff against the Evansville Aces. The Blue Demons picked up a 2-1 extra-innings victory after a walk-off throwing error that allowed Grace Frazier to come around and score.
"I'd like to not wait until the last minute and extra innings," Adix-Zins said of the team's performance. "I think both games took everybody and that's the biggest thing. We're going to need this entire year. I think that just goes to show that we're going to continue to fight til the end and that's all I can ask for."
Evansville
Saturday's game was a pitching battle between the two squads and a run wasn't scored until extra innings. Both pitcher's ran through both lineups with ease, while Ace's starter Mikayla Jolly stood out, tossing six scoreless innings and recording seven strikeouts.
Jolly had a no-hitter going against the Blue Demons through 4.2 innings that was broken up by a Grace Frazier bunt single.
DePaul starter Brenna Smith was lights out against the Aces, throwing a complete game and allowing zero earned runs, while forcing 13 fly outs and nine ground outs.
"I was a little anxious at first," Smith said. "I was definitely getting the first-game jitters out and I was excited. I couldn't do it without my defense. It's really easy to pitch and try to do my job to the best I can, knowing my defense has my back."
The extra innings rule automatically places a runner on second base to start the inning.
The Aces struck first in the top of the eighth inning as freshman infielder Syndey Kalonihea hit a sacrifice fly to right field that brought sophomore outfielder Dori Brown around to score and give the Aces a 1-0 lead.
In the bottom of the inning, DePaul sophomore infielder Carley Alvers recorded an RBI single to left field to bring home freshmen outfielder Gracie Jacobs for the tying run. Moments later, the Aces attempted a double play but a throwing error to first base resulted in Frazier to advance and score the game-winning run.
"It kind of felt like slow motion," Frazier said. "At first, I was just rounding third and saw she had the ball and then saw her go to throw and I'm like if this gets away, I'm going. So I had to be so aggressive."
The Blue Demons top off the DePaul Dome Tournament and start off the season 4-0 for the second consecutive year. This time around, the team comes away with back-to-back walk-off victories in dramatic fashion, while showing the rest of the Big East that they are a resilient ball club.
"I think [the four wins] should give them a lot of confidence," Adix-Zins. "We're never down and out, even if we're behind. Yesterday was a bigger deficit, but it goes to show that if we keep pushing away and plugging away, we're going to find a way.."
DePaul (4-0) will be back in action next weekend when they travel to Tempe, Arizona for the Littlewood Classic where they'll be taking on Weber State, Grand Canyon, BYU, Arizona State and Portland State.