Candygrams for Community: Valentine's Day events encourage student engagement
Valentine's Day sweetened engagement in the cultural and resource centers with the first Candygram event hosted by the Office of Multicultural Student Success (OMSS). Sophomore Branton East, a community engagement assistant in the LGBTQIA+ Resource Center, saw new faces introduced to the spaces as students stopped by to pick up candygrams from friends and loved ones.
"It's been so nice to see fresh faces because this is a resource to students," East said. "They should know it exists and that there is a community here waiting for them."
The community collateral, a group of student employees within the cultural and resource centers whose main goal is to increase engagement by bringing together various programs, planned the event. 
East is a member of the community collateral and said his role involved initial planning, organizing the details of the event and sending out emails to students who received a candygram.
"It's a way for people to spread the love," East said. "It also makes people come into our centers and be exposed to these spaces."
Students were encouraged to request a candygram through a Google Form with the option to add a personalized note and remain anonymous. Emails were sent out to students who received a candygram to pick up on Feb. 14 in the LGBTQIA+ Resource Center, located on the third floor of the O'Connell building.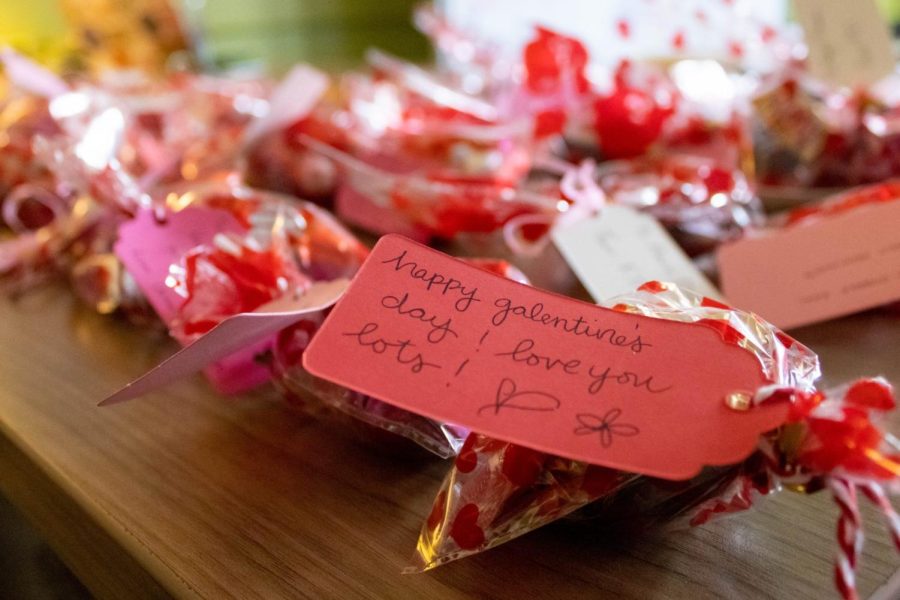 "The students just come up with the most fun ideas," APIDA Cultural Center coordinator Sabrina Salvador said. "It was a conversation of throwing ideas at a wall, and candygrams is the one that everybody agreed on that was really interesting. I can't really say why this is what we came up with but it's something all the students wanted to put together and work together on."
The candygrams featured Valentine's themed bags with a variety of candy inside, decorated with ribbons and handwritten notes put together by volunteers from the resource and cultural centers. 
"It was a lot of fun making them," said sophomore Marcela Erickson, a community engagement assistant in the APIDA Cultural Center. "We had just finished a staff training so a lot of us gathered in the APIDA [Cultural Center] and did it step-by-step, assigning roles to each person."
In total, students requested and made 75 candygrams. Salvador believes the candygrams could become an annual event to help students feel more connected to not only the centers but to each other.
"It was really fun to see what it could look like this year," Salvador said. "It's definitely something we can explore to put together next year and hopefully more students hear about it and get involved. As an event as a whole, we should be sharing the love and sharing the awareness of our centers."
Although they were trying to promote university-wide engagement for the centers, Erickson said it was also beneficial to bring the different groups themselves together.
"We are physically separated in terms of space but we all have the same mission and goals," Erickson said. "We want to support our communities and I think events like the candygrams really bring us together."
The candygram event was one of many held by the cultural and resource centers for Valentine's Day. The APIDA Cultural Center taught students how to make origami hearts with positive affirmations, and the Latinx Cultural Center held a photoshoot and speed dating event. With multiple events occuring at the same time, students and staff hoped to encourage others to visit and familiarize themselves with all of the centers.

"It's about trying to connect students across all of the centers in these intersectional events," Salvador said. "Oftentimes when we have large programs like this, the key is figuring out how to put on an activity or something that encourages students to enter each space so they interact with each other."
There are currently no other upcoming large-scale celebrations planned by the cultural and resource centers. For students interested in exploring what the programs have to offer, Salvador encourages them to visit during activities for Black History Month hosted by the Black Cultural Center, weekly Thursday events by the APIDA Cultural Center including game nights and Chai Time, and the Gender? Discussion Group in the LGBTQIA+ Resource Center. 
"At the end of the day, I think OMSS as a department is really trying to make students of color and minority students feel welcome and feel like they have a place here at DePaul, especially being a [predominantly white institution]," Erickson said.