COLUMN: Strength in community – How last week's tragedy in East Lansing changed my perception of home
February 20, 2023
It's difficult to put into words how much it hurts to have this happen at the place you call home.
Like presumably many others, when I hear of a mass shooting, it doesn't affect me the same way it did 10 years ago. I'm numb to it. I shake my head and follow the coverage, but a day later, I've moved on. That's not a good thing, but I think it's a reality for so many of us now.
This past week was different. Like columnist Graham Couch at the Lansing State Journal said, it was our turn.
East Lansing, Michigan is my home. I was raised on the banks of the Red Cedar. My earliest memory is the bright green Astroturf that used to cover the field at Spartan Stadium.
East Lansing and Michigan State University are in my DNA.
It's where I learned to drive a car. It's where I had my first drink. It's where I met strangers that I now call brothers.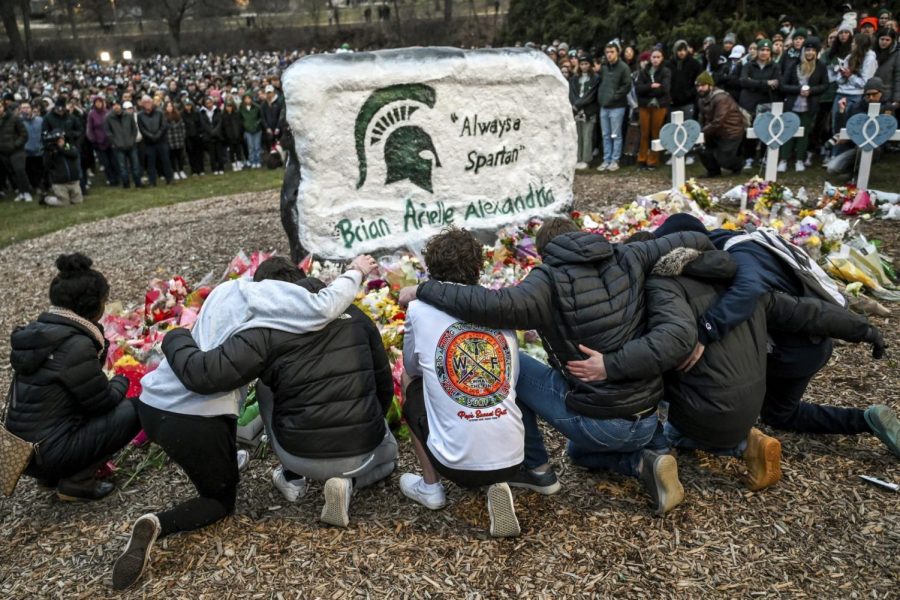 I first heard what was happening when my best friend, Chris, texted me around dinner time last Monday. I turned on the TV to see reports of a shooter at the MSU Union and Berkey Hall, buildings I know like rooms of my childhood home, buildings I was born 10 minutes from. Though a little shocked at first, I was still numb to it, like I always am.
Then, I saw the videos on social media of students running through the campus streets, shots of hundreds of police officers, FBI agents and tactical teams, and a sheet-covered body on a stretcher that was maybe 15-yards from where I had a first kiss with a girlfriend years ago.
In an instant, the numbness was gone. 
Safety and security can mean a lot of things, but I think they're often synonymous with "home." Over the past week, I've spent plenty of time thinking about what East Lansing means to me. The reason this one has shaken me like it has is because it happened at what I see as the safest place in the world: my home.
Those who leave home know the feeling of returning to your old stomping grounds. It's a feeling of warm familiarity.
I'm in Chicago now, but still, I feel that nostalgia every time I return to East Lansing. It's where I can be my most organic self. Going back for a football game in the fall is like stepping into a time machine. I get to see old friends and teachers. I'm comforted when I hear the band playing the alma mater as I walk through a campus that I could navigate with a blindfold on.
For the students on MSU's campus last week and others in East Lansing, any warm feelings of nostalgia and the comfort of home are now tainted by the odor of gunpowder and echoed screams. They're tainted for me too. At times, it has felt as though someone walked in my front door and wreaked havoc in my home. I hope that comfort isn't tainted forever.
I can't blame you if you're like me and you've succumbed to the everyday-ness of mass shootings. I'm ashamed it took this happening to my home for me to feel something again, but I hope you'll read this and want to not be like me.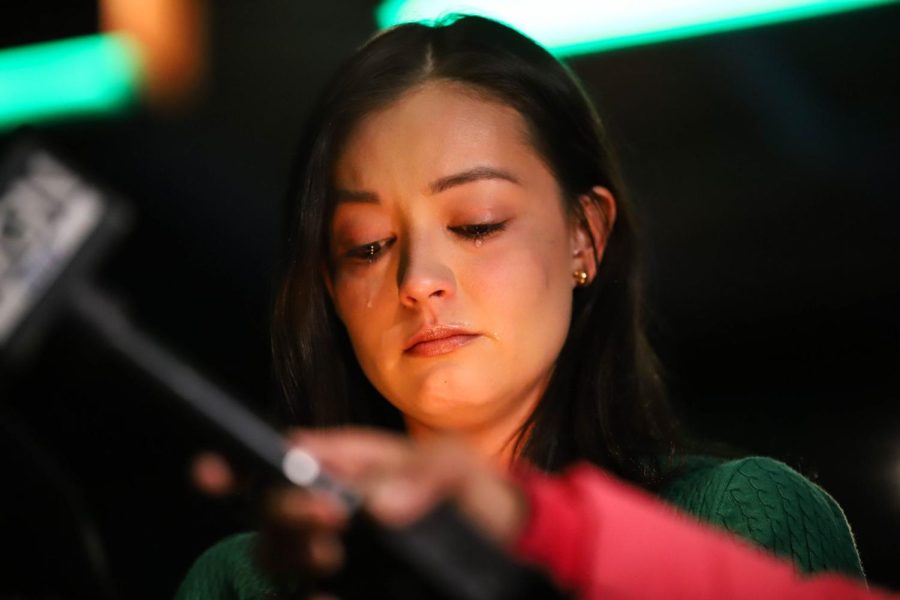 To a fault, I'm usually not the most emotional guy. For me, vulnerability equals discomfort. But I've cried more over the past seven days than I have in quite some time. I can say with certainty this isn't the last time that a shooting like this will happen. Odds are, it will probably happen in the home of someone reading this and shake them too — maybe it already has.
MSU head basketball coach Tom Izzo spoke at a vigil on campus last Wednesday night, and a few of his words have stuck with me since. He implored those in attendance to embrace their emotions and support each other.
"Be vulnerable. Don't be afraid," he said. 
In ancient Greece, Spartans were legendary warriors, known for a collective toughness, accomplished only through their unwavering unity. As I look through photos of those in my hometown coming together in support of one another, it's obvious how fitting the symbol of Spartan helmet is for a group of people exemplifying support and community.
I used to think toughness and vulnerability were on the opposite ends of the human spectrum. This week has taught me that's not true. There's a toughness in being vulnerable. Armor is heavy, and it takes courage to shed it so others can better hold you up. 
Our country's violent reality and relationship with guns won't change any time soon. We're going to keep going through this, and communities everywhere will have to come together, be vulnerable and support each other in order to heal.
Just as it is in building ourselves back up, I think unity is also the foundation for change.
There's a well-known battle cry at MSU sporting events, in which one side of the stadium or arena will yell "Go Green!" in unity and the other side will respond "Go White!" It'll give you goosebumps to hear and feel 80,000 people shaking the cement floor of Spartan Stadium with nothing but collective, raw, human desire.
This week, my perception of "home" has fundamentally changed. It's long been a Midwestern college town, but now, it's a little more abstract. As I walked down State Street in an MSU hoodie the other day and heard a "Go Green!" my reflexive response of "Go White!" made me realize "home" is people just as much as it is a place. 
Like others, I desperately want change. I want sweeping gun reform. I want an effort from lawmakers to do something substantial.
I don't know exactly how that can happen, but I do know that if change does finally come, it'll be because people came together in the same way MSU was forced to last week. It will be for the sake of a larger, collectively shared abstract "home." 
It will only happen through community.