Not your average Joe: Branko's mom and pop sandwich shop re-opens after pandemic
April 9, 2023
A chef, janitor, general manager, listening ear to customers, only employee and the grandson to Branko Joradovski are just a few names Nenad 'Joe' Jovanovic holds at his family owned sandwich shop and Lincoln Park staple since 1976 called Branko's. 
When you first walk into Branko's, located on 1118 W Fullerton Ave,  you might mistake it for the set of the Blues Brothers. The '70s style wood paneled walls surrounding the  restaurant are engulfed in framed family photos, vintage Chicago and Led Zeppelin posters and over 50 printed restaurant reviews, some dating back to the 1980s raving about Branko's service and homestyle meals.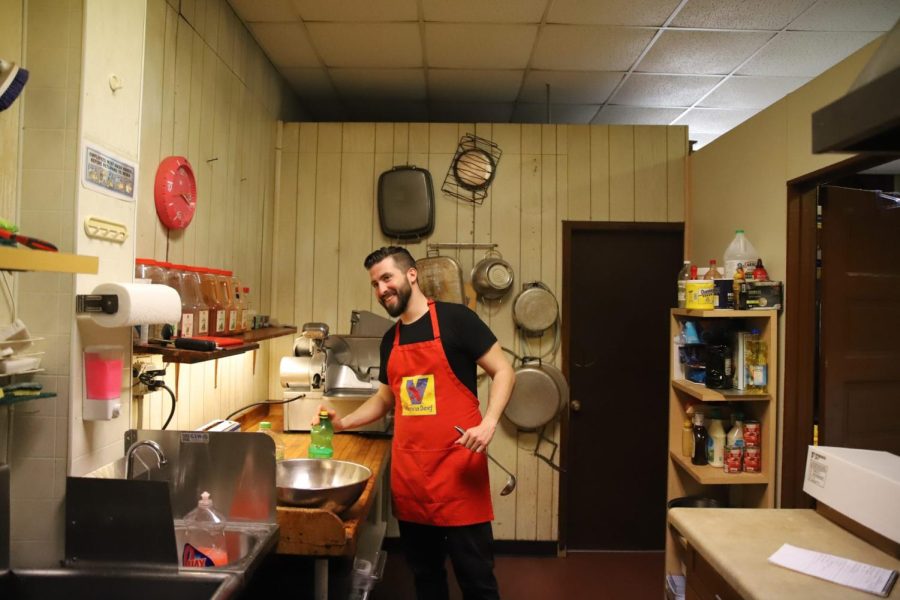 If you squint, the colors of red and yellow are ubiquitous in the design, even down to the pop choices of Coca-Cola products displayed behind the counter. The only color jarring to this palate is the bright green plants swallowing the space by the front windows, which were previously potted by Andja Skurteska, the owner's daughter who helped run the store before the pandemic. 
From Monday to Friday, 36-year-old Jovanovic is behind the counter throwing fries into the fryer, prepping chicken in the back while also telling you a story about his grandfather owning two bread carts in Yugoslavia.
While his aunt, Gordana Jordanovska is the new owner of the shop and reopened the store after the pandemic as a promise to her mother, Jovanovic works everyday to continue the family legacy and charm. Making the same recipes as his grandparents made when they first came to the United States in 1976 as immigrants from former Yugoslavia.
"Sentimentality is important to Gordana," Jovanovic said. "This was like a big thing for her, she made a promise to my grandmother and she kept it, and I'm glad I get to be here to continue the dream."
The restaurant's menu consists of the same customer favorites previous to the pandemic: pizza puffs, hot italian beef on fresh french loaves, balkan vegetable Pasulj, and classic cheeseburgers. Even the bread company has not changed for this family business. D'amato's and Vienna Beef are still staples at this restaurant as well as the secret family recipes. 
Jovanovic was not always sporting the bright red Vienna Beef apron at the neighborhood establishment. Previous to taking over day-to-day business at Branko's in June 2022, Jovanovic worked on film sets and Chicago fine dining. 
"I did film work in Florida and Chicago then came back to work for a few restaurants, one that I knew for over a decade," Jovanovic said. "It treated me like a family but they understood why I left to work here. I was lucky enough where in my other careers they understood why I was leaving to do this. They understood that it was important to follow this path."
In the future, Jovanovic plans to include online ordering so even more people can enjoy the food and reach out to students and people in the community to continue the family legacy. 
"Growing up I always liked having different kinds of jobs," Jovanovic said. "Everything I ended up doing in my life, I ended up using for this and like a beautiful way, so if I can provide that for somebody that would be awesome."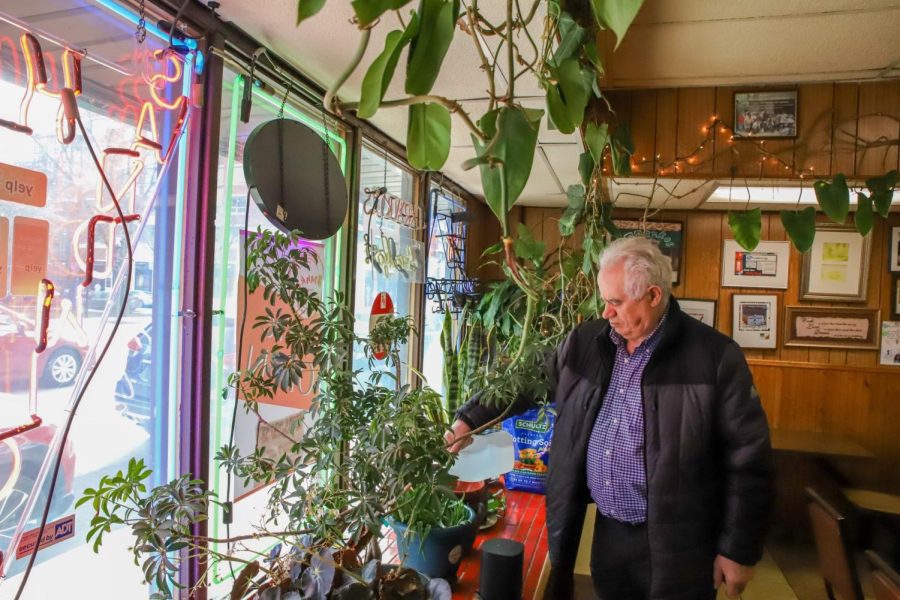 Jovanovic points to a framed photo of his grandfather standing proud next to his own bread cart back in Macedonia. Across the room is another photo of both his grandparents beaming in front of Branko's 47 years ago opening the store. Jovanovic humbles himself to explain that his success all comes from his family. 
"My grandfather renovated [Branko's] himself, tore down the walls and designed it in 1976, and you can really see how happy my grandparents were to just be a part of this community," Jovanovic said. "This whole journey was really important for them and making food that everyone enjoys has always been the main goal for them."
The smells of home cooking waft through the air. The distinct aroma of Vienna Beef and giardiniera hot peppers bring nostalgia to even the youngest customers. The steady flow of service slows down and two DePaul freshmen, Juliet Jones and Jesse James Hoover, walk in and greet Jovanovic by name. The students jokingly jabbed at Jovanovic for missing their most recent performance at DePaul's theater school and he profusely apologized and blamed working late as his excuse.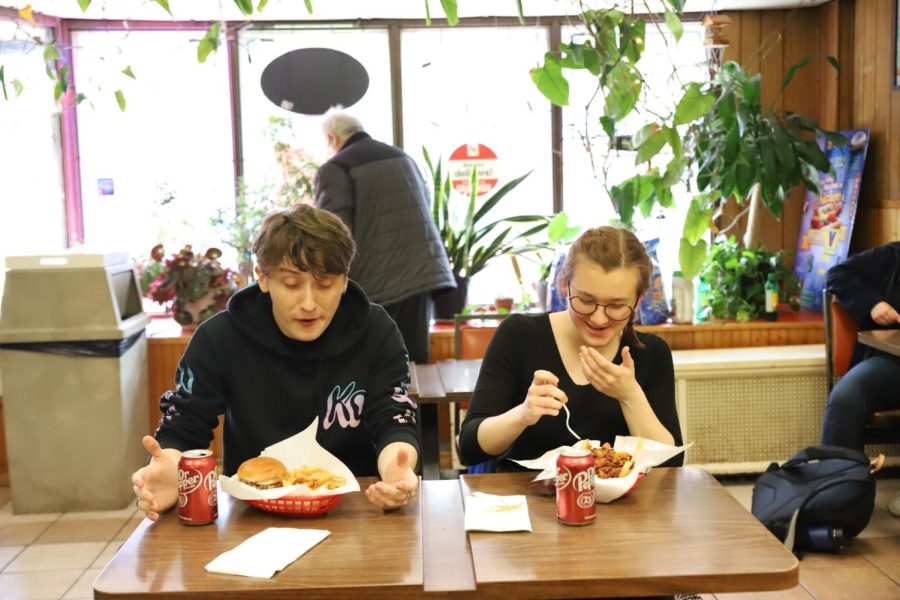 After they order "the usual," Jones and Hoover sit down facing the counter and yell across the room to Joe for not playing his music. 
"When we first came in, it was funny because he was trying to switch songs and blame Spotify for the music tastes, but we know better now," Hoover said. 
Jones and Hoover first found the sandwich shop after randomly walking by one day after class. Neither of them would imagine they would soon become some of the many regulars Jovanovic greets everyday. 
"We were walking by and I said to him, hey, you know that sandwich shop opened again. The one Joe Keery frequented at," Jones said. "And now we are best friends with Branko's Joe."
From its friendly staff (singular) to its classic Mom and Pop style shop, Jones and Hoover find Branko's to be more than just a place to grab food between classes. 
"We keep coming back you know, like when you sit here, it feels like that's not the real world, this is," Hoover said. "This definitely feels like a place from a different world."
While the proximity, food prices and ambience bring back loyal customers, to the young Blue Demons, Branko's would not be the spot without Jovanovic.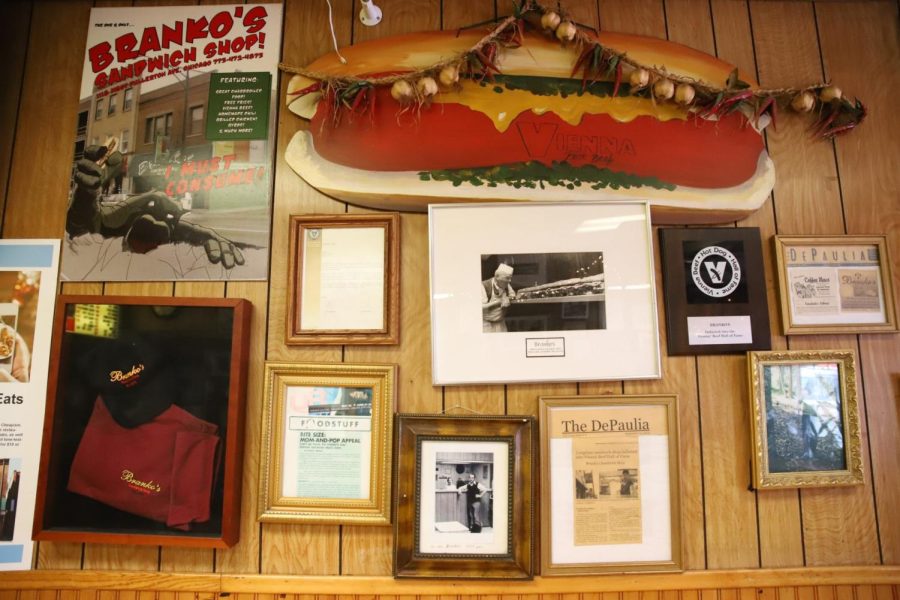 "I've got a lot of food allergies, so I have to be very stingy and picky about the places that I eat," Jones said. "I told Joe on my first day because I wasn't sure, and he immediately started spitballing, trying to find if there's anything he can make for me, and we figured it out so now I always have something here."
While nestled closely to DePaul's campus, Branko's is a home to many beyond the four-year college degree. For Jovanovic, many customers have been coming since he was young and they do not let him forget it either. 
Illija Petrevski, a friend of the original owner Branko, comes in occasionally to water the plants and request extra crispy fries. His presence to Jovanovic is one of the many friendly faces who remember him as a child. 
"This whole community is my family," Jovanovic said. "I like Branko's to be a safe haven for students and locals alike. I love meeting new people and making them food and seeing old faces. I hope I can continue to bring joy to Lincoln Park for a long time."